The Way Chip & Joanna Gaines Met Shows Just How Meant-To-Be They Are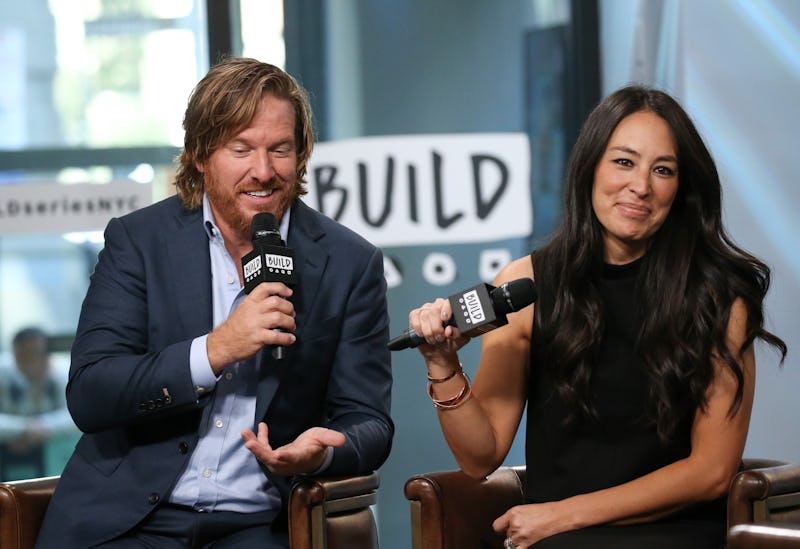 Rob Kim/Getty Images Entertainment/Getty Images
Chip and Joanna Gaines may have become famous through their HGTV house renovation series Fixer Upper, but it wasn't their love of flipping houses that brought them together initially. Chip and Joanna Gaines met and started their enviable romance at an auto repair shop that was owned by Joanna's dad. It's different, but, hey, it worked for them. After a massive joint business endeavor, four children (and counting!), and a hit reality program, the Waco, Texas couple are still going strong. Here's how it all started.
In a interview with Pop Sugar, Chip revealed that he actually fell in love with Joanna before meeting her. "Her dad made the mistake of putting a pic of the family behind the counter at his [automotive] shop," Chip said. "I knew I'd marry her one day just by the picture on the wall."
Still, just because he somehow knew he found his future wife through a photograph, doesn't mean he went around demanding that the man responsible for fixing his car introduce him to his lovely daughter.
On a separate occasion Chip, a loyal customer, returned to the shop to get work done on his brakes. Joanna happened to be working in the office that day. She told Pop Sugar, "We met in the waiting area and hit it off immediately. He was genuinely engaging and he had such a sincere smile."
While Joanna doesn't go so far as to say that it was love at first sight for her, she did mention to Pop Sugar that she was drawn to his "kind eyes" and admitted it took a few months for her to be "won over."
Chip had flipped his first house back when he was still in college at Baylor University. (Joanna also went to Baylor, but the two never met at the Texas institution. According to Country Living, Chip was class of '98 and Joanna '01.) Joanna was not in the real estate business until she met Chip. She told HGTV, "Once I caught on to the concept of buying something that is undervalued to then put value into it and sell it for a profit, I was hooked, too." According to Country Living, even the first house they bought together as newlyweds was a fixer upper.
According to Country Living, Joanna created Magnolia Market, her home design store, originally as a solo project, but Chip quickly came on board by adding a construction component to the company, transforming it into Magnolia Homes and Magnolia Realty. Instead of formal training, Joanna honed her design skills through working on their personal homes first, according to Glamour. When talking about their first house, she admitted she made some missteps, and told Pop Sugar, "I was experimenting with my design style at the time and every room had a different theme." So how bad was it? Here's how she described it:
"The living room was nautical themed with cheap sailboats and prints as decor. The kitchen was French themed with horrible mustard-colored walls. The den was cowboy themed for Chip, of course ... horns, leather, and lots of cedar. It was all very interesting, to say the least."
It was their business together that brought them to HGTV — according to Glamour the network learned about them through a photo of a house they had renovated together. The series is currently on its fifth and final season. The loving couple announced they were ending the successful program to focus on their family. They has four children and Joanna is currently pregnant with their fifth.
Though they'll soon be going of the air, fan will to continue following their lives on social media–and who can blame them? These two make a pretty great couple.