How Frances McDormand Met Her Husband Is Such A Swoon-Worthy Story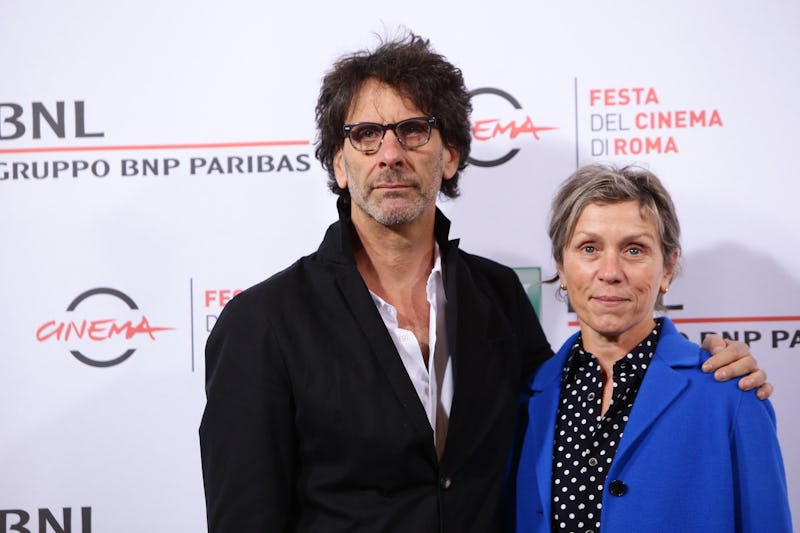 Vittorio Zunino Celotto/Getty Images Entertainment/Getty Images
Sometimes it can feel like Hollywood romances are doomed, and it's easy to wonder if your favorite star couple will stand the test of time. There are still plenty of A-list celebrity couples who've been together for ages, though, because Hollywood romance definitely isn't dead. For example, Frances McDormand and Joel Coen's relationship is still going strong after more than three decades. In fact, how McDormand and Coen met will make you believe in love in Hollywood again. They definitely have the whole relationship thing down pat.
McDormand and Coen are a serious power couple. After all, she's an Oscar-winning actor, and he's directed some of the most iconic movies from the last few decades. As for how they met, well, it turns out that their first interaction was exactly what you might expect: McDormand auditioned for Blood Simple, the Coen brothers' first movie. Joel and Ethan Coen wrote the 1984 movie, and Joel directed it. Apparently, though, what made McDormand particularly memorable to the duo wasn't just her audition. In addition, it was the fact that she originally declined to go in for the callback, though she did eventually star in the film.
In a 2015 interview with AFP, McDormand shared the story of how she and Coen met. The actor explained to AFP that she originally wasn't going to go to the callback because she'd "promised to watch her then boyfriend make his two-line debut on a TV soap." She even joked that the Coens hired her just because she had said no. A lot has changed since then, though (and it's safe to assume that boyfriend is in the very distant past). McDormand and Coen are happily married and are parents to their now-adult son, Pedro McDormand Coen. She has also starred in many of the Coen brothers' movies, winning an Academy Award for her role in 1997's Fargo.
And while some of us might be intimidated at the thought of working professionally with a partner, it sounds like it totally works for McDormand and Coen. "It was a revelation that I could have a lover who I could also work with and I wasn't intimidated by the person," she told The New York Times last year. "But that didn't happen with Joel. It was: Wow! Really! Oh, my God! I can actually love and live — not subvert anything, not apologize for anything, not hide anything."
The actor is nominated for an Academy Award again this year — and it looks like her husband played a part there, too. Three Billboards Outside Ebbing, Missouri isn't a Coen brothers movie, but McDormand shared last fall that Coen encouraged her to take a role in the film.
At a September press conference, she revealed that she originally worried she was "too old" to play Mildred Hayes in the movie. "I was concerned that women from this socioeconomic strata did not wait until 38 to have their first child," the McDormand said at the Toronto International Film Festival press conference. "So we went back and forth and we debated that quite for a while, and then finally my husband said, 'Just shut up and do it.'"
Based on the positive reception to her performance in the film — she's fresh off the heels of a BAFTA win, along with her SAG Award for the movie — it looks like she made the right choice. It's sweet to learn that Coen encouraged his wife to take the role, and to see that they support each other's professional endeavors. These two are definitely a couple to watch at the Oscars on Sunday night. No matter who wins, it's safe to say they'll be having plenty of fun in the audience.