Gordon Ramsey & His Wife's Teenage Romance Is The Stuff Rom Coms Are Made Of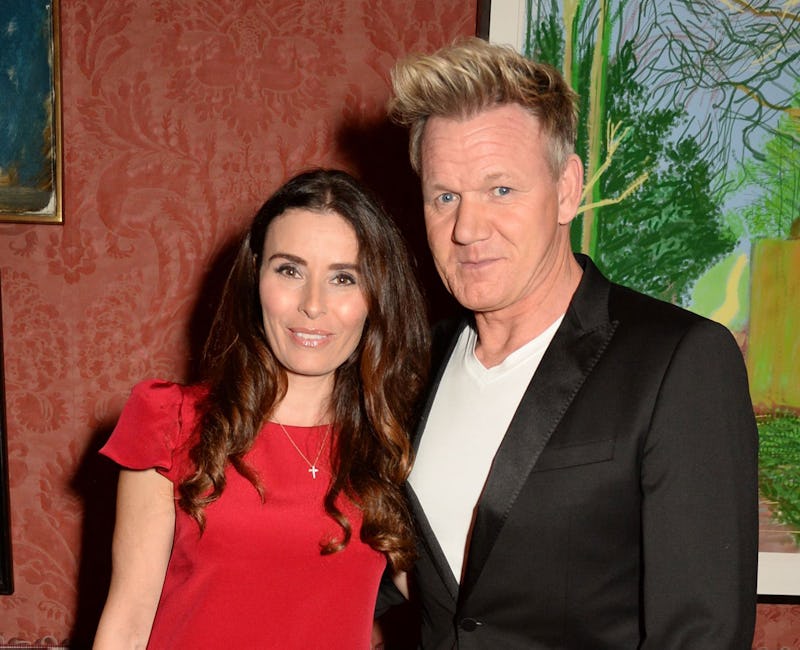 Richard Young/Shutterstock
Gordon Ramsay looks pretty scary to work with on TV. If you've ever caught an episode of Kitchen Nightmares or Hell's Kitchen, you'll probably know what I'm talking about. He's a little bit on the sweary and shouty side, shall we say. However, if you've ever seen a pic of him with his wife Tana, Gordon looks like a different man. So, what's their story? How did Gordon Ramsay and wife Tana meet?
Well it turns out, that while Gordon might be Mr Nasty on the box, behind closed doors, he's as sweet as pie. And the story of how he and Tana met is seriously cut AF. According to Now magazine, the couple, who have been married for 22 years, first crossed paths when she was just 18-years-old. However, they didn't start dating straight away. You see, at the time, she was in a relationship with another British chef, meanwhile, Gordon was still earning his culinary stripes working in a London kitchen.
Although Gordon fell for Tana at first sight, he didn't ask her out for quite some time. Instead, he patiently waited until she was single again, however, after so much time passed, he more than made up for it. The celebrity chef reported swooped Tana off of her feet when he finally was able to take her out on their first date. And the rest, as they say, is history.
In the early stages of their relationship, the couple didn't have the smoothest ride. While Ramsay was proving himself as a chef in top London restaurants, he would often work 16 hour days, and the pair wouldn't get to see each other. However, the sacrifices they made back then were clearly worth it as they tied the knot in 1996 and are still together, stronger than ever, today.
Speaking candidly about her husband to the Telegraph, Tana said that whilst Gordon does have a scary on-screen persona, it's not as serious as it seems. She explained: "Gordon just loves winding people up. Absolutely loves it. You have to understand him to know what he's like, and I understand him absolutely."
Gordon and Tana are proud parent to four children; Megan, twins Jack and Holly, and Matilda. The Ramsays announced they were expecting the birth of their fifth child in 2016, however, five months into the pregnancy, Tana suffered a miscarriage. Speaking to the Daily Mail, Ramsay said: "We were devastated, but thankfully we're through the worst now. It could happen at any time to anyone."
The tragedy inspired the couple to set up The Gordon and Tana Ramsay Foundation which works closely with the likes of Great Ormond Street Hospital to raise money for children with medical conditions which require prolonged hospital stays. The amazing organisation has gone on to help countless families.
During an interview with The Telegraph, Tana opened up about her marriage and how she and Gordon have managed to stay together for so long. She said: "It has been a lot of hard work, long hours and juggling with kids, home, family, work. It doesn't happen if you are not a team from the beginning. We have always been a team."
So, whilst he might be one of the scariest chefs on TV, at home, Gordon actually sounds like he's got a heart of gold. He could have fooled me.