Hugh Grant & Anna Eberstein's Lowkey Wedding Was So Goals If You Hate The Limelight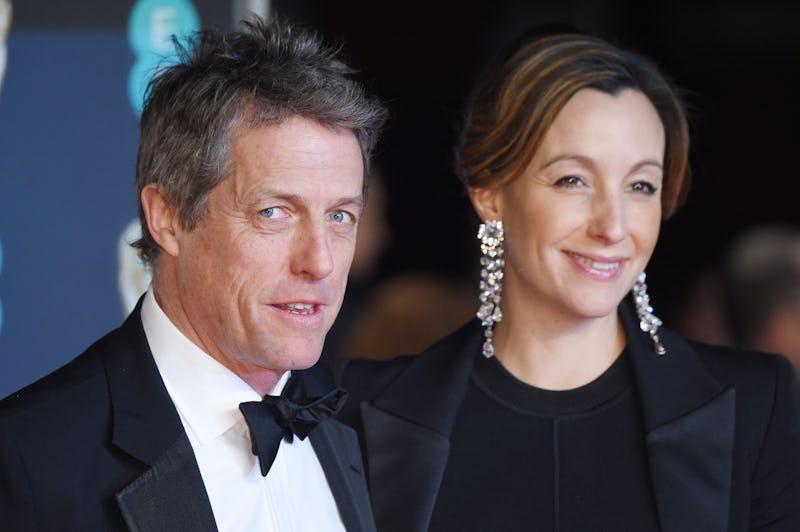 Anthony Harvey/BAFTA/Shutterstock
Being known as the quintessential handsome British bachelor for the majority of your life must be a bit strange. Well, that's exactly what Notting Hill and Four Weddings star Hugh Grant has dealt with since he and his lovely floppy hair made their debut in the 1990s. But now he's a married man. Yes that's right. Oh, wait, can you hear that? It's hearts breaking all over the nation. But the question is: how did Hugh Grant and wife Anna Eberstein meet?
Details of their relationship timeline are a bit scarce as, let me tell you, Grant is fiercely private. But here's what we know.
Surprisingly, Grant has expressed quite a few anti-marriage sentiments over the years. In 2012, the actor stated openly to the Irish Independent that he is "not a massive believer in marriage." He also told Howard Stern in 2016: "I think there's something unromantic about marriage. You're closing yourself off."
But then came Eberstein, a Swedish TV producer and creator of sock company Ace & Me, which, according to its site is "a more edgy style to the traditional Swedish slipper sock." I know right? Now I want a slipper sock (whatever that is) SO bad. But how did Eberstein slip into Grant's life? (Sorry).
Not much is known about how the pair met, and sources have various accounts of their first meeting. However, what we do know is that, in September 2012, Grant and Eberstein welcomed their first child John Mungo into the world, the Evening Standard reports. And, according to the Standard, in December 2015, they welcomed a second child.
There is also little known about the nuptials between these two. However, in May 2018, one particularly eagle-eyed individual clocked the wedding banns for Grant and Eberstein in the Kensington and Chelsea register office, the BBC states. For those not in the know, wedding banns are an announcement of an upcoming wedding that must be made 28 days ahead of the big day.
It is reported by the Telegraph that the loved-up couple got married in a ceremony with just close family members at Chelsea registry office.
Appearing on The Today Show in June 2018, the usually super-tight-lipped Grant couldn't get enough of how amazing his life is RN. Speaking to the hosts of the show, he said:
"It's really nice, I can't pretend it isn't, I should have done it before. I'm just lucky. I've got a great wife. I love her."
Soon after that, the couple were spotted enjoying the gorgeous sunshine and the men's Wimbledon tennis final together, the Daily Mail reports, and the pair were all smiles and sunglasses.
Grant is back on our screens this evening with a Comic Relief special. The actor is starring in a Four Weddings And a Funeral sequel (called One Red Nose Day And A Wedding) alongside a whole host of the original cast members, including Andie MacDowell, Kristin Scott Thomas, John Hannah, David Haig, James Fleet, and Rowan Atkinson. The sequel was written by Richard Curtis, who wrote the original 1994 smash hit. Curtis is the man behind not only Four Weddings, but also Notting Hill, Love Actually, and About Time. So, if you love romantic comedies, you're in for an absolute treat.