Hugh Hefner's Cause Of Death Thankfully Isn't A More Tragic One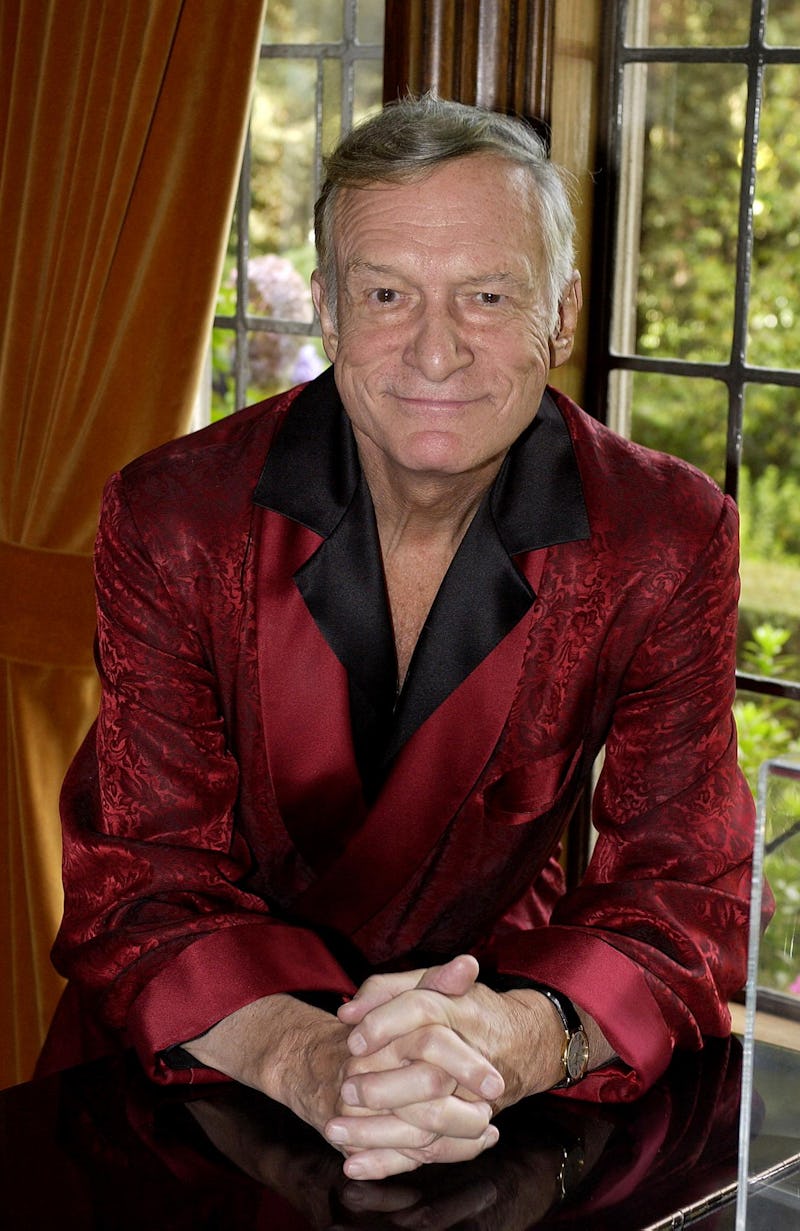 RICH SCHMITT/AFP/Getty Images
As word continues to spread about the passing of the legendary Playboy founder, the question of how Hugh Hefner died feels particularly important. At 91-years-old, Hefner certainly lived a full and vivacious life. He passed away of natural causes at his home while surrounded by loved ones on Wednesday evening, according to a statement released from Playboy Enterprises.
The iconic businessman's death comes nearly after a year after rumors began to swirl alleging that his health was on the decline. Hefner reportedly tweeted in the fall of 2016 to jokingly squash the chatter surrounding his purported illness, sending out a since-deleted message from his personal Twitter account that read, "I wish the tabloids had informed me a little earlier in the week that I'm sick. I might have cancelled my weekend plans." He later tweeted out a photo of himself alongside his wife, Crystal Hefner, with the caption, "Tonight's Mansion movie is the classic western, 'Shane,'" according to DailyMail. The media mogul was also featured in a playful Snapchat video shared by his wife during the holiday season last December.
Hefner quickly rose to national fame as the pioneer and face of the sexual revolution, publishing the first edition of Playboy in 1953 at the age of 27. The installment featured naked photos of the late Marilyn Monroe during a time when, as USA Today indicates, nudity and sexualization were widely regarded as taboo. Within five years of the publication's debut, Hefner would become a millionaire and Playboy's synonymous rabbit avatar would become a recognized symbol around the world, according to New York Times.
Over the years, Hefner turned the Playboy brand into a full-fledged media and entertainment empire that resulted in the development of movies, television shows, clubs, resorts, casinos, clothing and jewelry. He enjoyed a stint in reality TV, infamously filming his E! network series, The Girls Next Door, at his world-renowned Playboy mansion.
During his time in the expansive bachelor pad, Hefner became known for hosting some of the most over-the-top and hedonistic, celebrity-filled parties of '70s and '80s era, according to the LA Times. He moved into the Holmby Hills house in the early '70s and resided there until his death. The house was sold in 2016, under the condition that Hefner could remain an occupant for the remainder of his life.
Although he dating numerous women in his single years, Hefner married three times in his lifetime. He most recently tied the knot in 2012 with former Playmate, Crystal Harris (who was 26 at the time). The pair remained together until his death on September 27, 2017.
Hefner is also a father of four: Christie (1952) and David (1955), with his college sweetheart and first wife, Mildred Williams (married in 1949); and Marston (1990) and Cooper (1991), with second wife and former Playmate, Kimberly Conrad (married in 1989). Cooper Hefner became chief creative officer of Playboy Enterprises after his father stepped down sometime in 2016, according to Jezebel.
In addition, Hefner made plans to be buried in a crypt next to his magazine's first cover girl, Marilyn Monroe. The entrepreneur reportedly purchased the vault next to Monroe's at the Westwood Village Memorial Park $75,000 in 1992, according to TMZ . Although Hefner has admitted to not knowing her personally, he once revealed to CBS that he felt a strong personal connection to the deceased blonde bombshell, explaining, "I feel a double connection to her because she was the launching key to the beginning of Playboy. We were born the same year."
Hefner's legacy is, no doubt, one that will last forever through the work of his successors — not to mention those iconic bunny ears.