John Hurt Fought A Tough Battle Against Cancer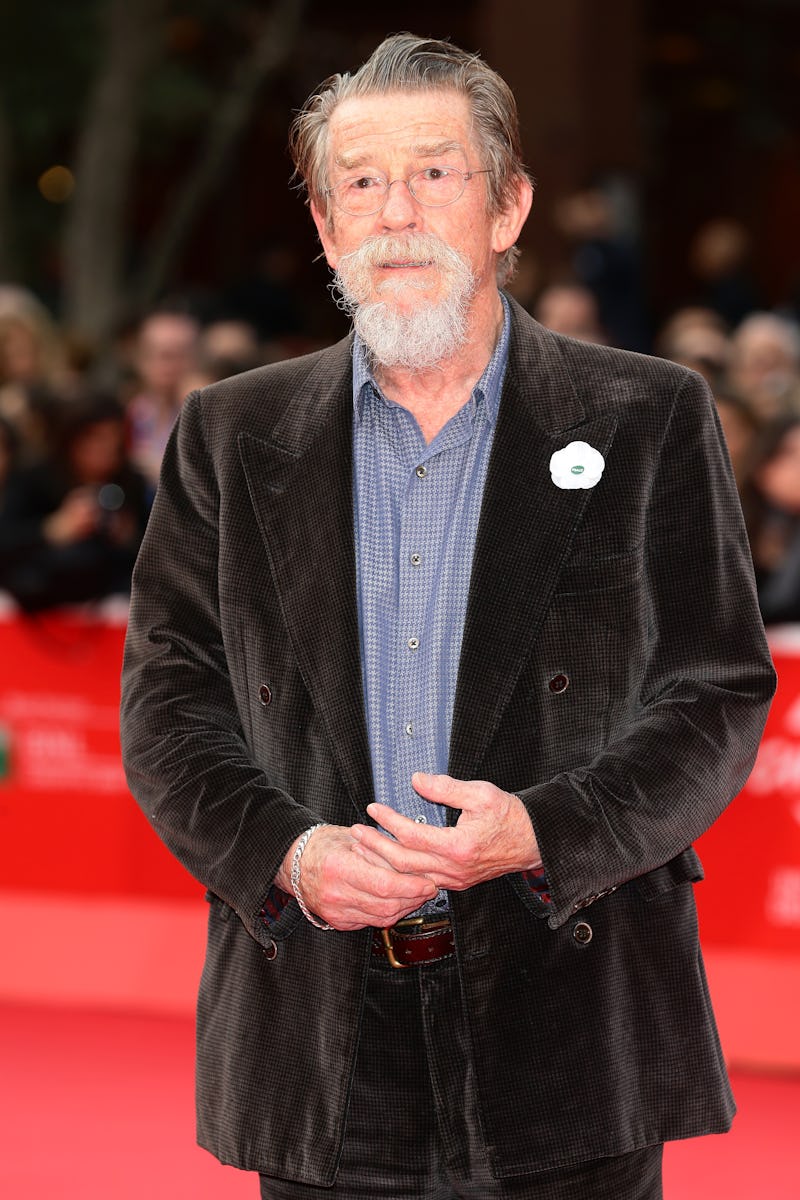 Vittorio Zunino Celotto/Getty Images Entertainment/Getty Images
Just as the week was winding down, sad news broke on Friday. According to The Mirror and various other British sites, John Hurt has reportedly died at age 77. In the wake of this news, you may be wondering, how did Hurt die? Although it has not been confirmed, The Mirror is reporting that the actor's death is related to his battle with cancer. Bustle reached out to Hurt's rep, but has not received a response at the time of publication.
Update, Jan. 28, 7:31 a.m. EST: Early Saturday, Hurt's rep released the following statement to Bustle on behalf of the actor's wife, Anwen Hurt:
"It is with deep sadness that I have to confirm that my husband, John Vincent Hurt, died on Wednesday 25th January 2017 at home in Norfolk.
John was the most sublime of actors and the most gentlemanly of gentlemen with the greatest of hearts and the most generosity of spirit. He touched all our lives with joy and magic and it will be a strange world without him.
I ask that we are allowed to come to terms with our loss without further intrusion."
Update, Jan. 27, 10:06 p.m. EST: On Friday evening, Hurt's rep confirmed the news to Bustle. This article will be further updated when a full statement is received.
Earlier: As you may recall, Hurt was diagnosed with pancreatic cancer in 2015. At the time, according to The Hollywood Reporter, he announced he would still be working and going on with his career — showing nothing could slow him down. In June 2015, Hurt released the following statement to People,
"I have always been open about the way in which I conduct my life and in that spirit I would like to make a statement. I have recently been diagnosed with early stage pancreatic cancer. I am undergoing treatment and am more than optimistic about a satisfactory outcome, as indeed is the medical team."
If that doesn't show a fighter's attitude, I don't know what does. And the "spirit" he mentions is beyond admirable. Not only that, but in August 2015, Hurt admitted he did not fear death. "I can't say I worry about mortality, but it's impossible to get to my age and not have a little contemplation of it," he told The Radio Times. "We're all just passing time, and occupy our chair very briefly." Still, he noted that he was "optimistic" about treatment.
Regardless of whether or not someone fears mortality, it doesn't make the loss any easier for those who loved them. As such, Hurt's passing is surely tragic. Throughout his lengthy career, the actor was nominated for Oscars for his work in The Elephant Man, as well as Midnight Express. He earned a Golden Globe for the latter role. But to millennials, he will always be known as Mr. Ollivander in the Harry Potter franchise.
Hurt's on-screen characters, as well as his real-life strength, will not be forgotten. May he rest in peace.