Here's How The Real John Paul Getty III Eventually Escaped His Kidnappers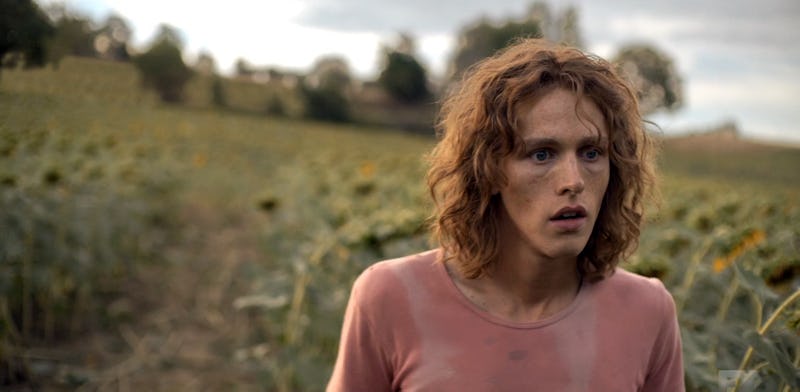 FX
John Paul Getty III might have thought that he was in control of his kidnapping on Trust, but the episode "La Dolce Vita" highlighted how that isn't the case. And based on the real-life story, his kidnapping situation will only get worse. Spoilers follow. How John Paul Getty III escaped his kidnappers will be shown on Trust, but his path to freedom is not easy. And the thing that got Paul in this terrible position in the first place — money — is the thing that will eventually lead to his release.
Trust is particularly controversial since it portrays Paul as the alleged orchestrator of his own kidnapping as a way to pay off his debts. Variety reported that at the Television Critics Association winter press tour in January 2018, Trust writer Simon Beaufoy claimed that this part of the plot came from his research. "It became clear reading between the lines that he actually kidnapped himself," Beaufoy claimed. "It was a hoax gone wrong." Paul's sister, Ariadne Getty, took issue with this interpretation though. As Deadline reported, her lawyer threatened FX with legal action and claimed, "The defamatory story it tells about the Gettys colluding in the kidnapping is false and misleading." Bustle reached out to FX for comment, but did not receive a reply.
In any case, Paul wouldn't be released until a ransom was paid. He later died in 2011, and, in his obituary, The New York Times outlined how he was freed. When Paul was first kidnapped, the original ransom asked of his family was $17 million. The police were suspicious that it was a scam — and Paul's grandfather, J. Paul Getty, wasn't paying. The Independent reported that J. Paul Getty notoriously stated about the ransom, "I have 14 other grandchildren and if I pay one penny now, then I'll have 14 kidnapped grandchildren."
Paul's father, John Paul Getty II, said he did not have the money to pay. The Gettys did not negotiate further and three months passed with Paul still being held hostage. The kidnappers then cut off Paul's ear and mailed it with a lock of his hair to an Italian newspaper. Another newspaper received photos of Paul without his ear and a letter from him asking that his family pay the ransom.
After more time passed, the captors dropped the ransom down to $3 million. As for how it was paid, The New York Times cited the 1995 book, Painfully Rich: The Outrageous Fortune And Misfortunes Of The Heirs Of J. Paul Getty by John Pearson. (Painfully Rich was the source material for the other recent telling of the Getty kidnapping — Ridley Scott's 2017 film All The Money In The World.) Pearson wrote that Paul's grandfather reportedly only paid $2.2 million because that was the maximum amount that was tax-deductible. He loaned the rest of the money to Paul's father, but with four percent interest. Vanity Fair reported that at the time, J. Paul Getty was worth approximately $2 billion. To put that into perspective, that's two thousand million, so the ransom was only .15 percent of the eldest Getty's worth.
Vanity Fair also reported that Fletcher Chace, Brandon Fraser's character in Trust, was the one to deliver the ransom money to the kidnappers. The first time was a failure, but when he successfully delivered the money on the second attempt, Paul had already fled his captors. Reports vary on how Paul was found. Pearson reported that Chace and Paul's mother (who advocated for her son during the duration of the kidnapping) found him at a police station. In his obituary, The New York Times wrote that Paul was discovered at an abandoned service station. When he was found, he had been held hostage for a total of five months.
People magazine reported that Paul continued to have a difficult life after his kidnapping. He suffered a debilitating stroke at the age of 25 due to a drug overdose. He was left paralyzed, partially blind, and mostly unable to speak for the rest of his life until he died at the age of 54. But People reported that his son, actor Balthazar Getty, said that his father maintained a positive outlook. "[He] never let his disability keep him from living life to the fullest," Balthazar said. "He was an inspiration to all of us, showing us how to stand up to all adversity."
As for his kidnappers, nine men were arrested for their involvement, but only two were convicted. The New York Times wrote that the other seven, which included a person believed to be the head of the local mafia, were acquitted due to a lack of evidence.
The fourth episode of Trust airs on April 15, but there are still six more episodes to go after that. So, while history has already given away the fact that he will be freed, Trust is trucking along with the re-telling of the horrifying story.