Mary Tyler Moore's Cause Of Death Is Very Sad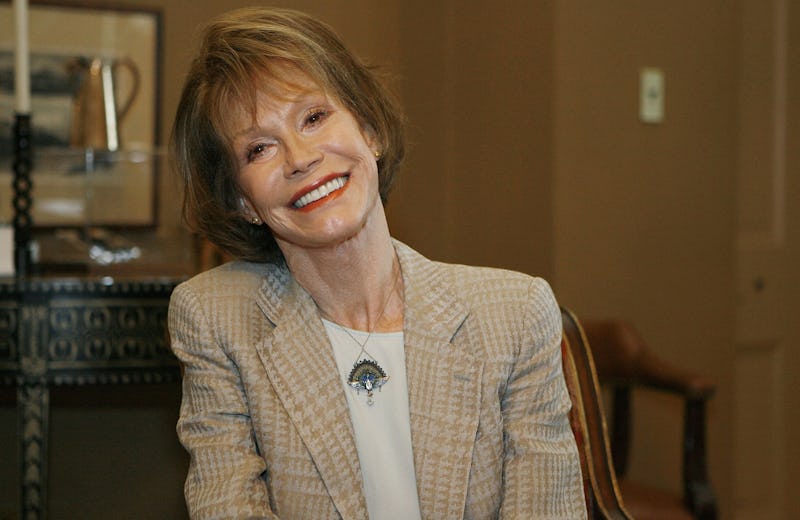 Chip Somodevilla/Getty Images Entertainment/Getty Images
The world is once again saying goodbye to a legendary actor. Mary Tyler Moore has died at the age of 80, her rep confirmed to Bustle. In the wake of this news, you may be wondering: How did Moore die? The New York Times reported that it was pneumonia. Meanwhile, on Wednesday morning, TMZ reported that Moore was in "grave condition" after being hospitalized in Connecticut. A source claimed to TMZ that Moore had "been on a respirator for more than a week." Update: According to TMZ on Jan. 30, Moore's cause of death is listed in her death certificate as being due to "cardiopulmonary arrest" brought on by "aspiration pneumonia, hypoxia (lack of oxygen to her tissues) and diabetes mellitus."
Earlier: Moore's rep released the following statement to Bustle:
Today, beloved icon Mary Tyler Moore passed away at the age of 80 in the company of friends and her loving husband of over 33 years, Dr. S. Robert Levine. A groundbreaking actress, producer, and passionate advocate for the Juvenile Diabetes Research Foundation, Mary will be remembered as a fearless visionary who turned the world on with her smile.
The actor battled Type 1 diabetes for most of her life, although it's unclear whether this was connected to her death. According to the New York Daily News, Moore was diagnosed with the disease when she was 33. This was right around the same time that she started working on The Mary Tyler Moore Show, which would turn her into a feminist icon. On the show, which debuted in 1970, smack dab in the middle of the women's movement, Moore played a modern 30-year-old woman who put her journalism career first and reveled in her independence. For seven years, the show tackled topics like equal pay, the pill, and making the F-word (feminism) palatable for those who weren't yet ready to join the movement.
What often goes unsaid is that Moore was a feminist pioneer even before this. On The Dick Van Dyke Show, Moore played Laura Petrie, an opinionated '60s housewife who wore capri pants despite the fact that most women were still wearing skirts. It was a small gesture that said so much.
While Moore will be best known as a TV star, the Brooklyn native made her film debut in the 1961 movie X-15. She would go on to star in Thoroughly Modern Millie and Ordinary People, which earned her an Oscar nomination. Moore's final screen role would be a 2013 cameo on the show Hot In Cleveland, opposite her Mary Tyler Moore Show co-star Betty White.
Throughout her life, the actor was open about her personal struggles, which included the 1980 death of her only son, several surgeries to treat her deteriorating eyesight in the early 2000s, and a 2011 surgery to remove a brain tumor. In the '80s, Moore revealed that she had struggled with alcoholism and entered the Betty Ford Center in 1984.
The actor was also an advocate, acting for 30 years as the chairman of the Juvenile Diabetes Research Foundation, which helped advance diabetes research. "When I was first diagnosed, I debated about how up front I should be about my diabetes and whether telling colleagues might hinder my work as an actor," she told Medline Plus. "But I also realized that if I did speak out, I might be able to help others better cope and manage their diabetes."
A longtime vegetarian, Moore was also outspoken about animal rights, and founded Broadway Barks, which helps homeless dogs and cats find homes. In a 2007 interview, she even said she wanted to be "remembered as somebody who made a difference in the lives of animals."
More will always be known for her namesake character and that legendary hat throw, and according to USA Today, it's something that she took great pride in. During an interview she gave in her 60s, she explained that, even then, she would lose herself in the show. "It's been so long I can hardly remember what the plots were," she said, "so it's almost fresh to me. They're always so wise. They have a lesson, small ones and happy ones. They give you hope that there's a better future."
While Moore may be gone, her smile will surely not be forgotten — nor will the impact she had on so many women.