The Stars of 'New Girl' Weigh In On What They Think Of THAT Ambiguous Ending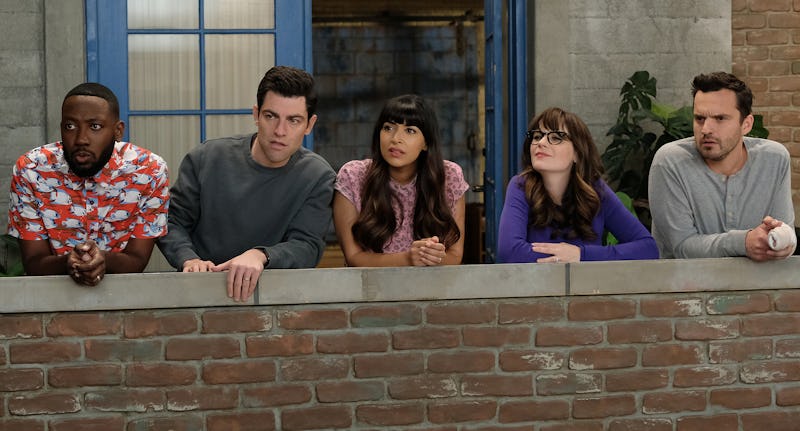 FOX
Spoilers ahead for the New Girl series finale, "The Curse of the Pirate Bride/Engram Pattersky."
Heading in to the two-part New Girl series finale, there were still many questions left to be answered before the final credits began to roll and fans were forced to say goodbye. Would Nick (Jake Johnson) and Jess (Zooey Deschanel) make it down the aisle and finally get married? Were they really getting evicted from the loft as was teased in the Season 7 premiere? And what would happen to all the New Girl favorites — Nick, Jess, Schmidt (Max Greenfield), Winston (Lamorne Morris) and Cece (Hannah Simone) — when the beloved Fox comedy bowed for the last time? By the end of the two-part finale, "The Cure of the Pirate Bride/Engram Pattersky," all those questions seemed to be answered definitively. But "seemed" is the operative word there.
Yes, most of the storylines were wrapped up in a nice, neat bow in the final two episodes. Jess and Nick, after believing their wedding day was cursed, ended up walking down the aisle in the hospital while Winston's wife Aly (Nasim Pedrad) gave birth to their first child. Then the gang helped Nick and Jess pack up to move out of the loft after realizing the building was under new management and they were getting evicted. And Winston even got the last laugh, revealing the eviction notices were all one giant prank for which he'd been laying the groundwork for the past six months. "Prank Sinatra" struck again, but Nick and Jess still ended up driving away from the loft in the packed moving truck ready to start the next chapter of their lives.
However, it was during the gang's final game of True American while they packed up the loft that New Girl seemed to flash forward to the future. Nick and Jess had a toddler son who was already well-practiced in the rules of True American (though he chugged cans of root beer instead of actual beer), while Winston and Aly's horde of kids ran past and Schmidt and Cece played the game with their daughter. It was a touching and emotional scene that showed how much the former loft mates had grown up. But then the scene cut back to the core five standing on the last packed box in the loft. Was that flash forward real, or was the gang just imagining a shared prediction for what the future could look like?
New Girl intentionally left that ending ambiguous, allowing fans to make up their own minds. Even the New Girl stars have their own opinions about what that flash forward means for their characters and the future of the series. While Deschanel admits that she hadn't gotten the chance to view the finale before it aired and so she wasn't sure how it had been edited, she liked that the scene was open-ended.
"When we filmed it, I thought, yeah, it's real," she tells Bustle. But Deschanel loves how each fan can decide for themselves about the flash forward fate for the characters.
And Johnson felt the same way.
"I don't know," he tells Bustle when asked if he thinks the flash forward was real or fake. "I will say, if that's a flash forward or we ever do a reboot, I hope it's not with that many kids."
He lets out a big laugh while adding, "It's a lot of little kids! There was like 18 little kids running around and I'm like, 'Let's call that a fever dream.'"
While Johnson still hasn't made up his mind about the flash forward, he could see that "shared hallucination" as the real fate for the loft mates. "Maybe that's what happens," he says. "Maybe they're just real breeders and have a ton of kids. Just too many kids."
Since reboots and revivals of fan-favorite series are all the rage in Hollywood — with the trend showing no signs of stopping — Johnson isn't ruling out a return trip to the New Girl loft in the future. But he does admit that he has "no idea" on if a New Girl reboot/revival is even in the cards.
"I would be honored to bring it back if people want it, if the time was right," he says. "But truthfully, my main reason would be working with the cast again and having fun. I think it just ended, which is sad, so I properly want to mourn it."
He pauses before adding, "The way I feel about it is it feels like a marriage that got a divorce, so it's like the idea of having a cocktail and being like, 'Are we ever going to get back together?' We just filed the paperwork. Now we have to go make a bunch of mistakes."
After breaking out in laughter, he continues, "Maybe we'll find each other later but I have to go screw up for a while down in Orlando. If in five years we do a reboot, cool. I'll lose a tooth here, my nose will be even more crooked. I'll have lived some life in between." Whether or not that life includes a whole horde of kids is, for now, up to each individual fan.