Here's How Priyanka Chopra & Nick Jonas Got Together Because, Apparently, They're A Thing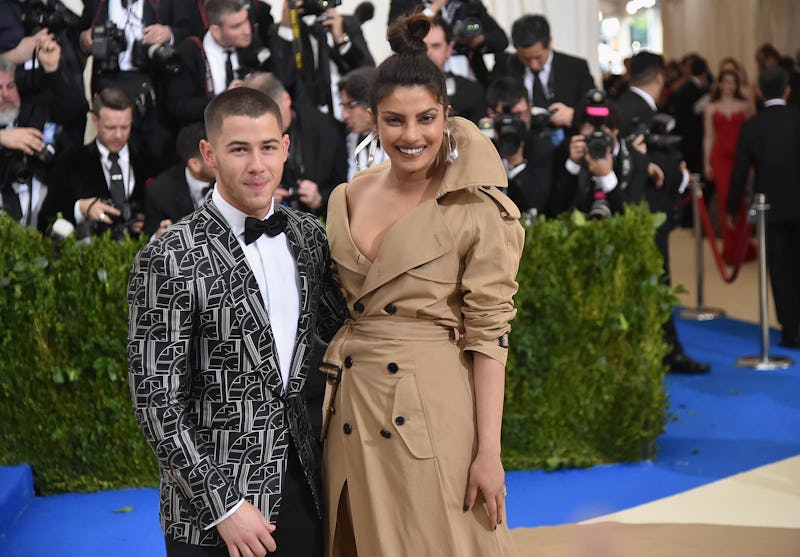 Mike Coppola/Getty Images Entertainment/Getty Images
He's a 25-year-old Disney kid-turned-"mature" pop star. She's a 35-year-old Bollywood actor-turned-Hollywood small-screen leading lady. So, um, how did Nick Jonas and Priyanka Chopra meet, exactly? The reportedly new couple first got tongues wagging when they attended the Met Gala together in 2017 — a date they claimed was purely platonic — but, according to the Indo Asia News Service, they were originally introduced before that night by a famous mutual friend.
When Jonas and Chopra showed up at the 2017 Met Gala together, fans were like, *screeching brakes*. The relatively unusual pairing even attracted the attention of Jimmy Kimmel, who asked Chopra about her date for the Gala during a May 10, 2017 interview on Jimmy Kimmel Live.
"What's going on, are you dating Nick Jonas? Isn't he like 11 years old?" Kimmel pointedly asked the Quantico star. "We were both wearing Ralph Lauren," Chopra explained, "and we decided to go together, and it was fun."
Kimmel, clearly not buying it, replied, "Really? Interesting." He and Chopra then joked about Jonas' age — during which time you can almost feel Chopra blushing — and she briefly mentioned that they'd know each other before. The actor didn't mention how they'd first met, but Jonas may have spilled the details a few months later.
According to the Indo Asian News Service, Jonas reportedly said in a statement in December 2017, "[Chopra and I] met through a mutual friend, who she did Quantico with — this guy Graham — and we met up like, in New York the first time, and the same day I think we found out that we were both going to the Met Gala with Ralph Lauren."
It's probably safe to assume that "this guy Graham" who Chopra did Quantico with is none other than her co-star, Graham Rogers. In fact, you don't even have to dig any further than Rogers' Quantico cast bio to discover the connection. In listing some of Rogers' notable credits, it says right there in black and white, that he was in the film, "Careful What You Wish For, where he appeared alongside Nick Jonas." Tah-dah!
On May 29, reports first starting surfacing that Chopra and Jonas were an item. (Bustle reached out to reps for Chopra and Jonas for comment, but did not receive a response.) "They are dating and it's brand new," a source told Us Weekly. "It's a good match and they are both interested in each other." A source for People added that they're "very casual" right now, and "[they're] flirtatious and have been hanging out and text all the time."
Neither one of those statements are particularly illuminating, nor do they offer up much proof. According to Just Jared, however, Chopra and Jonas were reportedly spotted watching Beauty and the Beast Live in Concert at the Hollywood Bowl together on May 25, and were reportedly seen at a Los Angeles Dodgers game on May 26, as well.
"They walked in together just before the performance was starting," a source told Us Weekly of their Hollywood Bowl date night. "They looked great together, but no hand-holding or obvious PDA." The onlooker added, "[Chopra and Jonas] were seen heading to the concessions stand during intermission before returning to their seats to finish taking in the show. They snuck out right as the show was ending."
But, wait! There's more! Twitter user @JickNonasNews (as per Just Jared) unearthed two photos — although, it's unclear where they came from originally — that appear to show Chopra and Jonas looking awfully cozy on an apparent Memorial Day boat trip. This boat trip was also randomly attended by Wilmer Valderrama, Chord Overstreet, and Jack McBrayer, among others, so, there's that.
Of course, neither Chopra nor Jonas have confirmed their supposedly budding romance, which gives fans some time to come up with a worthy couple name. Jopra? Nickyanka? The possibilities are endless.