Oscar Isaac's Wife Elvira Lind Is Just As Cool As You'd Expect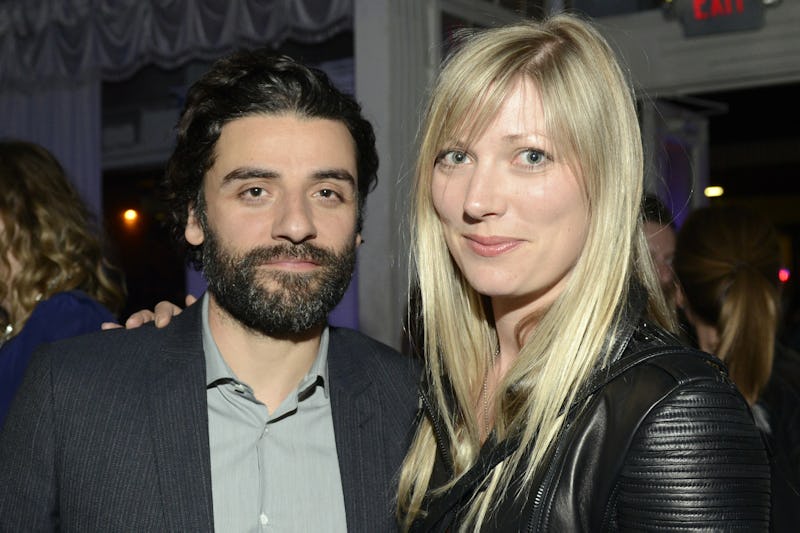 Tim Mosenfelder/Getty Images Entertainment/Getty Images
Oscar Isaac may be the internet's boyfriend, but there's only one person that actually put a ring on him. Although Isaac is normally super-secretive about his personal life, rumors swirled about a possible girlfriend after the 2016 Golden Globes, when the actor kissed a then-mystery woman. So it came as a shock when, in mid-2017, Isaac straight-up announced not only was he married already, but his wife, Danish documentarian Elvira Lind, was expecting. Isaac's love life was a confusing mystery even before this announcement, but now the obvious question came up — how did Oscar Isaac meet his wife?
Adding to the mystery is that there may have been a case of mistaken, or even hidden, identity when it comes to Isaac's relationships. According to the Daily Mirror, Isaac was engaged to longtime sweetheart Maria Miranda after proposing in 2007. Things get foggy from there, as Miranda was confused in photographs for Lind up to the 2016 Globes (Us Weekly confirmed Lind's identity after the couple's live awards kiss).
Going back and looking at photographs, most of the photos labeled "Maria Miranda" look an awful lot like Lind. Adding to the oddity is "Maria Miranda" is listed as an alternate name for Lind on IMDB (though this could just be someone also confusing the two adding the mix-up to the user-input site as fact). There don't seem to be many photos of Miranda, and some fans have theorized she never really existed, and it was Lind all along. Others suggest Isaac just has a thing for tall blondes. Either way, after the Golden Globes, the two were officially confirmed.
How Isaac and Lind likely met has to do with Isaac's big break, his starring role in the Coen brothers' Inside Llewelyn Davis. Talking to The Wrap, Isaac attributed getting the role to his years of musical experience, explaining, "[the Cohens] were looking for musicians at first. It's not musical theater – it's a window, as opposed to an expression of the character. The overlap between me as a musician and Llewyn as a musician had to be there as well." If you were unaware, Isaac has a lifelong history with music, starting numerous bands before ever taking up acting. His ska-punk band The Blinking Underdogs even played a festival with Green Day.
The lifelong love for music may have led Isaac to meet his current love. Lind's documentaries are intimate portraits of artists at work. Her most recent film Bobbi Jene follows dancer Bobbi Jene Smith as she risks the unknown for her art, leaving her dance troupe and boyfriend behind as she pushes her boundaries in NYC. One of Smith's signature pieces, what she told Michigan Quarterly "was going to be the only piece I would ever make," is an hour-long interrogation between Smith and a man, intended to be played by different performers, called Arrowed. In 2012, the man's role was played by Isaac, and Lind was in the audience capturing their performance (she shared an excerpt on her Vimeo page).
Vogue referred to Lind as Isaac's "then-girlfriend" at the time of the taping, and sure enough, the two met much earlier than that. Lind has an ongoing project called Staircase Sessions, which she described on its website as having "begun during the winter of 2013, when Oscar, Bruce and I were playing around with a camera and some guitars." The result was Staircase Session #1, where Issac and his bandmate perform a song as Night Lab.
Staircase Session #2 is a solo venture of Issac covering Bob Dylan; considering Issac makes three more appearances in Staircase Session videos, it's a safe assumption he and Lind were hanging out pretty closely since at least 2012.
In an interview with Little White Lies, Issac goes through a full history of his bands, ending with then-current Night Lab. He sums it up with "I love to play music, but I think a lot of this was for the girls, if you know what I mean?" Looks like his plan worked out pretty well him in the end.