Eugenie Showed Off Her Scar At The Royal Wedding For The Most Touching Reason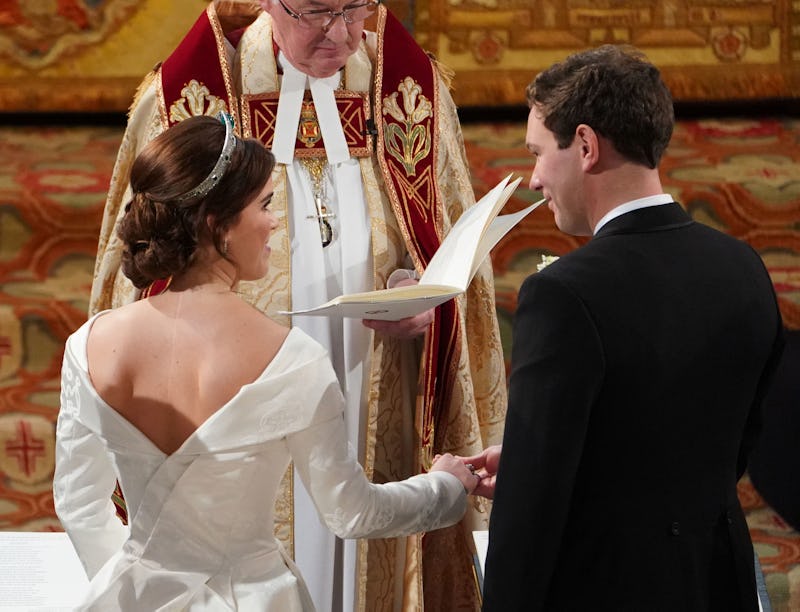 WPA Pool/Getty Images Entertainment/Getty Images
One of the most notable things about Princess Eugenie's wedding dress was the beautiful low back. But it wasn't just a simple design choice, Eugenie specifically selected the style to send out an important message by displaying the scar on her back. But just how did Eugenie get her scar and why did she decide to show it off?
Aged 12 Eugenie underwent an operation to correct a condition called scoliosis which causes the spine to bend to one side. As a result she has a large scar on her back which could be seen as a result of the low back on her dress. Eugenie explained that she made the decision because she wanted to change the way we think about beauty.
During an interview in the build-up to her bid day, she told ITV's This Morning, "I had an operation when I was 12 on my back, and you'll see on Friday [at the wedding], but it's a lovely way to honour the people who looked after me and a way of standing up for young people who also go through this. I think you can change the way beauty is, and you can show people your scars and I think it's really special to stand up for that."
Eugenie has made a point of supporting scoliosis organisations and others with the condition in her charitable work. She even posted pictures of her X-rays showing pins in her spine to Instagram earlier this year in celebration of International Scoliosis Awareness Day. She captioned the picture: "Today is International Scoliosis Awareness Day and I'm very proud to share my X Rays for the very first time. I also want to honour the incredible staff at The Royal National Orthopaedic Hospital who work tirelessly to save lives and make people better. They made me better and I am delighted to be their patron of the Redevelopment Appeal."
The Princess' dress wasn't the only nod in support of scoliosis sufferers made on her big day. She also invited Britain's Got Talent star Julia Carlile to the ceremony. The 16-year-old suffered from scoliosis but had corrective surgery last year after Simon Cowell paid £175,000 for her to have the procedure.
Scoliosis is a condition that causes the spine to curve to one side, making it difficult for sufferers to straighten their backs and/or shoulders. It often requires specialist treatment and costly corrective surgery. Princess Eugenie has previously spoken about how nervous she felt in the build up to her operation explaining in a post on the Royal National Orthapaedic Hospital's website, "I can still vividly remember how nervous I felt in the days and weeks before the operation [...] During my operation, which took eight hours, my surgeons inserted eight-inch titanium rods into each side of my spine and one-and-a-half inch screws at the top of my neck. After three days in intensive care, I spent a week on a ward and six days in a wheelchair, but I was walking again after that."
Wow, that does not sound fun. Thankfully Princess Eugenie has now fully recovered from the childhood condition and is doing amazing work to improve the lot of others who suffer from it. Not to mention showing the world that scars are beautiful and deserve to be seen. Inspiring.