This Is Why Robbie Williams' Daughter Is A Bridesmaid At Princess Eugenie's Wedding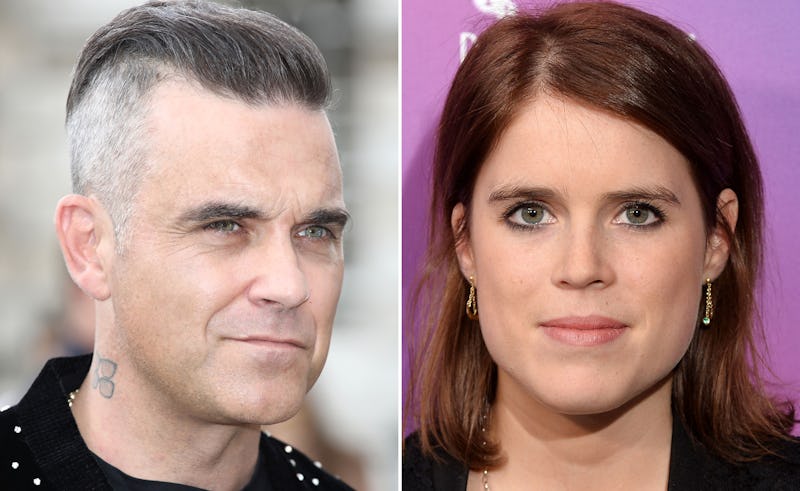 John Phillips/Getty Images Entertainment/Getty Images/Jeff Spicer/Getty Images Entertainment/Getty Images
I'm not sure about you, but I felt pretty confounded when I read the news that Robbie Williams' daughter would be one of Princess Eugenie's bridesmaids, when she gets married on Friday. Such a random meeting of worlds has inspired a lot of questions in me. Mostly; Why? What? When? How? I mean, how did Robbie Williams and Princess Eugenie meet? I have a suspicion there's an interesting story here.
Well, according to the Mirror, Williams and his wife (and fellow X Factor judge) Ayda Field are long-term friends of Eugenie's. According to the Daily Mail, Williams first met Eugenie, along with her sister Beatrice and mum, Sarah Ferguson, Duchess of York, when they were on holiday in the Caribbean in 2011. Since then, they have all grown incredibly close. So much so that they now see each other as family. A source told The Sun: "Robbie gets on really well with Beatrice. He treats her like a little sister and looks after her. It's really sweet."
With that in mind, I guess it makes sense that Williams and Field's little girl Theodora, who turned six recently, will be among Eugenie's bridesmaids. She'll be adorably joined by Maud Windsor, the four-year-old daughter of Lord Freddie Windsor and his actress wife Sophie Winkleman (aka Peep Show's Big Suze), as well as Princess Charlotte, as the Daily Mail reported. Also part of the bridal party are Savannah and Isla Philips, who is the daughter of Eugenie's cousin Peter Philips, together with Mia Tindall, the daughter of Zara Tindall and Mike Tindall.
The event will surely be a world away from the time Williams famously smoked at a royal residence. "I smoked a spliff in Buckingham Palace," he claimed to The Sun in Feb. 2017, alleging that the event happened when he performed at the Queen's Diamond Jubilee Concert on June 4, 2012.
But since that event, Williams appeared to have left his partying ways behind. Williams has credited the birth of Theodora, which came in the same year that Robbie performed at Buckingham Palace as saving his life, as Closer reported. As he confessed on Loose Women back in Nov. 2016, she was his biggest incentive for getting sober. And that's quite a feat, and deserves to be applauded. Before that, the former Take That singer had been known to cause a bit of a ruckus. In fact, when he first met his wife Ayda in 2006, as The Sun reported, he was in a far less healthy place.
Robbie wrote about the first time he met his future wife in his super personal memoir Reveal, which came out in Sept. 2017. She'd reportedly been at a party before arriving at Robbie's house. The pair then later went to join another party, where Williams admitted he took "a lot of drugs," before he preceded to "cluck like a chicken," while they were in his Jacuzzi together. But that didn't put his future wife off. She then reportedly spent "the next few weeks with him," looking after him, and since then he has turned his life around. The the rest, as they say, is history.