Fans Of The Royal Family Will Recognize Princess Eugenie's Wedding Venue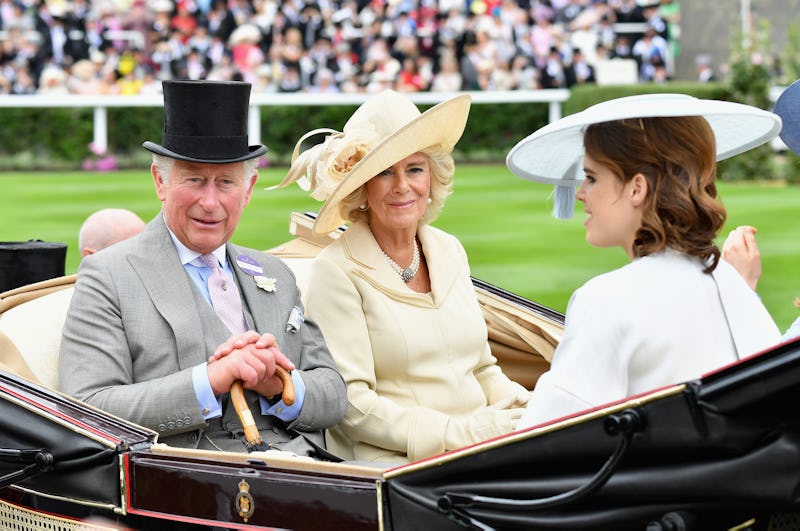 Jeff Spicer/Getty Images Entertainment/Getty Images
If you're in royal withdrawal after the May 2018 nuptials of the Duke and Duchess of Sussex, you're in luck! There's a new royal wedding on the horizon and you're going to want to know about everything to feed your royal addiction. Princess Eugenie of York, aka Prince William and Prince Harry's cousin, is getting married on Oct. 12. And, while some of the details might sound familiar, you probably have a lot of questions — like, where Princess Eugenie's wedding reception is being held, for instance.
If you're familiar with Princess Eugenie, you already know that she likes to keep things fresh and fun across the pond. The creative and artful fashionista is no stranger to the latest trends — so while her wedding will definitely be in line with the modest and traditional protocol of other royal weddings, there's bound to be some personal flare, too. While there are tons of rumors online regarding the intimate and decorative details of the Princess Eugenie's marriage to Jack Brooksbank, they're all just rumors for now. That said, there is one thing that we know for sure: where the royal wedding ceremony, reception, and afterparties will take place.
Like Prince Harry and Meghan Markle's wedding, Princess Beatrice and Jack Brooksbank will exchange vows at St. George's Chapel in Windsor Castle. But though the venue is the same, it might have a different feel. Why? Well, Markle and Prince Harry invited only 600 guests to their ceremony, which more than filled-out the chapel that has a 800 seat capacity. Eugenie and Jack have allegedly invited more than 850 guests to their wedding, so the chapel might look more like an amphitheater than a church with such a large crowd there to support their nuptials. So while it's the same venue, the vibe will likely be much less intimate than their cousin's spring wedding.
Also similar to Prince Harry and Markle's agenda, the newlyweds will be hosted by the Queen for a luncheon following the ceremony. This luncheon will also take place at Windsor Castle. During the time that the royal family arrives and moves from venue to venue, members of the public have been invited to stand by and observe. As per a statement from The Royal Family:
The couple are delighted Her Majesty The Queen has agreed for the grounds of Windsor Castle to be opened to those wishing to join the celebrations. After receiving over 100,000 applications, invitations have now gone out to the 1,200 members of the public who will join them on the day.
So if you are one of the lucky 1,200 people who will get to hang out at Windsor Castle for a chance to see the royal family on this special day, we're all counting on you snaps and videos, so get that content for the rest of us!
After the service, which will begin at 11:00 a.m. GMT, the newlyweds will take a special carriage ride en route to the Queen's luncheon. On this ride — like Prince Harry and Markle — Eugenie and Jack will be able to wave to the public who have come out to support them. Essentially it's a mini parade of love that will give everyone a chance to see them together, enjoying their fresh and special moment. According to The Royal Family's update, the carriage ride will travel from the Royal Mews, out of Windsor Castle and on to part of the High Street. If you want to get a good view of the couple, it's suggested that you head to Castle Hill, the High Street and Park Street. This procession will follow the route taken by The Earl and Countess of Wessex following their wedding.
While Princess Eugenie's wedding might appear to have a lot in common with a lot of other royal weddings, chances are she'll be bringing her own special touch with the details that haven't been shared with us. Basically we'll just have to wait for the pictures to roll in on the day of the event, as currently BBC has no plans to televise the actual wedding. Though in a comment to Cosmopolitan, they did say that they would be airing coverage pertaining to the wedding so it's likely worth it to tune in anyway.