Scott Disick & Sofia Richie's Relationship Is Full Of Weird Connections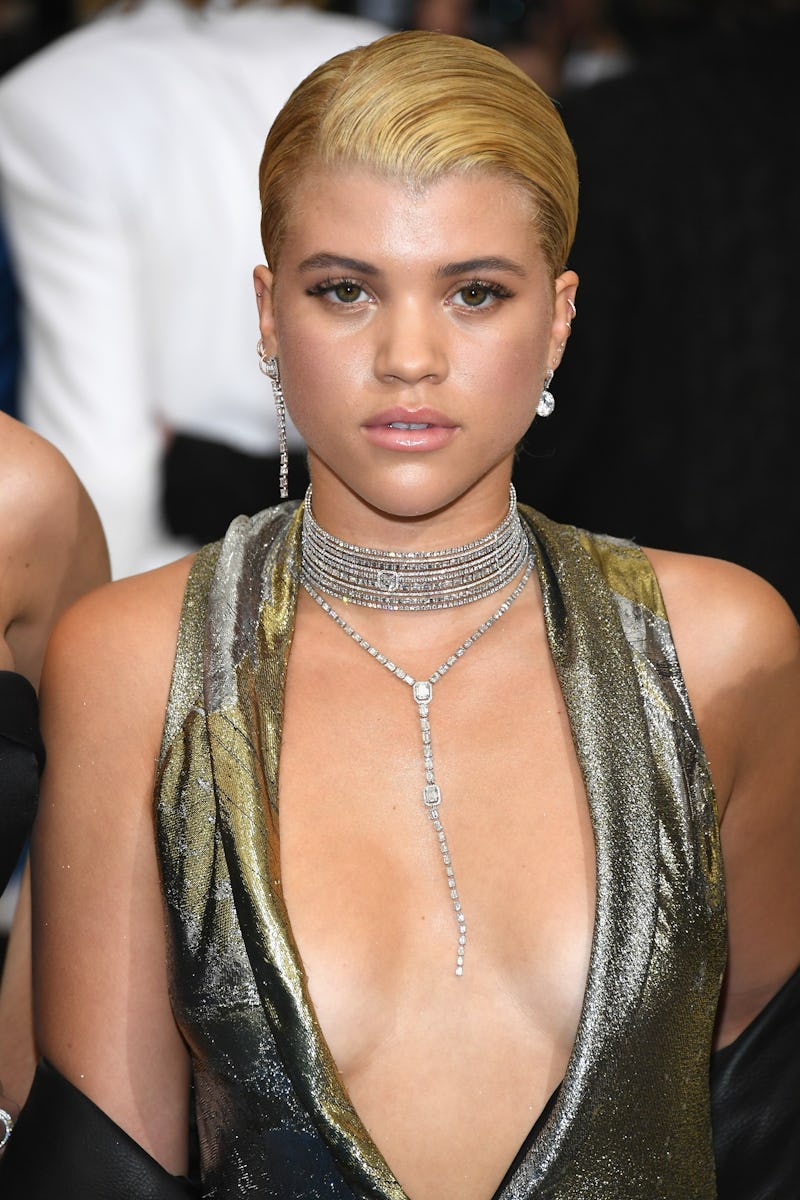 Dia Dipasupil/Getty Images Entertainment/Getty Images
She's just 19, while he's 34. She's Hollywood royalty, he's a reality TV star. So how did Scott Disick and Sofia Richie meet? This question feels even more pressing now that it appears the pair have made things "Instagram official." On September 23, Lionel Richie's daughter shared a photo of herself and Disick with their arms wrapped around each other on Instagram Story. On the same day, Kourtney Kardashian's ex also shared a photo of them together on the same social media channel, this time to the backdrop of the sky behind them, suggesting the couple wanted Instagram and the world to know they're now together. They were also photographed and filmed kissing while out to dinner with friends.
But when it comes to how they first met, it's possible that this pair crossed paths for the first time through their mutual connections to the Kardashian family. Disick was with Kourtney Kardashian between 2006 and 2015 (though during that time the pair broke up and reunited a few times). And we know from an old Keek video that Kardashian's half sister Kylie Jenner and Richie were definitely friendly enough to show off their matching shoes back in 2014. On top of that, the fact that both Richie and Kardashian were rumored to have dated Justin Bieber — and at the very least, used to hang out with him — suggests they move in the same circles, making it seem even more likely that Disick and Richie would have met at some point prior to this year.
However, at least officially, in terms of media documentation, the pair definitely knew each other by May 28, 2017. Around that time, Disick flew out to Cannes for a birthday celebration, and at the end of a week of being spotted hanging out with women, including stylist Chloe Bartoli and actor Bella Thorne. He was also seen hanging out with Richie, amongst other people, while on a yacht. It's possible Richie got an invite to hang out with Disick in part thanks to Bartoli, who is a long-time friend of hers, according to Us Weekly. A source told Us that the pair were, at least pre-Disick, "the best of friends and were inseparable."
It's worth noting that Disick has a dramatic history with Bartoli. The stylist was both an ex-girlfriend of his and the woman he was spotted with soon after he and Kourtney Kardashian broke up.
Photos were published of Disick carrying Richie around on the yacht, but Richie wasn't amused. She tweeted, "Just so everyone can get their panties out of their asses, Scott and I are just homies #relax." But a little over a week later, she was photographed Facetiming with Disick at LAX airport and speculation continued that the pair might be more than friends. On the same day, she reiterated her point, tweeting, "The last time I'm gonna say it. Scott and I are just friends. I'm single and focused on friends, family and work. #againrelax."
But the pair seemed to be spending an awful lot of time together for platonic buddies. In September, the Daily Mail reported Disick had taken her shopping in Beverley Hills. A couple of days later the Daily Mail also published photos of Richie and Disick kissing poolside in Miami.
And it was only a few days after that they seemed to make things official. On the same Saturday the pair posted photos of themselves on their Instagram stories, a video was taken of them sitting in front of a dessert at a restaurant on which someone had written the message "Congratulations Scott and Sophia[sic]!" in chocolate on the plate, sparking speculation that Disick and Richie could be engaged (though TMZ's source claimed that the dessert could be congratulating Richie and Disick for officially becoming girlfriend and boyfriend). However, the words had been smeared out, and it's worth noting that this whole thing could just be a joke, playing on the public's fixation on the possible couple. (Bustle reached out to reps for Disick and Richie for comment, but did not receive a response at the time of publication.) But regardless of the extent of their relationship, they certainly seem to be more than just platonic, because they also shared multiple kisses in a video in front of the dessert.
Whether the pair are still insisting on calling their hangouts being "just homies "or they're 100 percent totally, formally together, they do look pretty happy together.