The Original 'Murphy Brown' Finale Affected Breast Cancer Awareness In This Major Way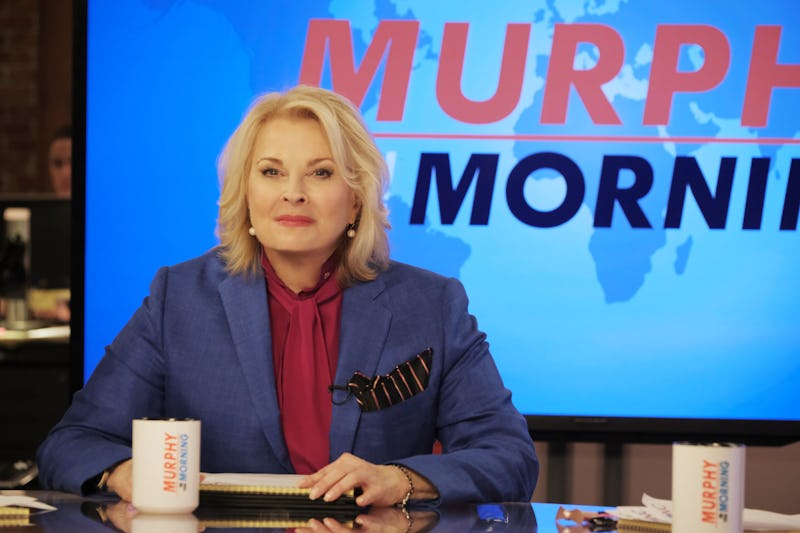 Jojo Whilden/CBS
The beloved CBS sitcom Murphy Brown, which ran from 1988 to 1998, returned with new episodes on Wednesday, Sept. 27. In the original run, the titular Murphy (Candice Bergen) was a single mother and investigative journalist at FYI News, where she tackled hot political topics and defied gender norms. However, the series was off-the-air for 20 years, so it's only natural that fans may have forgotten the original Murphy Brown ending.
If audiences will recall, Season 10 followed the protagonist as she battled breast cancer. The series finale was a two-parter called "Never Can Say Goodbye," which showed Murphy undergoing surgery for a second cancer scare. Once under-the-knife, she woke up in heaven and got to interview God (Alan King). During the course of this career-defining "interview," the deity convinces Murphy to stay with FYI, which she was thinking about leaving. When the journalist wakes up, she turns out to be cancer-free. The show concludes as Murphy returns to the bullpen, tells her colleagues she's staying, and then returns home to sing "Natural Woman" one last time.
In an interview with Entertainment Weekly, show creator Diane English said that she wanted to shake things up for Season 10. "I wasn't really very pleased with how the series was evolving, and I wanted to sort of get back to our roots and tackle a serious subject," she explained. The serious subject she's referring to is, of course, breast cancer.
However, Murphy Brown got some pushback from the press for doing such a serious storyline, per EW. The dissenters thought that this topic would be inappropriate for a comedy show to tackle. "We had to explain that we had really done a lot of homework and that breast cancer patients told us that keeping your sense of humor was paramount in healing," the showrunner explained. What's more, Bergen told the New York Times in 1998 that while English wanted to "put Murphy in jeopardy," the network executives had other ideas. "They thought Murphy should just struggle through menopause," she said. "Diane and I had to tell them menopause is not jeopardizing."
Thankfully, English had her way. Not only did the number of women receiving mammograms that year go up by 30 percent, according to The Today Show, but Bergen said in the same article that there were many breast cancer survivors who worked on Murphy Brown. "[E]very show was very emotional for people on the crew because everybody had been affected by that," the actor said.
However, the finale wasn't all serious — the two episodes also had several guest stars, which English told EW was meant to boost the ratings. Julia Roberts and Mike Wallace cameoed as themselves, Bette Middler appeared as Murphy's final secretary, and George Clooney played a doctor. The showrunner explained that Clooney was on the lot doing ER, so he agreed to come do Murphy Brown. "He walks onto the set, and Candice looks at him, and he says, 'So how's it going this week?'" English recalled. "And she just burst into tears. Every time somebody would say anything that reminded us that that was the end, there would be crying."
As for what she hoped to accomplish with the finale, English told EW, "I think we wanted to go out on a note of we've always been true to this woman: She's changed over 10 years, but she's still Murphy Brown.... She's just a total survivor. In a man's world, she was a ceiling-breaker. She never lost her sense of humor, even when she was facing the Grim Reaper."
Fortunately, Murphy brings her stubborn drive back to the 2018 reboot, where she reunites with her old coworkers to stop the onslaught of fake news they've witnessed since Trump took office. And while it remains to be seen whether her cancer will return in this new season, the Murphy Brown writing team likely has their hands full tackling the other issues of today. After all, Murphy has never been shy about spouting her opinions, and there's a lot to be outspoken about right now.