Tom Hardy & Charlotte Riley Met On A TV Show, But They Rarely Talk About It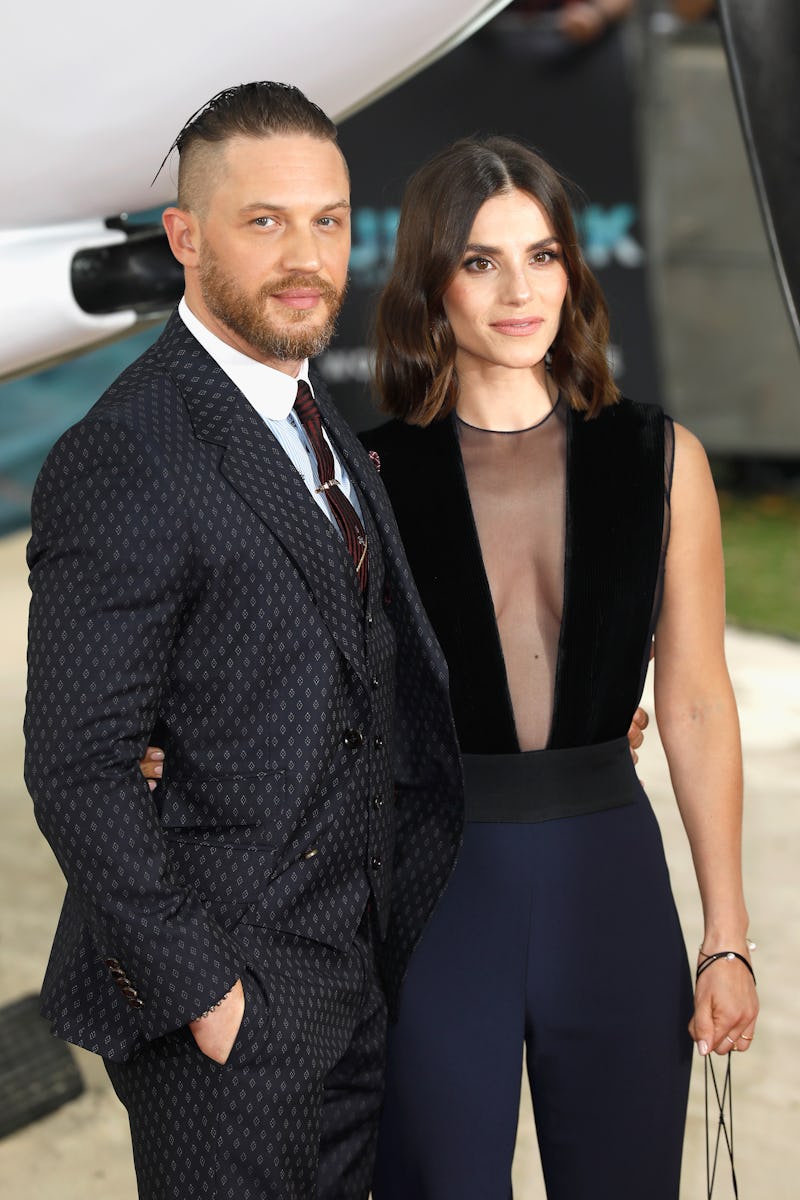 Tristan Fewings/Getty Images Entertainment/Getty Images
When two brilliant actors fall in love, it is like Hollywood royalty in the making. Liz Taylor and Richard Burton, Joan Woodward and Paul Newman, Katherine Hepburn and Spencer Tracey, you get the idea. Personally, my fave celebrity couple is Tom Hardy and Charlotte Riley. The talented and genetically blessed pair are certainly carving their way into the history books, oozing old time glamour and seeming to be super loved-up. Talk about relationship goals. But how did Tom Hardy and Charlotte Riley meet?
Well, it looks like they actually met at work, which might make you look differently at your colleague sat opposite (but OK, I guess their line of work could be described as being a bit more glam). The super talented (and let's be honest, super hot) pair met on the set of the TV adaptation of literary classic Wuthering Heights back in 2009, reports Herald Scotland. Yep, they met playing actual Heathcliff and actual Cathy. Where is Kate Bush RN? Also, Emily Brontë is fully saying "aww" in her grave over this.
They didn't muck about and were engaged only a year later. True love doesn't wait, right? They married in 2014 in a pretty private affair, joined only by a few family and friends, reports Hello! magazine.
The wedding reportedly took place in a fancy 18th-century château in Provence in the south of France. The uber private pair didn't share any photos or invite any press attention to the nuptials, as they clearly wanted their day to be theirs. Ugh, how cute is that? Basically eloping! Call me a hopeless romantic, I guess I am one.
The couple welcomed a child only a couple of years ago and, in my opinion, wisely have decided to keep the gender, name, and image of the child away from the public eye. Yes, we all want to see how cute their progeny is, but as Hardy said in a recent interview with Esquire, their privacy is paramount:
[Pictures of my] kids are a no. They really are. And that's what really bothers me, and it will fast-track me immediately to respond like any father in any situation, regardless of where they come from and what they've been through.
Riley is, perhaps, the lesser known of the pair, but has proven herself to be an incredible actor. Apart from Wuthering Heights, she has also starred in Peaky Blinders, Trust, and London Has Fallen among others. Added to this, she is also a boss writer, having won the Sunday Times play-writing award when she was still a student back in 2004.
Hardy has become a real icon in the acting game and the source of many fans' lust and desires. Look at the guy, for cripes' sake. He has gained a heck of a lot of international success, featuring in the Batman films as well as playing homegrown gangsters the Kray twins in Legend.
I think I have said "thank goodness for TV," like, infinity times, but I guess Hardy and Riley say it more because who knows, without it, maybe they wouldn't have found true love. And who doesn't love a bit of romance, am I right?