Warren Beatty Explains His Oscars Screw-Up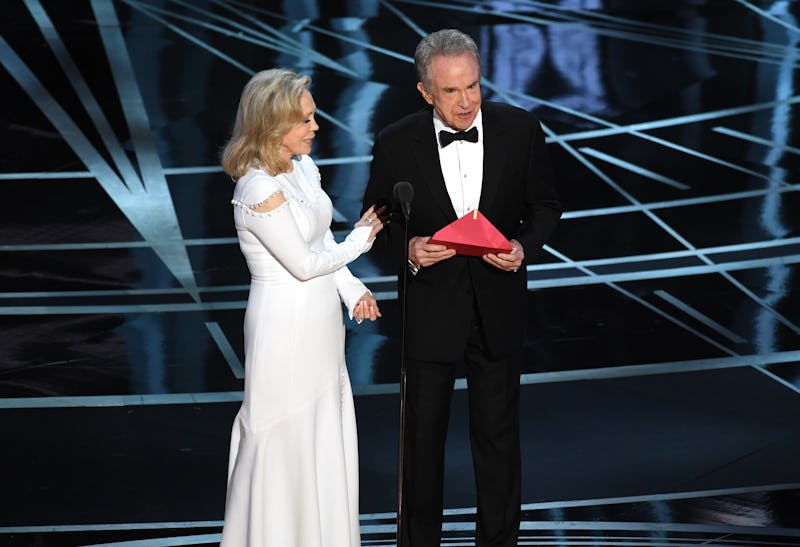 Kevin Winter/Getty Images
On Sunday night a major mistake happened during the 2017 Oscars: Faye Dunaway and Warren Beatty announced the wrong Best Picture winner. Dunaway announced La La Land as Best Picture, despite Moonlight winning, claiming a faulty envelope. Update: Numerous photos have been posted that show the envelope in Beatty's hands reads "Best Actress in A Leading Role."
Earlier: It wasn't until halfway through La La Land's acceptance speech for best film that anyone realized the mistake that had been made. The producer accepting the award for La La Land then informed the audience that Moonlight won, and a flurry of people got mixed up on the stage. During the confusion, Jimmy Kimmel cracked a few jokes and the team behind La La Land relinquished their awards to those behind Moonlight.
During the kerfuffle, Warren Beatty attempted to explain the snafu, suggesting that Dunaway had misread the envelope or had been incorrectly given an envelope that was meant to announce a different award. By the time Moonlight had launched into their acceptance speech, it still wasn't clear what exactly had gone wrong. Beatty explained that he had opened the envelope and it said "Emma Stone, La La Land" and assured the audience that "he wasn't trying to be funny."
The musical still managed to take home plenty of awards, so losing Best Picture wasn't a major hit — but this major flub will forever be attached to the memory of La La Land, Moonlight, Warren Beatty, Faye Dunaway, and The Oscars as a whole.
Maybe Steve Harvey will host next year.
Editor's Note: An earlier version of this piece incorrectly said Beatty read the winner. Dunaway actually did. We regret the error.