The 'Jersey Shore' Cast Has Actually Grown Up — Well, Except This One Guy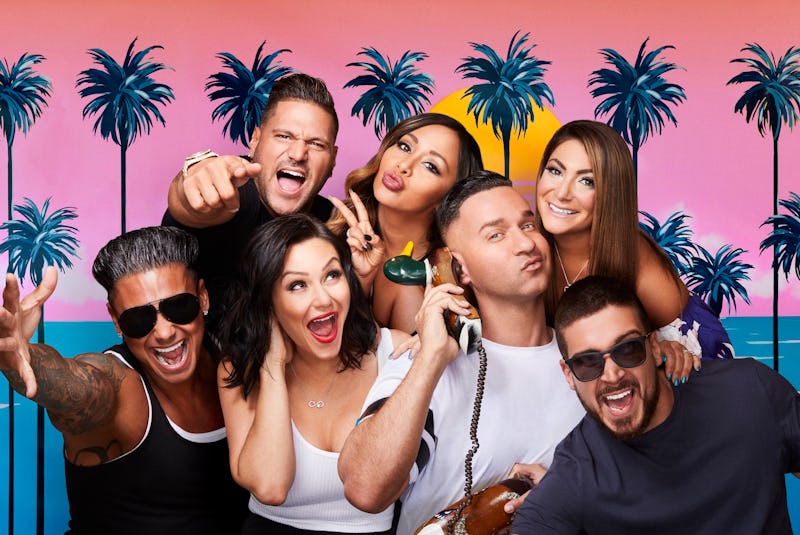 MTV
Mild spoilers for the premiere. Back in the good old days of the original Jersey Shore, there was plenty of yelling, fighting, dancing, and drinking — sometimes all at the same time. Now, in the MTV reboot of the iconic series, it's evident that the Jersey Shore: Family Reunion cast has grown up — kind of. The new show welcomes back housemates Paul "Pauly D" DelVecchio, Jenni "JWoww" Farley, Vinny Guadagnino, Ronnie Ortiz-Magro, Nicole "Snooki" Polizzi, Mike "The Situation" Sorrentino, and Deena Nicole Cortese. The main gang's all back, save for Sammi "Sweetheart" Giancola, who chose not to return to the house. And even though these reality stars have gotten older and wiser in the years since Jersey Shore's original run — Jenni, Nicole and Paul all have children, and Ronnie had one on the way at the time of filming — they still prove in the premiere of that most of them can still drink any other vacationer under the table with ease.
The most notable differences in the cast's personalities, though, are in Mike and Vinny. Both now dedicate a lot of their attention to health and wellness in a way that goes far beyond just working out at the gym to fill out those tank tops. Vinny immediately annoys Paul and Ronnie by picking the cheese off a late-night pizza to avoid carbs, and Mike is straight up sober. He'd been off all drugs and alcohol for about two years at the time of filming, as he tells his roommates, and also insists he's turned over a new leaf not just regarding his physical health, but also his mental wellbeing. He doesn't lie, steal, or cheat anymore, he proudly tells his friends.
That's probably for the best, too, as Mike starts off the series with an entirely new situation brewing. He's been accused of tax evasion and the IRS is after him, he says, making the very possibility of him traveling to Miami with the rest of the cast look unlikely at the start. According to People magazine, Mike and his brother were accused of "failing to properly pay taxes on $8.9 million in income from 2010 to 2012," among other charges, and he currently awaits sentencing after pleading guilty in January. He eventually gets the green light to head to Miami, and doesn't let his legal trouble stop the party, showing that some things never change. He remains sober at least through the two-hour pilot, though, and hopefully that endures through the rest of the season.
Nicole and Jenni, meanwhile, are as loud and outrageous as ever — apparently motherhood hasn't changed them too much. During a FaceTime call with one of the boys near the start of the pilot, Nicole screams bloody murder in the middle of a crowded restaurant, and that essentially sets the tone for the entire show. She certainly hasn't lost her endlessly entertaining spark, nor her ability to faceplant outside a club, hearkening back to the first night she was ever in the house. Deena is definitely the most chill of the girls, defending Sammi's honor whenever Ronnie decides to trash talk her for no reason, but she also hasn't lost the attitude that made her so fun on Jersey Shore.
Ronnie seems to be the one who's grown up the least, at least in the most meaningful ways. Aside from his obsession with picking fights with Mike and talking about Sammi even though she's not there, he's thrown up some other red flags early, and the remainder of this trip could get dicey for him. He has a very pregnant girlfriend back home, but still asserts that he's allowed to "look and talk, but not touch." He also frequently refers to the Miami vacation as his "dadchelor party," and is fully on top of a dancer within 10 minutes of being at one club. It's only the first days there and he's already dangerously close to making some bad decisions.
But some of this is to be expected — MTV wasn't going to bring back a Jersey Shore reboot to have the cast sit around, drink tea, and talk somberly about their glory days. Things were always going to get messy, even for those cast members with hearts of gold. But despite all of that, you really do get the feeling that this group of people cares for one another and considers themselves a family, and in the end, that's a lot of what fans tune in to see.