A 'Jersey Shore' Revival Is Happening & That's Not Even The Best Part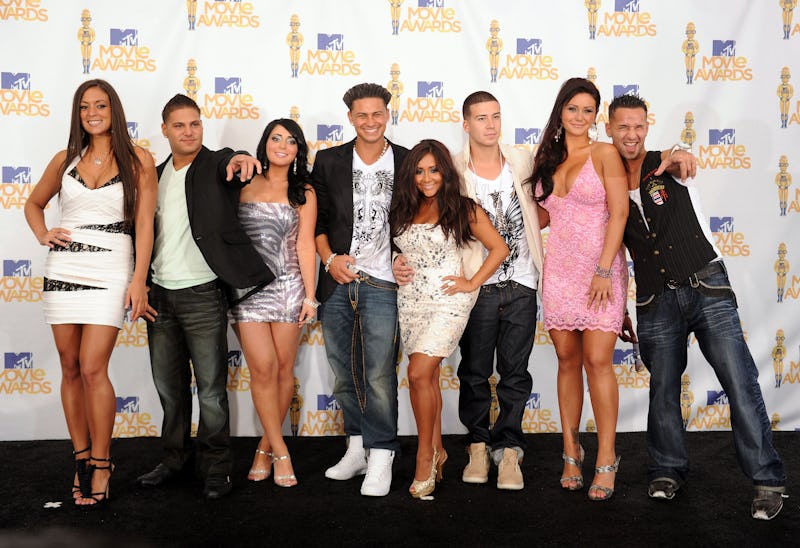 Jason Merritt/TERM/Getty Images Entertainment/Getty Images
"We're back, b*tches," said a familiar voice during advertisement that played during Monday night's MTV's Floribama Shore premiere, and it sent everyone's hearts aflutter. That voice belonged to Snooki, in an announcement that Jersey Shore is coming back for a revival season on MTV. So grab your tanning lotion and beer funnels, everyone, because the reboot will likely continue to shock and awe viewers in the best way possible.
The new series, titled Jersey Shore Family Vacation, will air in 2018, and judging by Twitter, the people are ready to GTL with all of their favorite reality stars again. Well, almost all of them. According to Variety, everyone but Sammi "Sweetheart" (and Angelina, of course) have signed on to return. But, even without the classic Sammi vs. Ronnie couple's arguments, fans already know that the Jersey Shore crew hasn't lost their appeal.
After all, in case you forgot, they already had a mini-reunion last summer on E! when the cast got together for a road trip down memory lane on a docu-series. Jersey Shore, which aired between 2009-2012, clearly created some "Jersey strong" connections between the cast members, since they're willing to reboot the show more than once. For everyone who watched the events of the Seaside Heights summer house unfold, the cast's willingness to recreate their TV magic together probably doesn't come as a huge surprise though. These people created their own little family together — dysfunctional as it may be.
Since Jersey Shore ended in 2012, the cast members haven't exactly been sitting around and twiddling their thumbs like they did on the show while waiting for the cabs. Sure, Pauly D may have eagerly waited on a bean bag chair until he could yell "Cabs are here!" back in 2010, but things are different now. Snooki, for instance, now has two kids, as does Jenni "JWOWW" Farley. Plus, it would make sense for the new show to include the cast members' families, considering it's titled Jersey Shore Family Vacation.
Even though the kids might be around, though, that doesn't necessarily mean that the show will be kid-friendly. Everyone is surely hoping to see their old Jersey Shore stars getting down and dirty in the clubs just like they used to, and the housemates will most likely deliver.
While MTV's new shore show, Floribama Shore, bears many similarities to Jersey Shore — including the duck phone — everyone knows that nothing could ever replace the OGs. Some fans even questioned whether or not they even needed to watch Floribama Shore now that they know the Jersey crew is coming back. Because even though, like Snooki, Jersey Shore fans have grown up a lot since 2012, that doesn't necessarily mean that they've moved on.
While it's always exciting to know that a show you once loved will soon return, the new Jersey Shore will likely be different from the original, and that could be for the better. A couple of the male cast members, particularly Mike "The Situation" Sorrentino, demonstrated misogynistic behavior, like labeling certain girls "grenades." Perhaps in 2010 this could air relatively unchallenged on TV, but now, at a time when more and more discussions about the detrimental effects of so-called "locker room talk" are being had, that kind of behavior likely won't fly on a reality show.
If the cast members of Jersey Shore can somehow strike the balance between improving upon some of their negative behavior while remaining as funny as before, the 2018 reboot will likely make everyone happy. And, as long as Dina, who infamously called herself a "blast in a glass" is around, the members of the shore house are almost guaranteed to have fun.