7 Things You Can Do To Fix Your Relationship With Your Parents, According To Experts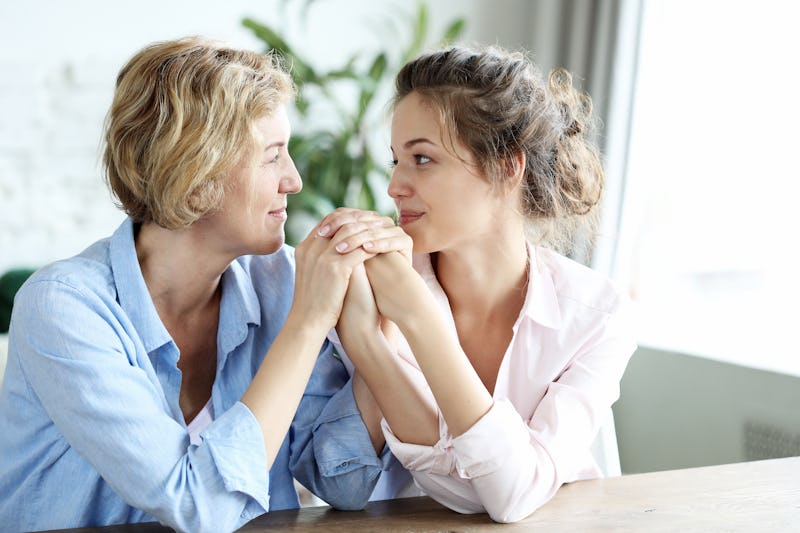 Shutterstock
Like all relationships, the one you have with your parents will change as time goes on. That's especially true once you become an adult and create an entire life for your own. But since you're technically still their child, and always will be, knowing how to create a healthy dynamic with them can be challenging. According to experts, the best place to start is to examine the relationship you have with them now. Sometimes people find that their relationship with their parents isn't as solid as they think.
"There are many ways in our society that enmeshed relationships — especially between adult children and their parents — are not only accepted, but idealized and seen as a possible model for other adult relationships," Dr. Mark Borg Jr, PhD, licensed clinical psychologist/psychoanalyst who specializes in relationships and author, tells Bustle. For instance, it's commonly believed that having a good relationship with your parents means you'll have healthy romantic relationships.
While there is truth to that, Borg says it's also important to have space. "We need emotional and physical space (including geographical) from our family to be able to separate, become individuals and start our own life and family," he says. When you have a good relationship with your parents, it's easy to assume that your relationship is healthy. But the reality is, many fail to establish healthy boundaries with their parents.
It's not always easy to tell if your relationship is healthy or not. So here are some signs your relationship with your parents isn't as solid as you think, according to experts.