Princess Eugenie & Naomi Campbell Have Been Pals For Way Longer Than You Probably Think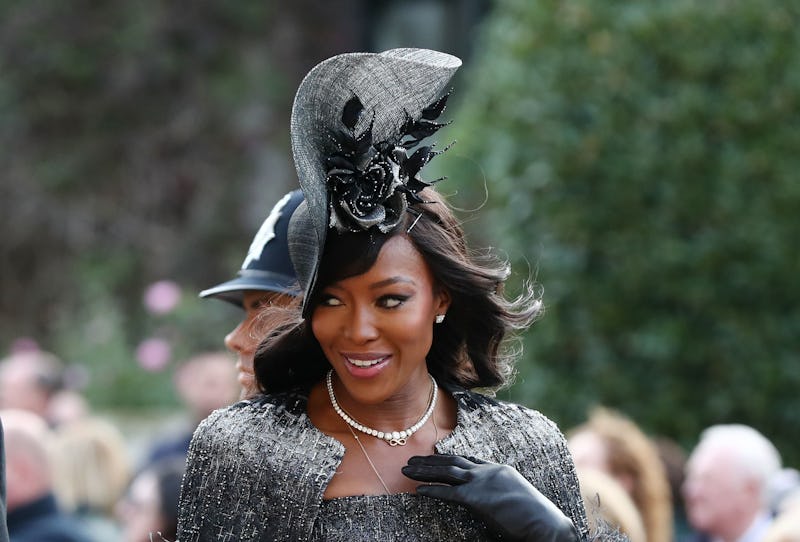 WPA Pool/Getty Images Entertainment/Getty Images
A royal wedding is always a reliably star-studded affair. Aside from the actual royalty, you're guaranteed to see Hollywood A-listers, legendary musicians, and sports stars. Also frequently in attendance are a selection of the world's top supermodels. And the second royal wedding of 2018 was no different, with a host of famous fashion faces present. But how do the royals know all these models, and in particular how do Princess Eugenie and Naomi Campbell know each other? I mean I would have thought that supermodels and royalty ran in different circles but apparently not — as she was by no means the only model in attendance — Kate Moss and Cara Delevingne were also guests.
But it turns out Eugenie and Campbell go wayyy back, like wayy back. They were first spotted together when Eugenie and her sister Princess Beatrice supported the model on the front row at her Fashion for Relief Runway Show in 2008. Yep, that means they've been friends for ten years at the very least. And according to Harpers Bazaar, they have stayed in touch ever since, with Campbell posting a candid picture of them together at the Formula E race in June this year.
They may have known each other even longer than that, as they originally met through Eugenie's mother Sarah Ferguson. According to Harpers Bazaar Australia, she and Campbell have even holidayed together in the past. The royals often get to know celebrities through their charity work so it's possible that's how Ferguson and Campbell met. They've been close friends for a number of years, with Ferguson even making an appearance on the catwalk at one of Campbell's Fashion for Relief Foundation shows back in 2015.
Campbell wore a white, grey, and black outfit to the wedding complete with feathers on the shoulders and skirt and a dramatic fascinator featuring black and grey roses. She also wore black tights to the ceremony, possibly a wise choice given the windy weather on the day which saw a number of guests nearly lose their hats. Campbell managed to hang on to hers — a serious feat considering the weather and also accessorised her look with a pair of black leather gloves. Because this is a royal wedding, and if you're going to turn a look, thats when (and how) you do it.
Elsewhere Cara Delevingne opted to follow the dress code in her own inimitable style by wearing a morning suit (usually an outfit worn by the male guests) complete with top hat and high heels. I stan a queen who subverts gender stereotypes even on major public occasions. Meanwhile Kate Moss also stayed true to her signature quirky style in a polka dot cream suit. Princess Beatrice also made a break with royal wedding tradition in a royal blue maid-of-honour outfit. At Prince Harry and Meghan Markle's wedding the bridesmaids all wore ivory Givenchy dresses to match the bride, and at Prince William and Kate Middleton, maid-of-honour Pippa wore a cream Alexander McQueen gown to match her sister's lace dress. But really, it wouldn't be a modern royal wedding without a little rewriting of the rules now would it?