Supermodel Cara Delevingne & Princess Eugenie Have A Pretty Wild Friendship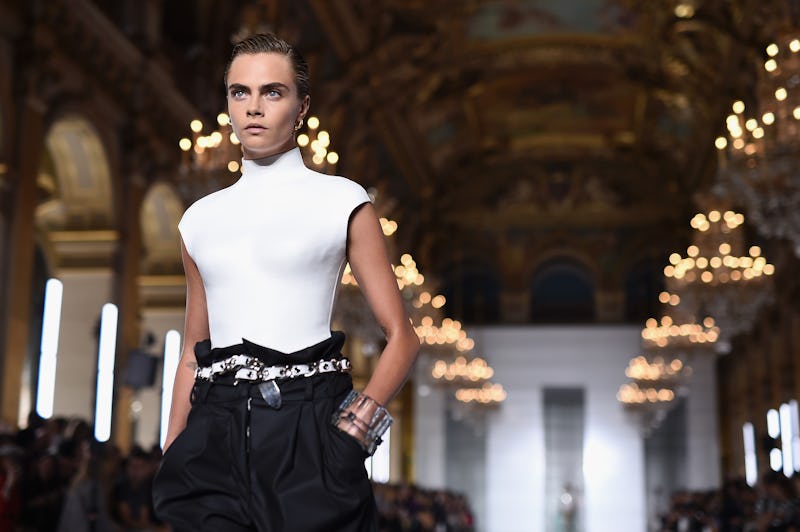 Pascal Le Segretain/Getty Images Entertainment/Getty Images
Can you hear that noise? Yes, it's wedding bells. Today is the big day and as we all wait with baited breath to see the fashion, outfits, who's there, who's not there and who's going to throw the best shapes on the dance floor. OK maybe not, but with rumours swirling re celebrity guests at this huge event, the question is, how does Princess Eugenie know all these big names? In particular, how does Princess Eugenie know Cara Delevingne?
Well, seemingly the pair have been friends for a few years now, having been photographed leaving an oh-so-exclusive London Fashion Week fashion party back in September 2015. They were papped, arm in arm leaving the party at Mayfair private members' club LouLous, alongside actress Clara Paget. Eugenie had attended the Burberry show that day so they must have got chatting there.
But guys, according to the Daily Mail, they have known each other longer than that, and Delevingne attended Eugenie's OTT 25th birthday bash back in June 2015.
The pair were also pictured in a funny photo booth picture on Suki Waterhouse's Instagram account, in a now removed photo, alongside a few other familiar faces including her cousin, who you might of heard of before, HRH Harry Windsor, according to The Sun.
Although it remains to be seen if Delevingne will attend, and whether she will bring rumoured girlfriend Ashley Benson or not, what is for sure is there are a lot of rumours about other potential celebrity guests at Eugenie's nuptials to Jack Brooksbank later today. According to Harper's Bazaar the Beckhams, the Clooneys, and the likes of Ellie Goulding and old photo booth buddy Suki Waterhouse will also be in attendance.
Some of the guests heading on to the reception might include attendees of Eugenie's (seemingly) pretty lit 25th. And they should feel super at ease because her two (!) day reception is going to be in the very same location. Yes, the wedding reception will be held at the Royal Lodge in Windsor, the official residence of her dad, the Duke of York.
The wedding itself is set to have a stonking 850 guests! Wow, that is a lot of Prosecco. Kidding, I am sure the Champagne region has been on high alert re this glam event. A very lucky 1200 members of the general public will also be attending. The lucky few were selected from a ballot of over 100,000 people, according to the Palace, and they will get to listen to a live broadcast within the grounds of Windsor Castle. Not to mention the countless hoards who have already gathered to watch from outside, to see the wedding of a couple described as "the perfect couple" by their wedding officiant, the Dean of Windsor David Conner.
The couple, who have been dating for seven years after they met on a skiing trip. Things worked pretty well from the get go. She said it herself in an interview with Eamonn Holmes and Ruth Langford for This Morning that it was love at first sight.
Although it remains to be seen if Delevingne will be in attendance, one thing we know for sure is, judging by Eugenie's past parties, this wedding is going to be pretty fun.