Taylor Swift & Russell Westbrook Go Way Back (Sort Of)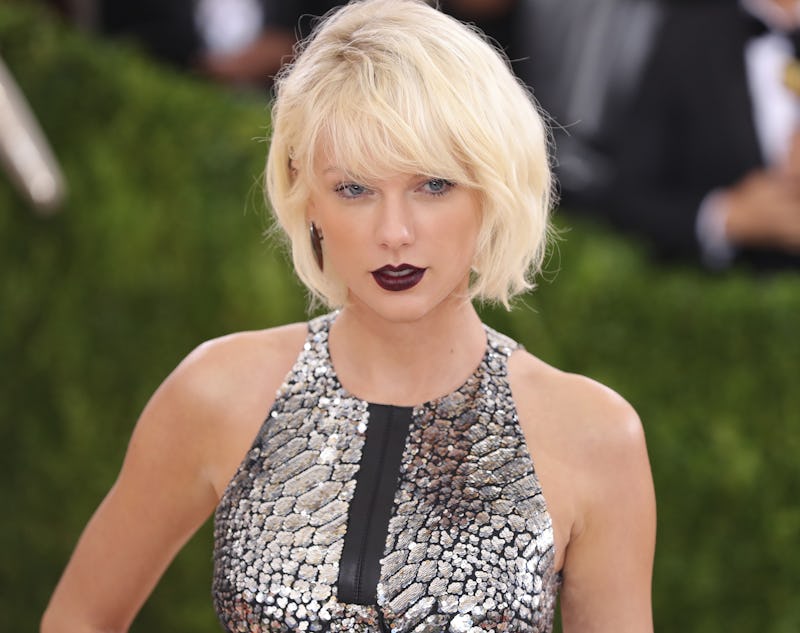 Neilson Barnard/Getty Images Entertainment/Getty Images
To celebrate Oklahoma City Thunder point guard Russell Westbrook's MVP win for a historic NBA season, teammates and friends sent the player their congratulations on Twitter. But there was one very surprising person included in those sweet tweets. That would be Taylor Swift, who congratulated Westbrook on his big win. In the message, the singer even talked about their decades-long friendship, which got people asking, how do Swift and Westbrook know each other in the first place?
Well, it turns out, they don't really know each other and haven't been friends for years. Or at the very least, they're not friends... yet. Posed in front of an ivy-covered wall with some serious curls, Swift told a story about how she taught Westbrook how to play basketball nearly 20 years ago. "I was the one who taught you to dribble," she reminds him. "To shoot hoops." She even talks about how he inspired her song "Shake It Off" the first time he beat her in a one-on-one game of basketball. "So, essentially, we have each other to thank for these careers," she said quite seriously.
Too bad the story's a total fake; the two have never actually met in real life, according to Swift, who said later in the clip that they haven't known each other for 20 years, but "I wish it were the truth." Regardless, it's a sweet reminder that Swift is willing to go above and beyond for her fans, which Westbrook most definitely is.
So, when did Westbrook reveal himself to be a Swiftie? It all started back in 2015 when he showed off his fandom not once, but twice. He posted an Instagram video singing along to Swift's 1989 hit "Bad Blood" — a song he went as far as calling a "banger." He even got a retweet from Swift and basically did what any fan would do — freak out. "WOW!!!!" Westbrook tweeted. "I'm so hyped!!! lol."
A few months later, Westbrook posted a video singing along to "We Are Never Ever Getting Back Together" at a Swift concert in Los Angeles. "T SWIFT ...WAS ROCKINNNN LAST NIGHT!!" he captioned the clip. Westbrook was clearly feeling it and would show his love for the song a year later on Snapchat.
While the two have never met IRL, Swift, like Westbrook, has let him know she's a fan on numerous occasions via social media. The most notable being that 2015 tweet where she let Westbrook know he "just made my night" with his "Bad Blood" co-sign.
And Swift does have a bit of a basketball connection. Besides attending New York Knicks games with her bestie Karlie Kloss, she also worked out with the team in the legendary Madison Square Garden back in 2015. In an interview with Time a year earlier, Swift said she "always had this sort of love of the Knicks, just because Amar'e is so cool."
That would be Amar'e Stoudemire, who played for the Knicks until 2015 and was one of Swift's favorite people on and off the court after meeting him at the Met Ball. "I've gone the last four years. And the most normal people at that event, every single time, are Amar'e Stoudemire and his wife Alexis," she told Time. "I talk with them and hang with them every time I'm there."
So, Westbrook may not be Swift's real MVP, but it's hard to believe the OKC star won't be psyched about his personalized video from his favorite pop star.. I can only imagine a tweet is coming, just as soon as he's done celebrating his MVP win.