This Is How To Respond If Someone Tells You They Were Sexually Assaulted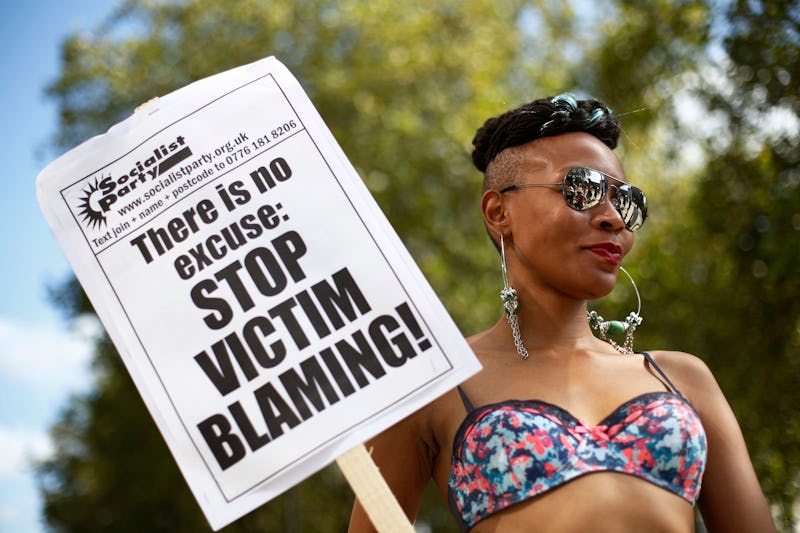 AFP/AFP/Getty Images
Every time a new sexual assault claim is highly-publicized, it leads to some sexual assault survivors being re-traumatized and blamed for the harassment or assault they experienced. Less than a year after more than a dozen women accused Donald Trump of sexual assault, The New York Times reported that yet another famous man, Harvey Weinstein, is accused of sexually assaulted multiple women. And as always, there are people who side with the perpetrator instead of the victims. In Weinstein's case, fashion designer Donna Karan jumped to his defense by, in part, blaming the women for his sexual misconduct; Karan suggested to the Daily Mail the women speaking out against Weinstein were "asking for it." Though Karan apologized for her comments after receiving (IMO, deserved) backlash, her words are painfully indicative of America's rape culture, and the tendency to place blame on survivors, rather than support them. Comments like Karan's make it more difficult for survivors to feel comfortable sharing their sexual assault.
But more often than not, someone in your own life will need that support, and may confide in you about their assault. So, how do you respond when someone tells you they were sexually assaulted? Bustle spoke to survivors, psychologists, and sexual assault advocates to explore some of most helpful (and unhelpful) ways to respond to those who come forward about sexual assault.
Though every 98 seconds an American is affected by some form of sexual violence, there is still a pervasive disbelief that sexual assault could directly impact you or a loved one. Often times, even well-intentioned people don't understand how to properly address sexual assault, in a way that doesn't exacerbate the survivor's trauma. When I disclosed the sexual abuse I had experienced, I faced a barrage of slut-shaming, disbelief, and blame from much of my family. Despite some of those outright negative reactions, the most painful moment for me was when I shared my sexual assault with my mother and sister, and was met with complete silence.
When survivors disclose their assault, most of us need to hear our loved ones say something simple and reaffirming. Dr. Lata K. McGinn, a licensed clinical psychologist and co-founder of Cognitive Behavioral Consultants, shares with Bustle via email that family members and friends need to "Hear [sexual assault survivors] without any judgment, offer empathy, and ask how you can support them." Additionally, Dr. McGinn provided Bustle with a helpful script for family and friends who may still be struggling to effectively respond to someone who disclosed their sexual assault. She suggests saying,
Thank you for trusting me enough to tell me what happened to you. I can only imagine difficult this must have been and continues to be, and I am so sorry you had to go through it. Please let me know how I can be of support to you during this very difficult time. I know that you will get through this one day, and I am here to help in any way I can.
Some of the best ways to support a sexual assault survivor is by simply validating their experiences, and avoiding victim-blaming rhetoric. Shame is often at the root of trauma, so shaming sexual assault survivors can intensify Post Traumatic Stress Disorder (PTSD) symptoms they may already be experiencing.
One survivor tells Bustle, "When I heard 'I believe you' come out of my therapist's mouth after I told her [about my sexual assault], I just completely broke down sobbing. I spent so long not even believing myself that those words were just so reassuring and powerful." And she is not alone. Lisa, another sexual assault survivor, explains to Bustle, "I don't know if I believe people believe [my sexual assault is real] ... People often tell me they're sorry, but it doesn't go much deeper than that." But when many survivors experience gaslighting — an abusive tactic used to make victims feel as though they are delusional — it makes it more important than ever to be explicitly supportive.
The nonprofit organization End Violence Against Women International began the national Start By Believing Campaign in 2011, to promote positive responses to sexual assault survivors who disclose. As the campaign's name suggests, a statement of belief can have a huge impact on sexual assault survivors, and can influence their decision whether or not to disclose their sexual assault again. Start By Believing also provides more tips on what to say and what not to say when someone confides in you they've been sexually assaulted.
Julie Stephenson, a sexual assault advocate and Manager of Training and Education for Utah Coalition Against Sexual Assault, tells Bustle, "It's not your job to decide did [the sexual assault] happen or did it not. You're not law enforcement. We need to believe survivors because it is their truth they are speaking. We start to heal by listening."
The aftermath of sexual assault leaves not only survivors in shock, but can also traumatize close family members, friends, and advocates — a (very real) phenomenon aptly called second-hand traumatization. And when in shock, loved ones who are normally supportive can respond in harmful or angry ways towards sexual assault survivors. "After one of my rapes, I came home late at night, and my mom scolded me for being out with a boy, instead of asking why I was panicked," Camille, a resident assistant at a residential treatment center, tells Bustle. Camille adds that when she outright disclosed her sexual assault to her mother, her mother told Camille that she felt awful, "because if [Camille] decided to report him, it would ruin his life." Stephenson has witnessed this bias throughout her years in social work, telling Bustle, "Society always first goes to questions like 'What was she wearing? What was she doing?' They always go to 'she,' and blame the women. I wish the judgement would stop just as long enough to listen to the human being in front of us."
Words can carry just as much power for sexual assault survivors as action, especially during initial stage of disclosing trauma. "[Sexual assault survivors'] perception that you are there to support them will be just as helpful than any help you actually wind up being able to give," says Dr. McGinn. "On the one hand, let them know that you understand how difficult this is, and the on the other hand, help them see that they will get through it one day." Talking about sexual assault can be uncomfortable, but it is a necessary first step in the healing process and empowerment for sexual assault survivors.
"I wish I could tell [sexual assault survivors] coming forward will be easy, but I can't," says Stephenson. "What I can tell you, though, is telling your story to someone you trust is so much better than keeping it inside."
Survivors are often in a vulnerable position after sexual assault, and what you say carries more weight than you'll ever know. Simply by showing compassion and expressing validation, you can positively affect how a sexual assault survivor heals.