11 Millennial Women Break Down How They Pay For Birthday Dinners With Friends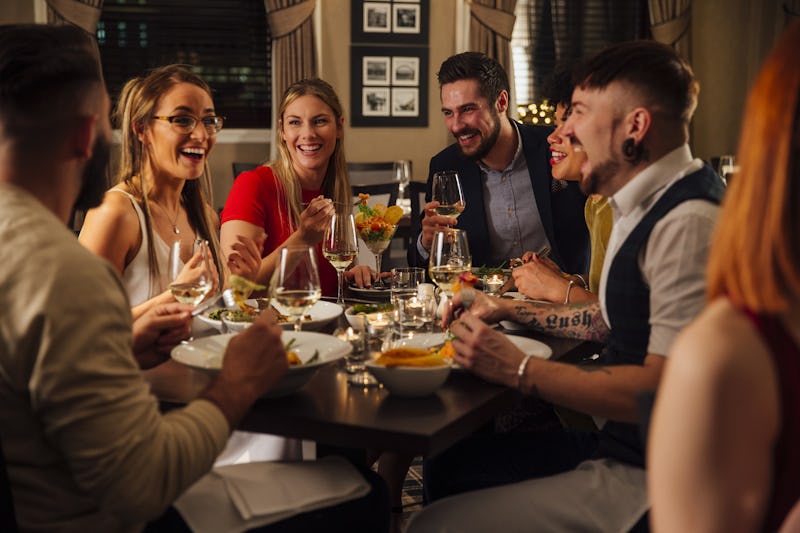 Fotolia
Talking about money is always tough, but dealing with money in a social situation can be especially complicated. As we get older, we have more and more financial responsibilities. We're paying off student loan debt, we're trying to save up for a house or seven servings of avocado toast (they cost the same, I've heard). And then there are other people's life events. I've spent so much money on people's weddings, baby showers, and some big birthdays. And this year — when a lot of my friends are hitting 30 — they want to go big, so the birthday dinners are adding up. So what's the deal? Can you pay separately?
The truth is, we need to stop letting social situations dictate our finances. "We are expected to split things evenly in social settings, but everyone is in a different place in life," Maggie Germano, certified financial education instructor and financial coach for women, tells Bustle. "You don't have to try to keep up with people who are either earning or spending more than you are. Keep in mind that 'keeping up with the Jones'' is often what puts people into debt. Focus on what is right for you, not what might be expected of you."
But are birthdays an exception? If you're trying to treat your friend, is it worth it? What if you end up at a crazy expensive restaurant where all you had is salad and water (and eight portions of french fries)? It's the story of my life.
Check out the entire 'Young Money' series and other videos on Facebook and the Bustle app across Apple TV, Roku, and Amazon Fire TV.
Well, everybody's different. Here's how 11 millennial women said they handle the birthday party meals, because some people are ready to give and some people are ready to save.