CBD Coffee Is Now A Thing & It'll Make Your Morning Way More Chill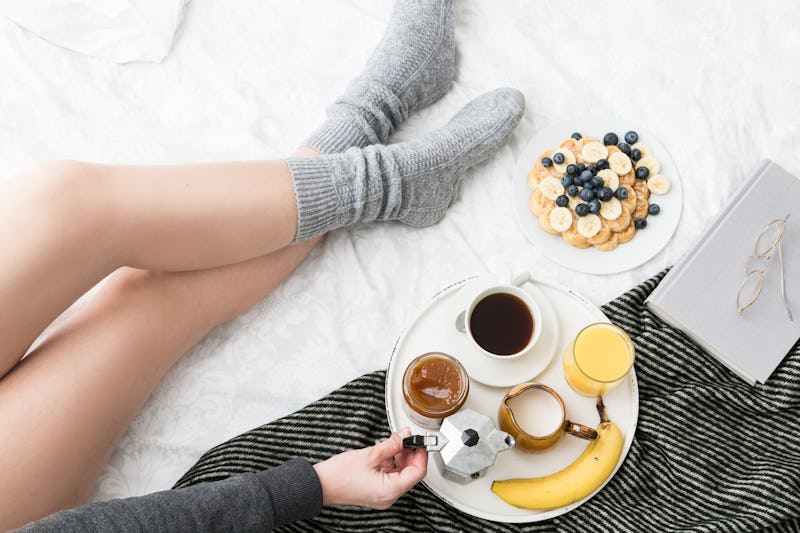 Teresa/Fotolia
Let's be honest: Most of us struggle to get up in the morning without the promise of a cup of coffee (or matcha, if you're into that sort of thing). According to survey, 64 percent of American adults are drinking at least one cup of coffee a day — which is the highest number since 2012. While people have come up with some pretty creative coffee concoctions (think Starbucks' endless iterations of the Frappucino), the latest innovation tearing through your Instagram feed is likely to be CBD-infused coffee. Though it may seem strange to combine a stimulant with a compound found in cannabis, the way these two chemicals work together actually makes total sense to start your morning on a chill AF note.
The growing obsession with CBD-infused products and services — it can be found in everything from massages to beauty products these days — is not without good reason, nor is it just another pseudo-scientific wellness trend (ahem, looking at you activated charcoal croissants). "Overall, current evidence indicates that CBD has considerable potential as a treatment for multiple anxiety disorders," Dr. Stuart Titus, CEO of Medical Marijuana, Inc., tells Bustle. "In regards to anti-inflammatory effects, CBD and cannabinoids have been shown to be an antioxidant and neuroprotective," aka, something that protects you from developing cognitive diseases.
Dr. Titus adds that research has even found CBD to have greater anti-inflammatory effects than Vitamin C or Vitamin E — meaning, CBD may be effective in reducing physical pain. So, starting your day with a CBD-infused cup of joe can also boost your overall physical health, and help you up your daily intake of antioxidants (which, hey, coffee is also good for).
The best part? Drinking CBD-infused coffee not only may be beneficial to your physical health, but also your mental health. Caffeine is considered a mild stimulant, which Healthline reported can leave you shaky, irritable, and jumpy. Not to mention, it can increase your heart rate, and make it more difficult to sleep soundly if you drink coffee later in the day. However, CBD can combat these unwanted side effects that oftentimes accompany your daily iced latte. Dr. Craig Leivent, a Brooklyn-based pharmacist and co-founder of Flower Power Coffee Company, told Bon Appétit that drinking CBD-infused coffee allows you to "get the alertness from the caffeine but without the jitters."
While consuming caffeine definitely has some benefits — like helping you focus or stay alert — too much of it can be detrimental to your central nervous system (aka, the system of nerve tissues in your brain, down through spinal cord). Good news: studies have shown CBD actually works to prevent degeneration and disease that can affect your central nervous system. Basically, CBD-infused coffee a win-win: You won't fall asleep during your first meeting of day, or walk around the office like a zombie. But you also won't spend the day amped up and agitated because you opted for an extra shot of espresso, either.
And you can see those benefits in how many people are adopting the supplement. More restaurants and companies are beginning to incorporate CBD into their products than ever before. Patent Coffee, a NYC-based café, recently released a spring menu that allows you to infuse Arnold Palmers, spritzers, and virtually any other of their drink menu items with CBD. This past November, a California-based company debuted Endo Waters - a CBD-infused line of fruity flavored, pH-balanced water. Even breweries, such as Blue Moon and Coalition Brewing, have created CBD-infused beers for your drinking pleasure. You can also enjoy CBD on top of salad, courtesy of CAP Beauty's The Daily Hit, among myriad other food-based products available where CBD is legal. Chill on, friends.
Readers should note that the regulations and data surrounding marijuana, CBD, and other related products are still developing. As such, the information contained in this post should not be construed as medical or legal advice. Always consult with your doctor before trying any substance or supplement.