Rachel Got A Warning About This 'Bachelorette' Suitor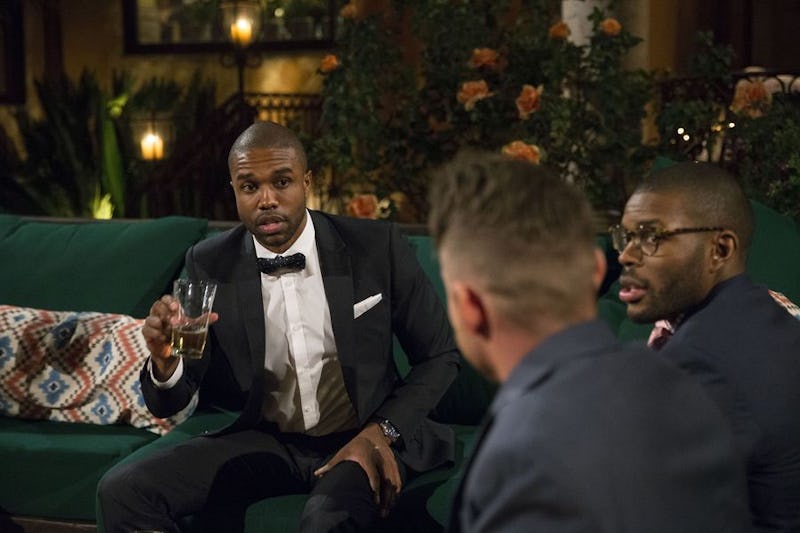 Paul Hebert/ABC
It's not a season of The Bachelorette without one of the old contestants (or, heck, even one of the new contestants) warning the Bachelorette about someone that is courting her heart. He's not here for the right reasons! He is just trying to use you to get famous! Yadda, yadda, yadda, blah, blah, blah. I'd venture to say that uh, 80 percent of the contestants on The Bachelorette are partially there to get exposure, so I am more surprised when people are there for the right reasons. Speaking of which, how does Sarah know DeMario from The Bachelorette, and why is she warning Rachel about him?
Sarah wasn't actually a part of the old contestant focus group, but Whitney from Nick's season of The Bachelor was there, and she mentioned that Sarah Vendal knew DeMario through mutual friends from college, and "his intentions may not be pure." Rachel already met DeMario when Chris Harrison pulled four of the new Bachelorette contestants on Rachel on Nick's After The Final Rose show, and he seemed fine to me. He brought her a ticket to Vegas and said that they should just jump on a plane and get married now. It seemed like a typical Bachelor Nation stunt to me.
All of this remains to be seen, though I can't see why Sarah, who is friends with Rachel, would lie to the new Bachelorette. Although, one must remember that she didn't even warn Rachel herself. Second-hand news should always be taken with a grain of salt. That being said, these women are all tight since Nick's season wrapped, and they just want the best for her. It's nice that Rachel got a warning so she can keep an eye on DeMario, but I think for now he should get the benefit of the doubt as a part of her journey for love.