How J.K. Rowling Helped Bo Burnham Make His New Movie 'Eighth Grade'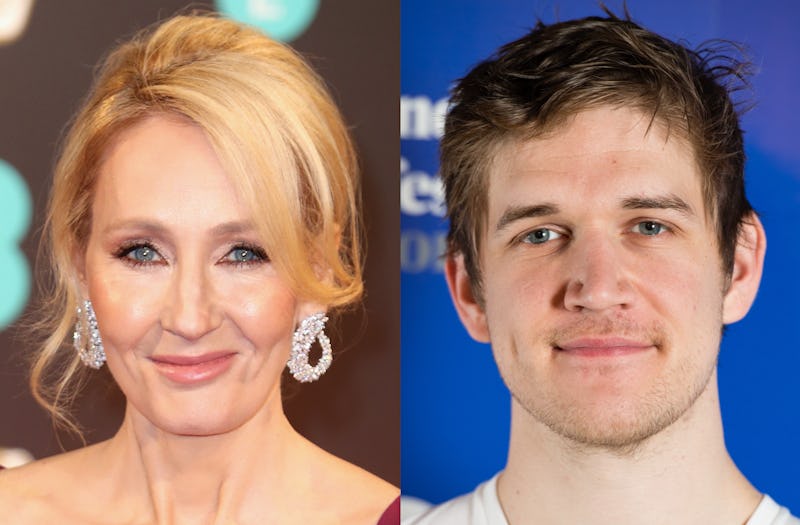 Chris Jackson/Getty Images Entertainment/Getty Images; Jeff Spicer/Getty Images Entertainment/Getty Images
In recent years, there've been a number of must-see movies about teenage girls, from Greta Gerwig's nostalgia-filled Lady Bird to Kelly Fremon Craig's biting The Edge of Seventeen to Debra Granik's just-released, wilderness-set Leave No Trace. While all these films tell vastly different stories, they share one major feature: a female writer-director. And the commonality is no coincidence; it makes sense that in order to write a coming-of-age story about a complicated, realistic female character, you'd have had that experience yourself. Yet surprisingly, one of the best new films about a young woman, Eighth Grade, comes from a man — but to tell Kayla's journey right, writer-director Bo Burnham turned to the queen of storytelling herself: J.K. Rowling.
"Harry Potter was a big inspiration for me in terms of when when I was very nervous about writing a girl," explains Burnham when we sit down at A24's New York office in late June. Knowing that "J.K. Rowling wrote the most important story of our entire times" with a male teenager as her protagonist, the comedian — who, like many other 27-year-olds, grew up reading the author's iconic works — felt more confident that he could do the reverse with Eighth Grade.
And as anyone who's seen the dramedy can attest, Burnham succeeds with flying colors. Following the awkward, lonely Kayla (Elsie Fisher) through her final weeks of middle school, Eighth Grade (out July 13) is an achingly real portrait of female teenhood that has had audiences crying and cringing since the film's January Sundance premiere. "I was worried everybody was going to be like, 'I can't believe a man wrote this.' And everyone's just been like, 'I can't believe a man wrote this.' Saying the exact same thing with a different tone, which is good," Burnham says now with a laugh.
While women in their teens and 20s will most certainly find the film relatable, Burnham hopes that audiences of all ages and genders will be able to connect with Kayla, in the same way that he did while creating her character. "I hope that demographics can switch a little and that a 50-year-old man can see himself in Kayla," he explains, much like adults everywhere saw themselves in Rowling's Harry, Ron, and Hermione. "I hope you see the kid that you were, the kid still in yourself, or maybe the adult you in her."
After all, he adds, the problems Kayla and her peers face in Eighth Grade (finding self-confidence, standing up for what's right, navigating the dating world and social media) aren't specific to their age or generation. Says Burnham, "How to be yourself, how to be confident, how to put yourself out there — I feel like those are still questions I'm asking myself."
Although Eighth Grade is just the latest achievement by Burnham, a prolific comedian, actor, writer, and musician, he admits that he still often feels just as lost and insecure as his fictional teenage lead — and any adults who swear they never feel similarly anymore are likely lying to themselves. "I could show you clips of yourself yesterday and you'd cringe at yourself. You know what I mean?" laughs Burnham. "With some people, it's like, 'I'm so glad I'm not that awkward.' But I'm like, 'I think we're still all that awkward,'"
That may be true — but thankfully, most adults today didn't have the perils of social media as part of their coming-of-age experiences, like Kayla does in Eighth Grade. For the teen and her friends (not to mention real-life 13-year-olds everywhere), every awkward moment or silly conversation is marked on Instagram or Youtube, and the pressure to keep up an image compounds their already high-pressure lives.
"I'm happy I never had Snapchat. That's what I feel like. Photos that disappear after 24 hours when you're 14? Like, no," Burnham says with a laugh. "[Middle school] would've been harder, more extreme." Yet even without having his own youth documented on social media, Burnham manages to capture that specific experience with pitch-perfect realness — a feat of which even J.K. Rowling would most likely approve.