How Fax Machines Are Fighting The GOP's Health Care Bill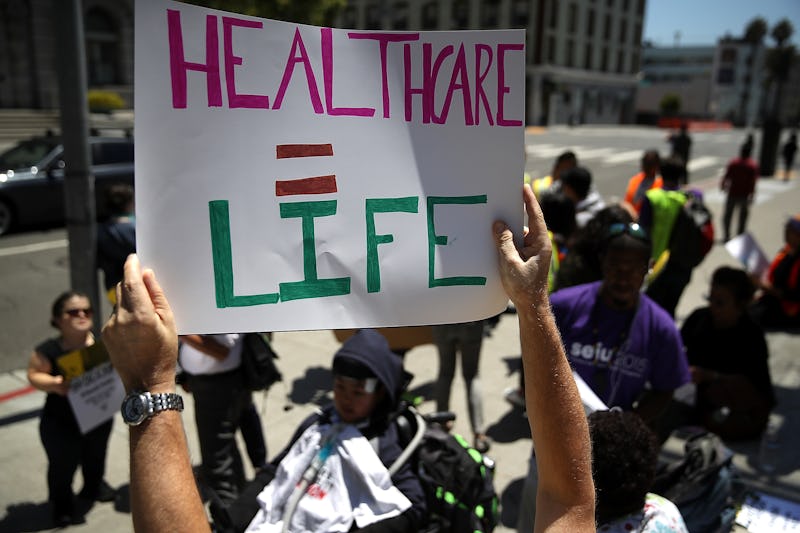 Justin Sullivan/Getty Images News/Getty Images
It's a pivotal moment for the Republican Party's efforts to repeal and replace the Affordable Care Act. On Tuesday, Senate Majority Leader Mitch McConnell opted to delay a vote on the GOP health care bill, marking a brief victory for Democrats. One of the groups pushing back against the legislation, Stand Up America, is fighting the GOP health care bill with markedly outdated, though effective technology: fax machines.
Stand Up America is a progressive advocacy group in resistance against the agendas of both the Trump administration and Republicans in Congress. Founded by Sean Eldridge in the aftermath of the 2016 presidential election, the group has been particularly engaged on two fronts: the Republican effort to push through its Obamacare replacement bill, and the ongoing Trump-Russia scandal.
But health care is the biggest issue of the day right now, and likely will be for the entirety of the Senate recess. Speaking with Bustle on Wednesday, Eldridge discusses the state of the GOP's health care push, what McConnell likely still has up his sleeve, and how his organization has made it easier than ever before to shoot off a fax over to your Republican senator.
The decision to employ fax machines, an outdated form of communication rarely used nowadays, is that it's another way to apply pressure on Republican senators even when more calls just can't get through, Eldridge clarifies.
In recent months, impassioned citizens calling their representatives — often in protest — have reportedly jammed up phone lines in several instances, perhaps most memorably during Betsy DeVos' confirmation hearing for Education secretary. By allowing people to easily fax their senators, even if they don't own a fax machine themselves, Stand Up America provides a helpful extra tool to progressives' full-court push against the health care bill, one they can use even if the lines are busy.
"We've found that in these significant legislative fights, when we ask our community members to make phone calls to their representatives and their senators, sometimes they can't get through," Eldridge says.
"We've heard from folks sometimes the phone lines are jammed, or busy, the voicemail boxes are full. So we thought, how can we help people make their voices heard and contact their representatives in ways in addition to making phone calls?"
Stand Up America released the fax tool on Tuesday, the same day that McConnell reportedly abandoned his push for a pre-recess vote. As such, lawmakers will likely be returning to their offices in D.C. faced not just with a flood emails and phone calls, but faxes as well.
Considering the massive public unpopularity of the GOP's proposals ― a newly released NPR poll found just 17 percent of Americans support the Senate bill, while 55 percent disapprove ― it's easy to imagine Senate Republicans facing an unprecedented swell of public pressure back home. As such, the phones in state-level Senate offices will likely be ringing off the hook next week, so if you're wanting to make your voice heard, it could be useful to have an extra way to do so.
The way it works is pretty simple. Just follow this Facebook Messenger link, click "get started," and you'll be provided with instructions to have a fax sent to your Republican senator.
Or, if you don't live in a state represented by a Republican, your fax will be directed to McConnell, the man effectively in charge of the whole process. McConnell has a longstanding reputation as a savvy parliamentarian and strategist, and although the vote being delayed was a setback, progressives who watched the passage of the House health care bill are likely aware of how quickly things can change.
"We cannot rest, we have to continue to resist. We've seen this movie before, on the House side," Eldridge says. "Multiple delays on their legislation, and then unfortunately backroom deals were cut, and they got repeal through the House. We're very concerned that the same thing could happen in the Senate. We know Mitch McConnell is not giving up. We know he's trying to cut backroom deals to try to get the votes he needs on health care, so we can't give up either."
The Senate health care bill appears to be massively unpopular. A NPR poll released Wednesday found just 17 percent of Americans support the Senate bill, while 55 percent disapprove of it.
Eldridge acknowledges the many reasons progressives feel as if these are "dark days" for the country, but he says his organization has reason to be hopeful.
"We have a lot of new people getting involved in politics. The only silver lining that I've seen since November of 2016 is millions of more Americans taking ownership of our Democratic process, making their voices heard, making these phone calls. The passion and the enthusiasm we're seeing from our activists has been incredible," Eldridge says. "Most of our activists are calling, and faxing, and tweeting, and emailing, and going in person — and that's the pressure we really need."