Connie Nielsen Is Queen Hippolyta IRL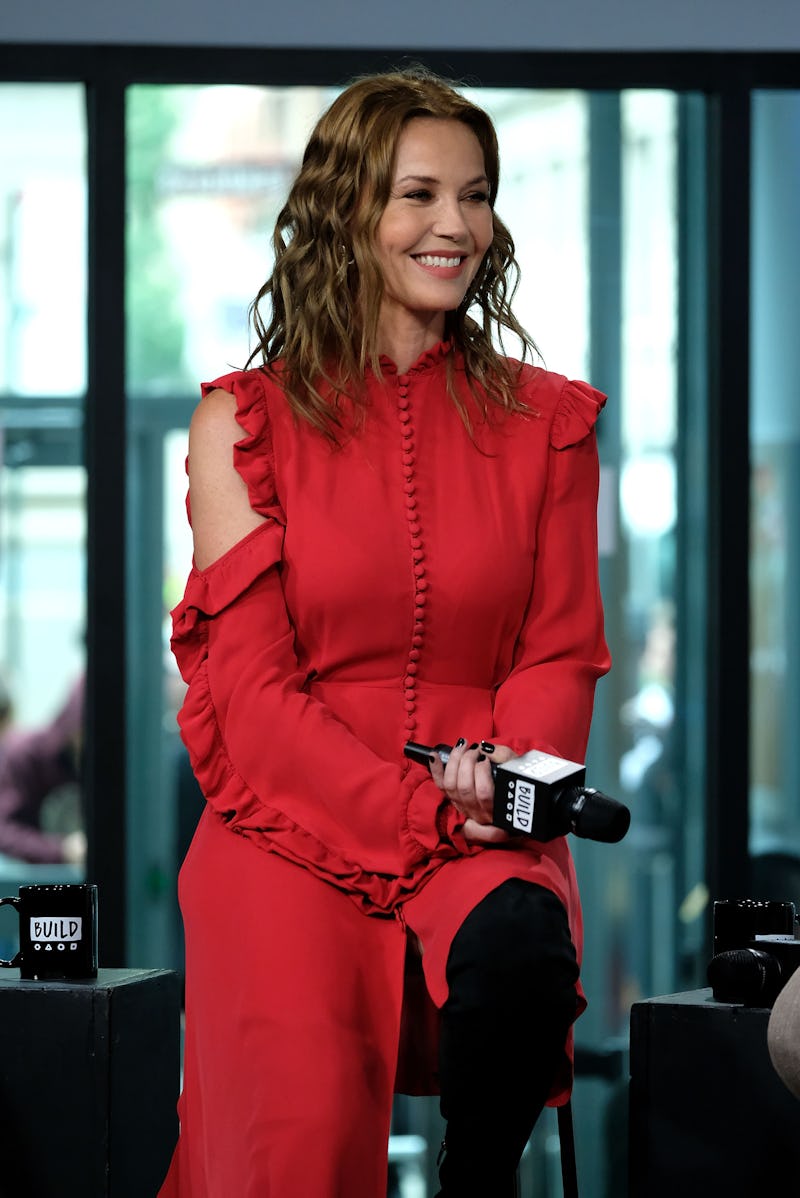 Theo Wargo/Getty Images Entertainment/Getty Images
Over the course of her 30-year career, Connie Nielsen has starred in over 40 films, spanning multiple countries and languages, but she's never been as big of a global presence as she is right now. As Queen Hippolyta in Wonder Woman, Nielsen is helping break box office records worldwide and re-shaping the image of what royalty should be. Simultaneously, in her new Italian film, The Confessions, out now, the actor is challenging modern constructions of democracy and power. And, as she tells me in a recent phone interview, power emerging as a recent theme in her work has had a big impact not only on audiences, but on Nielsen herself.
As Hippolyta, Nielsen defies preconceived notions of both what it means to be a queen and what female power looks like. The character is both knowledgable and physically powerful, something the actor knows has an impact, specifically on female audiences. "A lot of women — I mean a lot — write to me and talk to me in the street and in airports and everywhere, and just [tell me] how important and profound that experience is," Nielsen says. "Actually seeing a completely different way of telling the physical story of these people as warriors made them feel very powerful and very confident in a way that a lot of them had not felt before."
Nielsen's roles in Wonder Woman and The Confessions could not be more different. One is an Amazon queen who finds herself battling Germans and raising a superhero, while the other is a children's author caught up in a murder mystery during a fictional G8 summit. Ask Nielsen, however, and she'll tell you that the roles share one specific, crucial commonality. "These are women that are not necessarily defined by their familial status, they're defined by what they do in life," she says. Sure, Hippolyta is often described as Wonder Woman's mother, but the character's strength extends beyond her role as a mother — just look at the Amazon battle sequence.
"I want to tell all of the parts of a woman's life," Nielsen says. "It is always interesting for me, not just as an artist, but as a person, to delve deeper into the reality of the mind of the character."
For her role in Wonder Woman, exploring all parts of Hippolyta meant doing plenty of stunts. "I am absolutely in love with doing that stuff. That is just too much fun," the actor says. Action scenes are a huge part of her character, which means fans should be happy to know that Nielsen confirmed in our chat that she has filmed stunts for the upcoming Justice League. "I think we have some pretty cool ones in the can on the next one too," she says.
Nielsen leaves the stunts behind for The Confessions, but her attraction to projects that challenge power dynamics remains on full display in that movie. "It's very rare that we actually talk about the power at the very, very top of the chain of power in film, and that's very strange to me," she says. The film, a murder mystery that takes place during a G8 summit, explores the power structure of a global world. "It feels anti-democratic when you don't have public participation, and I think that we talk about it more in Europe than we do in America, which is why I'm really happy that the movie is coming out here now," says Nielsen.
With both The Confessions and Wonder Woman, Nielsen wants to create art that starts a conversation. Just as the actor hopes The Confessions inspires audiences to question governmental power, she also hopes that Wonder Woman will help audiences move beyond their perceptions of gender. In fact, she has already seen proof of the latter, when she saw the movie with her youngest son and a friend of his.
"It was very clear to me that the gender of the superhero was completely immaterial to them," she says. It's something, she adds, that she wouldn't mind seeing more of in the future. "I love everything that there is about women and about men, but it's wonderful when we create a space where these things become immaterial for a little while," Nielsen says. Sounds pretty good to me.