'Narcos' Went Straight To The Source For Its New DEA Agent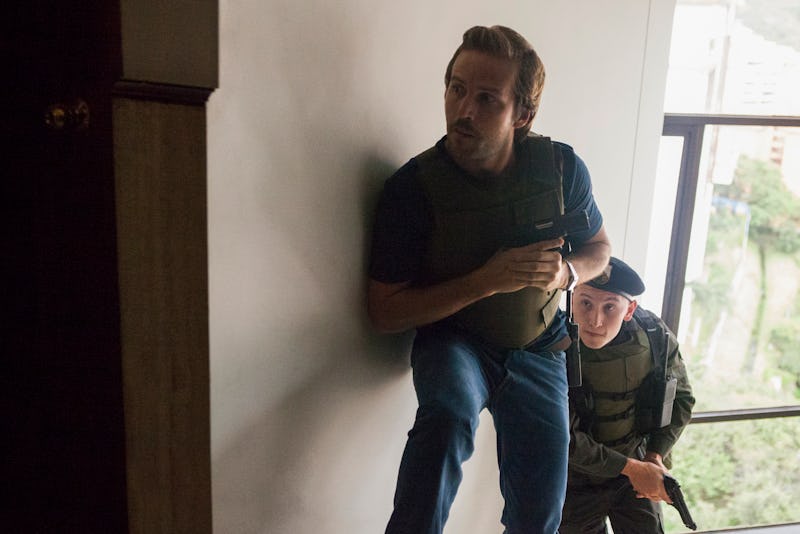 Juan Pablo Gutierrez/Netflix
When Narcos Season 3 premieres on Sept. 1, the Netflix series will look very different than it did during its first two seasons. In the wake of Pablo Escobar's death in the Season 2 finale, the show is essentially rebooting itself. But how historically accurate is Chris Feistl on Narcos? The DEA agent is just one of the many new characters viewers will be introduced to when the third season begins… and he's definitely one of the most fascinating.
Escobar isn't the only familiar face that will be missing in this new iteration of Narcos. Former star Boyd Holbrook (Logan), who played agent Steve Murphy throughout the first two seasons, will also not be returning — even though his character, unlike Escobar, survived the bloody events of Season 2. Instead, Murphy's former partner Javier Peña (Game Of Thrones' Pedro Pascal) will be going solo, focusing on his war against the up-and-coming Cali Cartel.
The emergence of Escobar's former rivals as a major threat is what will also lead to the introduction of two new characters for Peña to interact with: DEA agents Chris Feistl and Daniel Van Ness. Like Murphy and Peña before them, both Feistl and Van Ness are based on real-life agents who actually worked to bring down the Cali Cartel in the 1990s.
According to the real Feistl, who gave an interview with the Arizona Central about his experience on Narcos, he first came to the attention of the show's writers when they heard an interview he gave on NPR's This American Life back in 2012. "I try to keep a low profile and not advertise what I do," said the former agent, who retired from the DEA seven years ago and moved to Phoenix. But the writers still found him and flew him out to Los Angeles for a meeting while they were crafting their third season.
"I was very surprised at how knowledgeable everyone was," he recalled of their initial meeting in the aforementioned interview. "You could tell they had done a lot of research prior to speaking with me." The writers were so impressed with Feistl's wealth of knowledge that they hired him in an official capacity as a consultant. According to Feistl, that job required him to "ensure the accuracy of the events that take place, to check the times, the dates, the locations, to say who was there, how did we dress, what kind of cellphone did we use. You're kind of just there to ensure they get it right."
So did they get it right? That's an excellent question — and one Feistl himself can't wait to find out the answer to, since he was never given access to the final scripts and has yet to see any complete episodes. "If they want to take creative liberties, that's their expertise," he admitted to the Central. "It's important to get the timelines as right as possible, but you also have to remember that it's a TV show."
In what must have been a surreal experience, Feistl also worked with actor Michael Stahl-David (Cloverfield) to hone the performer's portrayal of him. "He had a script and he would read it and then he would ask to me read it again, so he could hear how my voice was, how my accent sounds, what the inflections are," the former agent said in the same interview. "He's a perfectionist. He tries to do the best job he could do on every little single detail. It was a pleasure to work with him."
Speaking of Stahl-David, Feistl already knows of one way in which Narcos is fudging the truth a bit: his fictional counterpart is much more attractive than he is, in his opinion. "I think most people are better looking than me, so it's not even a question," Feistl joked to the Central. Most people have probably dreamed of which Hollywood actor would play them in a movie about their life; Feistl was actually lucky enough to find out, and he wasn't disappointed.
Hopefully fans won't be disappointed either when the new phase of Narcos debuts on Netflix.