Here's How Hurricane Lane Could Mess With Your Travel Plans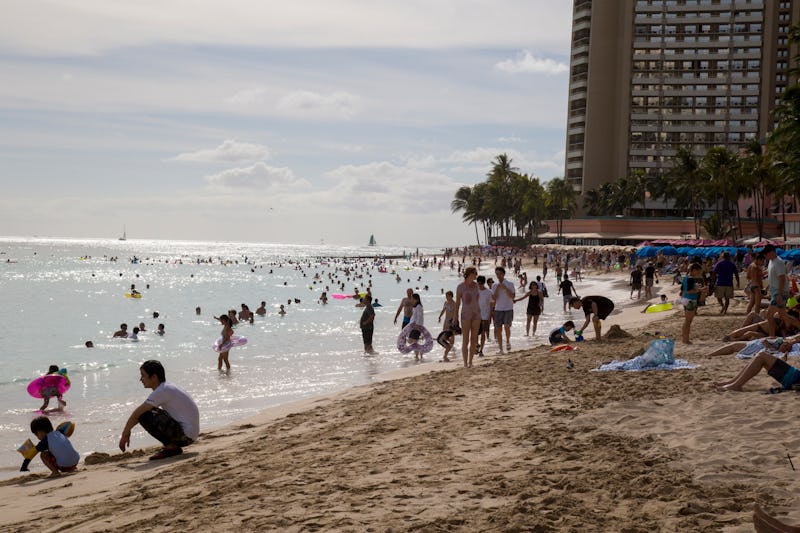 Kat Wade/Getty Images News/Getty Images
Hawaii is bracing itself for Hurricane Lane, a Category 4 storm that's expected to bring massive flooding, rainfall and waves to all of the state's islands. With 130 mile-per-hour winds and an emergency proclamation already in effect, it's no surprise that Hurricane Lane is affecting travel plans for just about everyone commuting to, from and within the islands.
Many major airlines — including Delta, Hawaiian, Alaska, American and United — are offering travel waivers to those with flights booked to Hawaii. Their policies vary, but generally, travelers who booked their flights before Tuesday will be allowed to reschedule their flights for sometime next week, according to Travel Watch.
There's good reason for that. In addition to the fact that hurricane watches and warnings are in effect throughout the state, many of Hawaii's most popular destinations have closed account of Hurricane Lane. Beach parks from South Point north to Kohala on the Big Island are closed until further notice, KHON 2 reports, and all beach parks on Oahu are closing on Thursday, according to MarketWatch.
Maui's Haleakala National Park closed on Wednesday and cancelled all reservations through Friday, at which point authorities will reassess when to reopen the park. Boat tours to the U.S.S. Arizona Memorial, a popular World War II monument, have also been nixed for the time being. The Honolulu Zoo, the Waikiki Aquarium, Bishop Museum, Honolulu Museum of Art, many other attractions have been closed on account of Lane as well.
Those who are already on one of the islands will have to contend with road closures throughout the state. On the Big Island, many roadways have been closed: Kamehameha Avenue between Pauahi and Ponahawai; Pauahi Street; East Kawailani Street from Awapuhi to Nohona Street; Kukila Street; Bay Front Highway; Pohaku from 39th to 40th in Orchidland Estates; and Laupahoehoe Point Road, according to KHON 2. In addition, Highway 19 was closed off at mile 13 due to a landslide near Honomu, KHON 2 reports.
Hurricane Lane is shaping up to be the first hurricane to make landfall in Hawaii in 26 years, and is expected to cause serious damage across the state. The storm could bring as much as 50 inches of rainfall over the weekend, which will almost certainly cause catastrophic flooding and could produce waves up to 20 feet high, according to AccuWeather.
At the request of Hawaii Gov. David Ige, President Trump has issued a presidential disaster declaration for Hawaii, which will make it easier for state authorities to access federal aide and other resources as it combats the storm. Emergency shelters have been set up throughout the state, but authorities warn that they may not be able to accommodate everyone who needs them — yet another good reason to avoid traveling to Hawaii until the storm passes.
If you have travel insurance, that should cover any costs you incur as a result of changing your Hawaii travel plans — as long as you purchased the insurance policy before August 15th, when Lane became a named storm. Steven Benna from the travel insurance comparison website Squaremouth told Market Watch that policies purchased after that point most likely won't cover Lane-related expenses.