The 'Double Dare' Reboot Will Be Different From The Original — But It's Still Nostalgic AF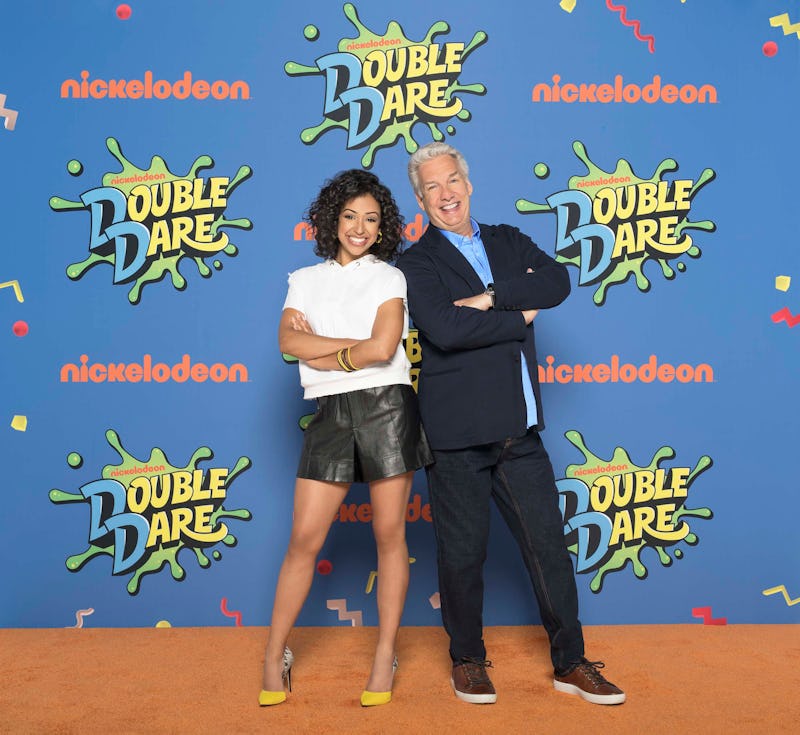 Nickelodeon
Double Dare isn't for '90s kids anymore: A reboot is officially coming to Nickelodeon Monday at 8 p.m. on June 25. But any lover of the iconic show is likely wondering how the Double Dare reboot will be different from the original. But there's some good news: That giant nose is still ready to be picked, no worries.
The format of the show is the same — teams answer trivia questions, but can opt take a "dare" if they don't know the answer. If both teams don't want to risk a wrong answer, they all compete instead in "physical challenges" that get super messy super quickly. The challenges, both 20-30 years ago and now, often involve things like filling a container with water or whipped cream. (The grosser, the better.) The winning team competes for further prizes by running an increasingly silly obstacle course.
Somehow, miraculously, none of the physical challenges or obstacles were ever as difficult for kids as the Shrine of the Silver Monkey on Legends of the Hidden Temple, but there were some hilarious fails over the years. Nickelodeon's signature green slime can make even the simplest task difficult.
"It's a whole different flavor," said original host Marc Summers in an interview with TVLine about the new series. "If you are tuning in to see what Double Dare was, it's not that. It's something different. It's something for 2018." Summers promises a "bigger, louder" show this time around. Fans might expect to see some digital technology that wasn't available when they were kids, but nothing too extreme.
At the very least, the Gen Xers and millenials who watched the show when they were growing up should check the new episodes out and see if today's kids are really and truly up to snuff. Here are some of the differences in store — though honestly, there are not that many!
New Host In Town
While Marc Summers is still involved in the show, Vine and Youtube star Liza Koshy is taking over as host.
Sign Of The Times
Unless the competing youngsters decide to go totally retro, the hairstyles will be modern and, according to this preview clip, there will be dabbing.
Definitely watch the classic above though, if not to jog your memory than to check out the prizes. The camera, boombox, and digital dictionaries that winners can play for feel hilariously quaint in the smartphone era.
Make New Obstacles & Keep The Old
In the video above, Summers and Koshy run you through (not literally) the new obstacle course that ends the competition.
Celebrity Guests
Oh snap! Retro Nickelodeon superstars Kenan and Kel are reuniting on Double Dare as competitors, according to Entertainment Weekly. That's current Saturday Night Live comedian Kenan Thompson and his former on-screen BFF Kel Mitchell, for those who don't automatically recognize the alliterative duo.
"I am so excited to be playing on Double Dare and for whole new generation of kids to experience this iconic game show," Mitchell told EW. "This episode will be double special because Kenan and I will be playing against each other and we are both huge fans of Double Dare! I can't wait to see the super talented Liza Koshy rock it as the new host!"
Family Fun
Another Nickelodeon alum competing on Double Dare this time around is former Zoey 101 star Jamie Lynn Spears, who according to PEOPLE will be playing alongside her 10-year-old daughter Maddie.
"I loved this iconic show growing up," Spears told PEOPLE, "and I knew it­ would be so special for Maddie and I to do together, so I was thrilled to say yes when I was asked to play!"
Who will the other surprise guests be? Exactly how much slime will there be? There's only one way to find out, and that's by checking out the new Double Dare on Nickelodeon.