Nickelodeon's 'Double Dare' Reboot Sneak Peak Will Make '90s Kids Want To Be Slimed SO Bad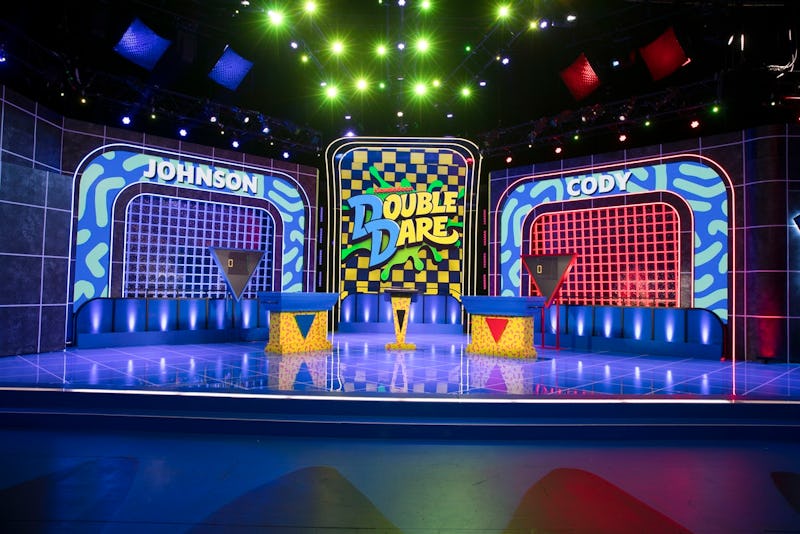 John Johnson/Nickelodeon
Double Dare is back to its old tricks. Well, sort of. The kid-friendly Nickelodeon game show kicks off its reboot run Monday, June 25. Ahead of its imminent debut, fans of the original series trying to gauge whether the revamp will stay true to its '90s roots might want to check out Nickelodeon's sneak peek of the Double Dare reboot, which the network shared via Twitter on Saturday, June 23. After watching the video clip and parsing through some vaguely spoiler-y comments from Marc Summers to TVLine, it certainly looks like the new series will honor the original — albeit, with the help of some modern updates.
Speaking to TVLine, Summers gave potential viewers a little heads up as to what they might expect from the upcoming Double Dare reboot. He said,
"If you are tuning in to see what Double Dare was, it's not that. It's something different. It's something for 2018."
Even only at a glance, it seems pretty clear that the reboot is doing its part to adapt the series for Nickelodeon's contemporary audience. Take the game show's host, for example. Fans of the original, which ran from 1986-1993, might recognize Summers as Double Dare's enthusiastic M.C., though he'll be taking on a slightly less central role in the games this time around. According to TVLine, Summers will serve as the series executive producer, in addition to offering "color commentary" (as he does in Nickelodeon's teaser video) during the game.
Taking over the revival series' host spot is YouTuber Liza Koshy, whose dynamism as Double Dare's new ringleader shines through in the series' teaser video. "On your mark, get set, go!" Koshy yells out toward the beginning of the clip, signaling the start of an exceptionally silly on-stage challenge, which is slated to play out during the revival's first episode Monday night. Laying out the ground rules, Summers' voice chimes in: "These two teams have to put their heads together, and everything else, by getting into a giant set of pants, a shirt and hands ... and by the way, put their toys away!"
As Summers explains in the video, the first team to put all their toys away earns $50, and control over what Summers fondly calls, "the craziest game on TV." Just so everyone's on the same page, he's talking about Double Dare, the beloved late '80s-early '90s game show that pitted tween competitors against one another through a series of trivia questions and goofy, but nonetheless entertaining, physical challenges. Judging by the teaser, it seems like the revival will more or less operate under the same parameters as the original. It'll even feature some familiar challenges that '90s kids might recognize, like Pick It and Down the Hatch.
That being said, the reboot series is also expected to unveil seven brand-new challenges during its upcoming run. Summers alluded to this during his conversation with TVLine, though he said the new show will find a middle ground between old-school nostalgia and new-age gimmicks. "It's bigger. It's louder," he said, adding that the new obstacle course may be something like 20 percent larger than the original. "It's a mixture of old and new."
Fans of the original Nickelodeon game show know that sloppy and chaotic — and usually pretty slimy, too — physical feats often take center stage on the Double Dare set. Roughly 20 seconds into the teaser video, one team of youngsters opts to compete in one of the show's notoriously silly physical trials. "This physical challenge puts the air ball in hair ball," Koshy cracks, as the teaser video segues into a quick run-through of the challenge and its delightfully bizarre parameters.
Of course, the sneak peak video doesn't reveal the challenge's victors, though it does offer viewers a glimpse into another freshly-minted physical challenge that viewers can expect to see during the reboot's first episode. Around the preview's 40-second mark, the Double Dare stage has taken a turn for the messy. Each player dons their own set of protective gear — a helmet, knee pads, and elbow pads — along with a noticeably out-of-place pair of water shoes. Those wondering where this one's going should probably just watch the ordeal play out in the teaser video; in classic Double Dare fashion, the rules are not exactly straightforward.
According to TVLine's report, Summers told the outlet that he expects the Double Dare revamp to be a "bonding and sharing experience" for families whose older generation watched the original series, and whose younger members will likely indulge in the reboot. Per TVLine, Summers said,
"What we have now is a situation where — maybe for the first time in Nickelodeon's history — parents who grew up watching Nickelodeon programming have kids the same age they were when they started watching Nickelodeon."
So, who else will be indulging in some glorious Nickelodeon-helmed pleasures when the Double Dare reboot kicks off Monday night? Whether you're introducing your little ones to a long-lost childhood favorite or simply throwing it back to the good ol' days, the revival looks like a slime-filled treat most everyone can enjoy.