Here's How The New Season Of 'The Sinner' Connects To That Disturbing First Installment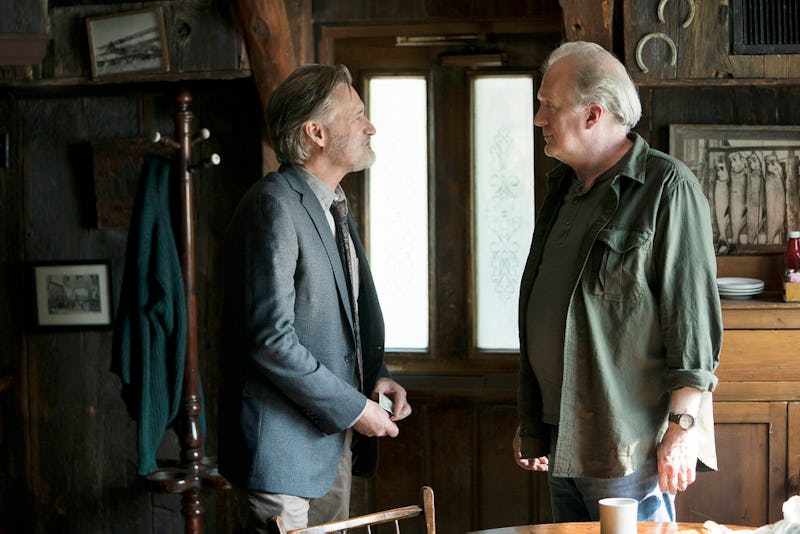 Peter Kramer/USA Network
The USA crime drama The Sinner returns to television on Wednesday, Aug. 1 at 10 p.m. ET. And while Season 1 followed a young wife and mother named Cora (Jessica Biel) who murdered a man named Frankie, Season 2 is about a new cast and features a mostly new set of characters. So how is Season 2 of The Sinner connected to Season 1, if at all?
Season 1 was based on a book of the same name by German author Petra Hammesfahr, but its second installment is moving away from the original source material. According to an interview that Bill Pullman (who plays Detective Ambrose) did with Entertainment Tonight, Season 2 was borne out of conversations between himself and show creator, Derek Simonds, while they were filming the first season. That being said, audiences can rest assured that Season 2 will once again star Pullman as Detective Ambrose.
But as of now, the investigator is the only through-line this season, as he returns to his hometown to look into a double-homicide. In an interview that Pullman did for USA Network, he explained that Ambrose receives a call from his best friend's daughter, who lives in western New York. The daughter, Heather (Natalie Paul), is a young officer who requests his assistance on a troubling murder case.
This double-homicide was apparently perpetrated by the victims' son, Julian (Elisha Henig). "What did you do to your parents?" Ambrose asks Julian in the Season 2 trailer. "They died," the young boy answers. It seems pretty clear that he is the murderer, but the question is why would this boy do such a thing?
So while Cora (Jessica Biel) won't be returning for Season 2, The Sinner will feature some newcomers to the show's universe. Carrie Coon (of The Leftovers and Fargo fame) plays a cult leader named Vera, with whom Ambrose appears to have a history. In an interview with USA Network, Coon describes her character, Vera, as a "formidable and mysterious woman." The Leftovers actor goes on to say, "She's running a community in this town — a community that has clashed a little bit with the town that it's chosen to reside in."
And Biel's absence doesn't mean that this installment will be any less complex or gripping. "There's a different energy," Pullman told ET in the same interview. He went on to explain that while Cora was nearly delirious with grief in Season 1, Vera "has a confidence and a great ability to lead and understand the world around her."
What's more, audiences will learn more about Ambrose's past, which he hinted at in the Season 1 finale. "You know, when I first interviewed you at the station — the way you were blaming yourself — I realized it felt familiar," he told Cora in Part VIII. "Because I do that, too. The thing is, though, what somebody did to us when we were young — I know it wasn't our fault. I know we didn't do anything wrong. But somehow, I don't know what to do with it all."
This is the closest thing that audiences get to an explanation of Ambrose's erratic behavior. Not only is he fairly withdrawn, but his sexual proclivities involve pain. In Season 1, viewers discovered that the detective regularly visited a dominatrix, who stepped on his hands. These encounters left him with painful bruises under his fingernails.
As Ambrose returns to his hometown, it will hopefully become clear why he left in the first place. "In small towns, when bad things happen, it's almost like they sustain a kind of collective trauma," Pullman told USA. "These are regular people who have a lot of mysteries in their psychologies." And that is perhaps the real thread between Seasons 1 and 2 — not that these two stories happen in the same universe — but that everyone harbors secrets, and it's only a matter of time until they're found out.