How 'The Sinner' Is Moving Away From Its Literary Source Material In A Shocking Season 2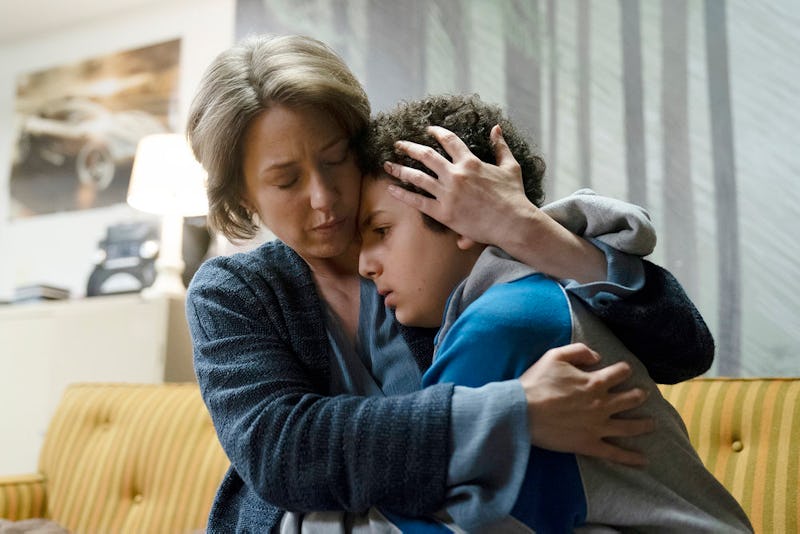 Peter Kramer/USA Network
In 2017, Season 1 of USA's The Sinner earned rave reviews, became the highest-rated new show of the summer, and eventually earned star Jessica Biel an Emmy nomination for her performance as the mysterious, murderous Cora. But with Cora's story wrapped up, is The Sinner Season 2 based on a book as well? Or is it heading off the beaten path into original, unknown territory?
That acclaimed first season was adapted from the 1999 novel by German author Petra Hammesfahr. Although only two of Hammesfahr's works — The Sinner and her twisty 2003 twin-swapping thriller The Lie — have been translated into English so far, she is a famous and popular author in her native country, even being referred to as the German Stephen King for both her prolific nature and her focus on dark and frequently gory psychological horror stories.
But with Season 1 of the USA series having adapted the full plot of The Sinner and solving the so-called "whydunnit" at its core, the question remained of how the network would proceed with a second season of its new hit show… a question previously faced by shows like The Handmaid's Tale, Big Little Lies, and The Leftovers, which also exhausted their source material in their own first seasons.
Would Season 2 of The Sinner somehow continue the story from Season 1, thrusting Cora into a brand new mystery, à la Big Little Lies? Or would it start over from scratch, presenting an entirely separate storyline, connected to Season 1 only by the show's title, à la American Crime? In the end, it appears creator Derek Simonds and director Antonio Campos (Christine) have chosen a middle ground between these two options. There will be connective tissue between seasons — namely, Bill Pullman's character, Detective Harry Ambrose — but he will now be surrounded by new characters in a new location with a new mystery to solve.
But no matter which tack Simonds and Campos ultimately chose to take, the question remains what the inspiration for the plot of the new season would be. They could have made The Sinner an entire anthology series of Hammesfahr's works, perhaps adapting The Lie or another one of her novels for Season 2. Another option would be to go completely off-script and craft their own mystery to frustrate and entice viewers. It appears that they've gone for the latter; the plot of the second season — involving a young boy who murders his parents for unknown reasons — seems to be an entirely original creation with no basis in Hammesfahr's oeuvre other than the presence of Detective Ambrose.
In the Biel's onscreen absence, Season 2's biggest addition is Carrie Coon of The Leftovers and Fargo fame, who will play Vera, "a formidable, mysterious woman who struggles between upholding the ideals of the community she leads and fulfilling her own desires," per Variety. (Interestingly, Coon's real-life husband, playwright/actor Tracy Letts, is also joining the cast in another crucial new role, according to IndieWire.) But Biel isn't gone from the series entirely; she remains onboard behind the scenes as an executive producer.
"We felt Cora's story was finished in a dramatic sense and there were discussions about continuing her story," Simonds told Entertainment Tonight in a recent interview about the choice to leave Biel's character behind and forge ahead into uncharted territory. "In the end, it felt like it wasn't enough for its own season and it would compete with new characters in a second season. We felt like we wanted to present The Sinner as a true anthology show in that way. … What we hope is The Sinner will be a show that people have faith will continue to deliver season after season and present compelling new characters every time that people want to follow."
Given that Season 2 still takes place in the same continuity as Season 1, is it possible that Biel could appear in at least a small cameo as Cora? Simonds doesn't want fans getting their hopes up. "No, she's not appearing in season two," he confessed to ET. But he did provide some hope: "I wouldn't rule out anything for future seasons, potentially."