How Justin Bieber Proposed To Hailey Baldwin Makes Total Sense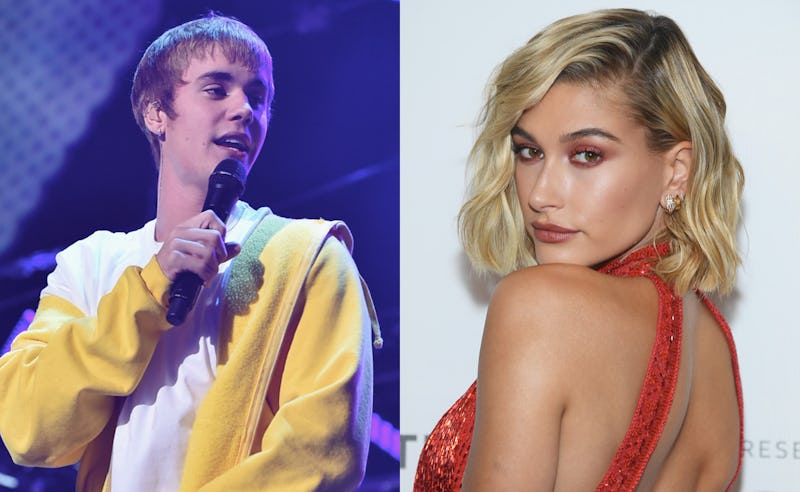 Theo Wargo/Getty Images Entertainment/Getty Images; Dimitrios Kambouris/Getty Images Entertainment/Getty Images
If you were hoping for a lazy summer Sunday, you can thank the Biebs for making things a tad chaotic. In true Pete Davidson style, TMZ reported that Justin Bieber proposed to Hailey Baldwin on Saturday in the Bahamas after a few weeks of dating (this time around, at least). Bieber and Baldwin's rumored sudden engagement came as a shock to fans, and apparently, it did to Baldwin as well. E! News got the details about how Bieber reportedly proposed to Baldwin and it's completely fitting for their relationship.
UPDATE: On Monday afternoon, Bieber confirmed his engagement to Baldwin with a lengthy Instagram caption. He also shared two black-and-white photos of the pair together, writing, in part:
"Was gonna wait a while to say anything but word travels fast, listen plain and simple Hailey I am soooo in love with everything about you! So committed to spending my life getting to know every single part of you loving you patiently and kindLY."
EARLIER: A source told E!, "They are engaged and it happened Saturday night in front of a crowd in Baker's Bay." This information coincides with TMZ's original report, which said Bieber proposed in front of a crowd at a Bahamas resort after security asked onlookers to put their phones away. The source continued to E!, "Justin made arrangements for the ring when they were in NYC and knew that he wanted to propose to her. It was a sudden decision but Justin always knew Hailey and him had a special bond that was incomparable."
Just days prior, the two were spotted smooching in NYC, but who knew this is what Bieber had up his sleeve? Apparently, Baldwin was shocked in the best way. "The proposal was a very happy moment and Hailey was taken off guard," the source told E!. "Her face was in shock but you could tell they are both so in love."
Although the couple has been on-and-off since 2014, and consistently reinforced that they were just "friends," perhaps it is that friendship that allowed the two to blossom into something more. The two first started romance rumors in 2014 when they were spotted together, then again when on vacation in winter 2015 (pictured above), and finally, they made it Instagram official in January 2016. But shortly after, it seemed they parted ways (especially since Baldwin had a few choice words in some cryptic interviews) and Bieber reunited with Selena Gomez in late 2017, only to split again a few months later.
But in the last few weeks, Bieber, 24, and Baldwin, 21, have been inseparable. They were spotted in Miami together and having PDA-filled days in New York City and Los Angeles. It's uncertain if the proposal location of Baker's Bay has any significance to the couple, but maybe they'll address that at some point in addition to the other 6,783 questions fans have at the moment.
While neither Bieber nor Baldwin has publicly addressed the news, Bieber's parents may have already. On Sunday, Bieber's father posted a photo of Bieber on Instagram, with the caption, "Proud is an understatement! Excited for the next chapter!" On Saturday, Bieber's mom Patti Mallette tweeted, "Love Love Love Love Love Love Love." On Sunday morning, Baldwin's famous dad Stephen tweeted a Bible verse.
Although the news may seem like a shock to fans, perhaps they should've seen the engagement coming. In a 2016 interview with GQ, Bieber teased possibly marrying Baldwin one day. "[She's] someone I really love. We spend a lot of time together," he told the magazine. "What if Hailey ends up being the girl I'm gonna marry, right? If I rush into anything, if I damage her, then it's always gonna be damaged… I just don't want to hurt her."
Meanwhile, sites have reported that Bieber's ex Gomez is "completely unbothered" by the news, and she's documented on video enjoying a boat day in NYC amidst the announcement. Jelena lovers may be up in arms, but can't everyone just be happy for these two? At least while the whirlwind honeymoon phase lasts?