Justin Bieber & Hailey Baldwin Are Reportedly Engaged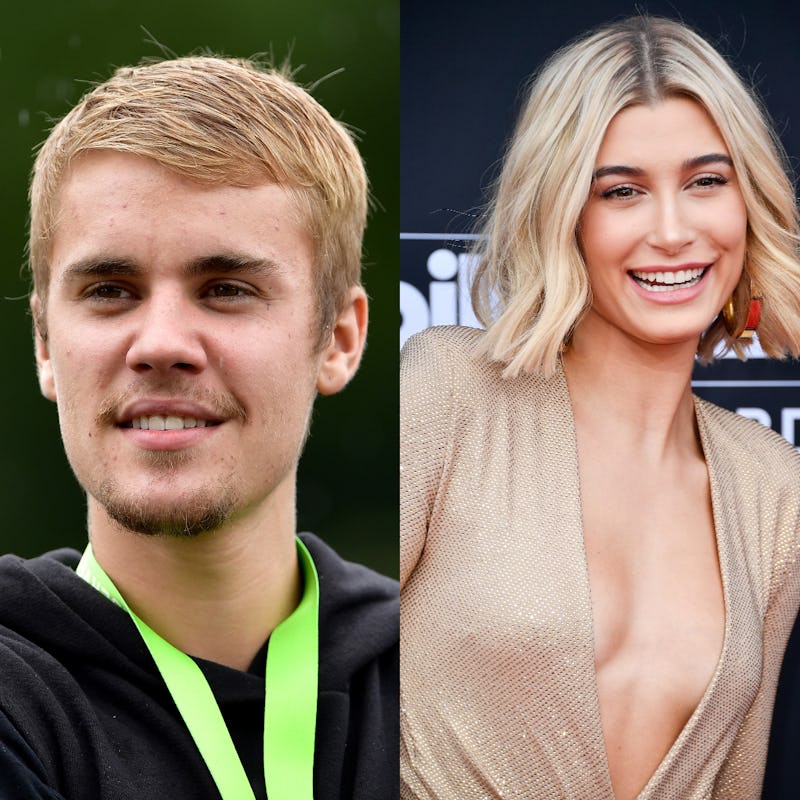 Stuart Franklin/Getty Images Sport/Getty Images Frazer Harrison/Getty Images Entertainment/Getty Images
Today in OMG, TMZ has announced that Justin Bieber is reportedly engaged to Hailey Baldwin. He's thought to have popped the question, as the kids say, late on Saturday, July 7. While it hasn't been confirmed by either party, Bieber's dad posted an Instagram that definitely has fans thinking it's real. Considering they haven't officially announced anything, and there are just two eyewitnesses who reported the event at all — is it possible that Jeremy Bieber blew up his son's spot? (Bustle reached out to their representatives for comment, but did not hear back by the time of publication.)
UPDATE: On Monday afternoon, Bieber confirmed his engagement to Baldwin with a lengthy Instagram caption. He also shared two black-and-white photos of the pair together, writing, in part:
"Was gonna wait a while to say anything but word travels fast, listen plain and simple Hailey I am soooo in love with everything about you! So committed to spending my life getting to know every single part of you loving you patiently and kindLY."
EARLIER: Per TMZ, the two women thought to have watched the pair get engaged were at a resort in the Bahamas where the couple was vacationing. Apparently, "everyone was at a restaurant on the property doing salsa dancing," before Bieber's security detail requested the crowd put away their phones. They supposedly mentioned "something special was about to happen" that his team didn't want recorded by guests. That something? Justin Bieber's proposal to Hailey Baldwin! Maybe. Probably. Potentially. But if it's real, it wouldn't be too wild.
Bieber and Baldwin have long been tight, running in the same crew since at least 2015. They've dated on and off, or were thought to have dated, and TMZ notes that the pair have been "inseparable" for at least the last month. But is the engagement real?
On July 8, Jeremy Bieber posted two pieces of evidence that point to yes, his son is engaged. While neither mention Baldwin by name, or even hint at it, it would certainly be more of a shock if the singer had proposed to anyone other than his longtime friend slash current girlfriend. On Instagram, the pop star's dad posted a photo of Bieber gazing into the sunset with the caption "@justinbieber Proud is an understatement! Excited for the next chapter!" It's a nice sentiment, but kind of strange, no? It's paternal enough, but definitely vague. Did he know this whole time, and was so overcome he couldn't wait to share the news with the public? Or is it possible that Justin Bieber's dad learned of the rumored engagement via TMZ and couldn't wait to chime in?
Well, his Twitter account does not clear anything up. In fact, it only enhances the mystery. Before the Instagram photo, Jeremy Bieber tweeted the phrase "The proudest," and... that's it. The proudest what, Mr. Bieber? Father of an engaged person? If Justin Bieber is engaged to a Baldwin, the fans need to know!
Per New York Magazine site The Cut, Baldwin is a model and TV host. Her father is actor Stephen Baldwin, brother to the somewhat more famous Alec. She and Bieber have made the rounds at all of their favorite places in the last few months, including a variety of churches in their preferred cities. They've been spotted at worship services in Los Angeles, Miami, and Kirkwood, Washington, so fans have long known how serious things were. Religion has always played an important role in Bieber's life — in seemingly more than a performative manner — so don't be surprised if your local church-adjacent hotspot includes a sunbathing Baldwin and Bieber this summer.
Once again, the rumored engagement between Hailey Baldwin and Justin Bieber has not been confirmed by their representatives — yet. That means it's too early to celebrate if you're a fan, and definitely too early to mourn, if marrying either party was in your five-year plan. Whether Jeremy Bieber was just taking a curiously-timed moment to announce his pride in his son remains to be seen. Hopefully, there will be answers sooner rather than later.