Keke Palmer Refused To Fit In Hollywood's 'Box'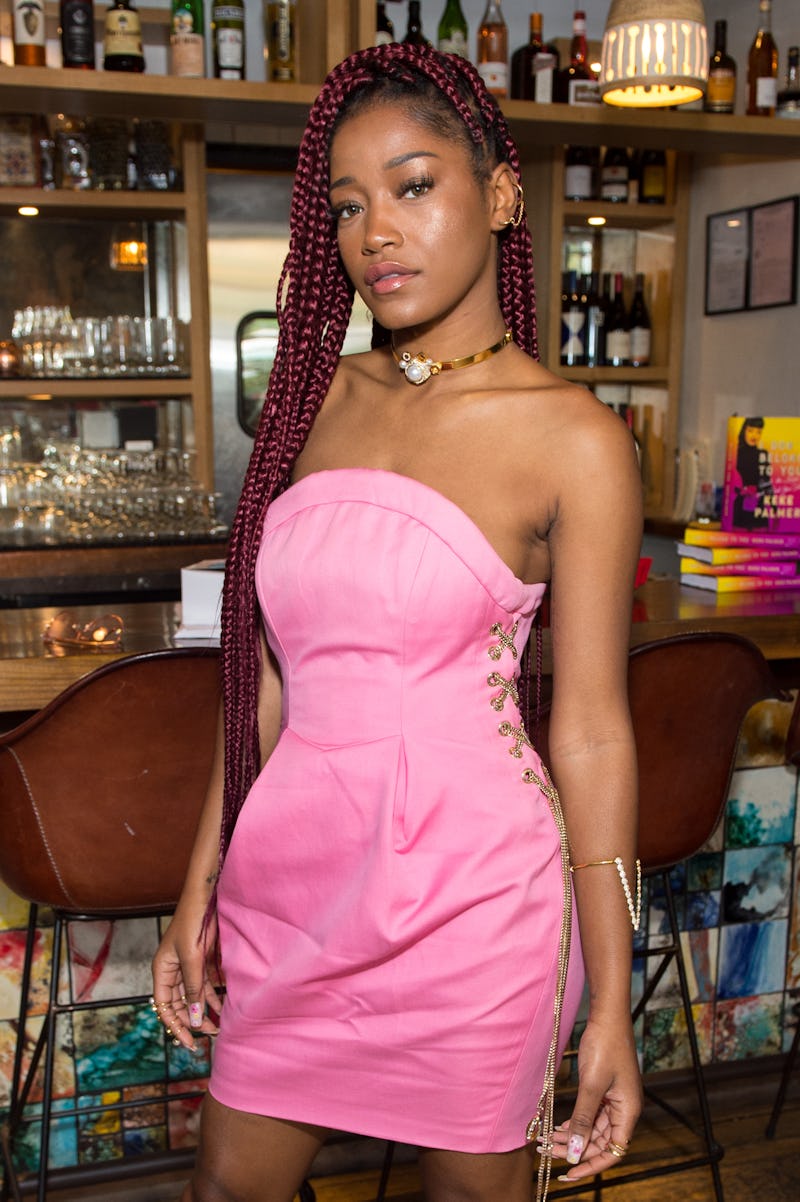 Emma McIntyre/Getty Images Entertainment/Getty Images
By age 23, Keke Palmer starred in films and a hit primetime series, hosted her own talk show, and wrote a book. At 23, some of us were occupied trying to find the best hangover remedy after boozy brunches got the best of them. After hustling for years, Palmer has deserved every ounce of success she gets. And as if making it in Hollywood wasn't difficult enough, the actor admits she had extra doors to knock down when being told "no" purely because she is black. Pushing through and redefining such beauty standards is something Palmer told me she's dealt with "throughout [her] entire career, really." While celebrating her ShoeDazzle collaboration at a vibrant and intimate get together at a West Hollywood restaurant, Palmer took a break from mingling to explain how she learned to rise above after being knocked down time and time again.
If you've followed Palmer on social media, you probably wouldn't associate her with being insecure or unsure of herself. She's given fans daily boosts of self-confidence and positivity for years. Not to mention, she's written the book I Don't Belong to You, which is a gospel for women of any age to embrace who they are. But gaining such confidence was a learning process, especially after Hollywood tore her down.
"What entrapped me for so long [was] trying to find my identity and [fitting] everybody else's labels," she said. "I realized, 'Damn. I'm never going to fit into a box.' And that's alright." I couldn't blame Palmer for questioning her talent or worth in the past. After all, Hollywood had no problem doing so.
"People told me that black girls couldn't be dramatic actresses and that became my and my mother's whole initiative for a while," she explained. She may have felt discouraged at times, but eventually all of the no's only fueled her fire and she was able to achieve. After fighting frustrations of not looking or being a certain way, Palmer realized the answer was simple:
I ain't no special being. I'm just being me. That's all you had to do, just be you and everything in life that you want will literally come to you. That's all I realized.
Part of this self-realization came from reflecting on when she was a child — when life was simpler. "When we were kids, we didn't belong to what comes with us being hispanic or being black — we were just ourselves. That's why we were able to just be," she explained. And this simple yet significant outlook served as an underlying theme throughout her empowering new book. "I don't have to own the labels people throw on me. I can redefine and define myself in each moment that I am," Palmer said.
Now that she's been conquering Hollywood on her own terms, the next steps seemed like a no-brainer. She explained how a "lifetime dream" of her has been to give other up-and-coming talent the voice she was denied for so long. "I really want to be able to be that L.A. Reid to them... Assist them as I was assisted. I want the generation to be great," Palmer said.
She shared powerful advice for hopeful actors and really, anyone trying to find their way. "We're gonna be different at every point in our lives, and it's OK, we should embrace it... We are all here just trying to figure it out," she said.
Palmer's challenging past only paved the way for her bright future, and any future artist will be lucky to have her as a mentor.