How Kelly & Shannon's Divorces Will Change 'RHOC' For The Better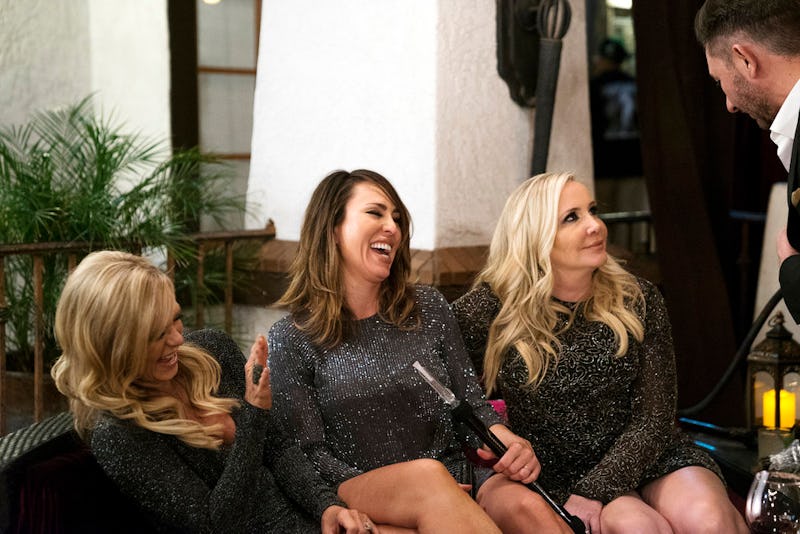 Nicole Weingart/Bravo
Even though Season 12 of Real Housewives of Orange County is still airing and Season 13 hasn't even started filming yet, there are already serious shakeups coming for next year's season. Kelly Dodd and Shannon Beador are both getting divorced and it will impact RHOC in a major way. Even though the major moments in the Real Housewives franchise usually have to do with the interactions between the ladies in the cast, the end of these marriages will definitely bring a lot of change — if Shannon and Kelly are on the show next season.
Of course, it's very sad to see anyone breakup, let alone a couple that is married with children, but it seems like it is really for the best when it comes to the Dodds and Beadors. If the women will be happier as single ladies, then all power to them. It's a better alternative than staying in a marriage that they don't want to be a part of.
Kelly announced her divorce in a September 27 interview with the Daily Mail. She admitted, "Our marriage is over, I'm out of there! We've have problems for years and I've had enough, I'm done with our marriage. It's just a case where two people can't get along. It's best if we went our separate ways and concentrate on our daughter."
During an October 23 episode of Watch What Happens Live, Kelly opened up about the split further, and said, "We get along great. We have a good time together. We are really good friends." She added, "I need more than a brother."
While Kelly's breakup happened off camera, Shannon shared the news of her divorce with the Housewives while the cast was taping the Season 12 reunion. Although the reunion hasn't aired yet, Shannon told People, "It's heartbreaking for me and my daughters that this is the road that had to be taken but it's the only way. I felt alone in my marriage. You can do what you can to keep your family together, but you have to have willing parties. You need two people to make a marriage work, and that just wasn't happening in our relationship."
Longtime fans of the show know that Season 12 is far from being this show's best season — truthfully, it's all gone down hill since the epic Season 10 — but Kelly and Shannon's fresh starts at life can, hopefully, bring in a fresh start for Real Housewives of Orange County.
To start, Shannon and Kelly will have something in common. When Kelly joined the cast in Season 11, she and Shannon were immediately at odds. They got into heated exchanges over and over again. Kelly accused Shannon of "setting her up" at her '70s themed party when a fellow guest questioned her about a man she dated while she and her husband Michael were separated. Later, Kelly (and many viewers) accused Shannon of pushing alcohol on her during the cast trip to Ireland so Kelly would act up. This season, Shannon threw a full plate of food at Kelly at a restaurant.
But even after all that, they found a way to make up and their dynamic actually makes for great TV. They aren't best friends, but they definitely have great chemistry. Since they are both in the process of getting divorced, maybe they can bond and become the best friends that this show desperately needs. Without pointing fingers, it seems like most of the other "relationships" on the show are convenient alliances for the sake of the series.
Kelly and Shannon are the kind of women who are never afraid to lay it all out there. They are arguably two of the most authentic women on the show. They show their lives, warts and all. Plus, they are the only cast members who don't use self-promotion for a story line. They are putting the "real" in Real Housewives and it would make sense for the two of them to get closer as they go through these major changes in their lives.
One thing that Shannon has been very open about is her weight gain. Unfortunately, she also attributed her weight gain to Vicki Gunvalson during the show, saying, "This is stress, and that is Vicki Gunvalson," which made it seem like she was projecting other issues. Now that Shannon is out of her relationship, she will not have any marriage problems to take out on other cast members.
Shannon even admitted to People, "As the last year went by, it's been extremely difficult and painful to watch the show, because clearly I was in denial about what was going on in my marriage. I was taking things out on other people instead of at home." Now that Shannon is out of that relationship, she should have a clearer head when it comes to dealing with the ladies.
Even though Kelly didn't bring her home life to the group's social events and it really seemed like she and Michael were getting along very well this season, her new single status will still affect the show. Kelly has shown a lot of her private life with her family. She has debated getting divorced for the past two seasons in conversations with her mother and has compared her marriage to her parents' relationship.
In an RHOC episode that aired on October 9, Kelly admitted, "Growing up I watched my parents fight so much that I wished they would get divorced." Kelly also shared, "Michael and I, we fight a lot in front of Jolie. I thought keeping the marriage together for Jolie would be right for her because I didn't want to see her flip back and forth. But it might be OK for Jolie to have a happy mom and a happy dad. I don't know." Now that Kelly has filed for divorce she will not be talking about whether or not she should do so during the segments of the show that show her family life.
It is hard to enjoy socializing in a group setting if you are not happy in your personal life. Now, Kelly and Shannon have plenty of time to themselves away from the cameras to figure out their new "normal" and prepare for a fresh start if they both end up coming back to the show for another season. As sad as it is for any romantic relationship to end, it seems like a much-needed fresh start for Shannon, Kelly, and Real Housewives of Orange County overall.