Shannon Beador & Her Husband Are Separating & You'll Hear About It On The 'RHOC' Reunion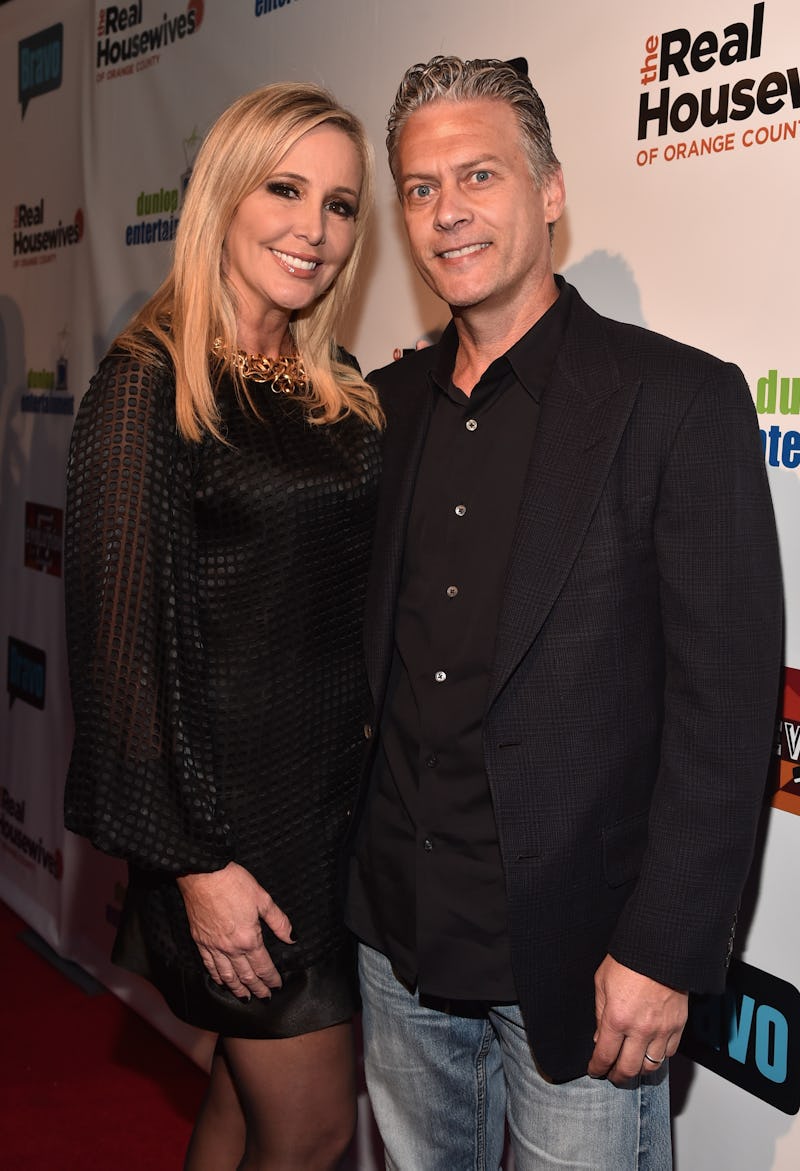 Alberto E. Rodriguez/Getty Images Entertainment/Getty Images
Prepare yourselves, Real Housewives fans, because there's some heartbreak on the horizon. On Friday, Oct. 27, People exclusively announced that RHOC's Shannon Beador and her husband David are separating after 17 years together. In a statement to People, Shannon said,
"It's heartbreaking for me and my daughters that this is the road that had to be taken but it's the only way. I felt alone in my marriage. You can do what you can to keep your family together, but you have to have willing parties. You need two people to make a marriage work, and that just wasn't happening in our relationship."
According to the publication, Shannon told her co-stars while filming the RHOC reunion, which is set to air next month.
During their time on the Bravo reality series, Shannon and David's marriage experienced a lot of highs and lows. Toward the end of Season 9, David told Shannon via email that he wanted to get a divorce, and by Season 10, David admitted he'd had an affair. Determined to work things out, they attended a couples therapy retreat, renewed their vows, and tried to move on from the infidelity. And for a while there, things seemed to be headed in a positive direction.
But as viewers have seen in Season 12, Shannon and David's reconciliation sadly didn't last. The two seemed more emotionally distant than ever this season, and the resentments that'd built up before the vow renewal seemed ready to boil over. Whether they were analyzing the state of their marriage just as they were about to dig into a birthday cake their daughters made, discussing Shannon's dreams of becoming a restauranteur, addressing David's interest in Spartan Races, or reminiscing about the time a teenaged Shannon accidentally backed her car into a gas pump, they were at odds; just about every David and Shannon scene has been cast in a thick fog of tension, and the cloud didn't seem ready to roll out anytime soon.
In one particularly devastating scene from Season 12, Shannon opened up to her mother about about her issues with David. She said,
"Ever since our vow renewal, David keeps taking steps back from me, and now that I've let myself go, I know ... that we just kind of stay clear of each other. Weeks ago, he said our marriage isn't doing well."
She continued,
"As I'm so distant from David right now, I'm reminded of the period of the affair. Before I would be able to forget about it because I would say, 'Everything's so great.' But now, it's not so great. It's like a vicious cycle."
The cracks in their relationship had been patched up, but only temporarily. As the repairs started to wear off, the fissures came back with a vengeance. About the recent changes in their relationship, Shannon told People,
"This is not the path that I thought that I would be taking. To come from the highest of the highs last year to go to such a low so quickly? At the beginning when it starts to crumble, you think, 'This is just a phase. It'll get better.' But it never did."
Shannon added that their "primary concern" is "to act in the best interest of" their three daughters.
She told the publication,
"As a mother you keep thinking about your daughters and you have to say, 'This is an unhealthy environment.' Not only is it unhealthy for me, but it's unhealthy for my girls, too. They deserve a happy and joyful home, and I am providing that for them now."
Fans will likely have to wait until the reunion for more details, but here's wishing Shannon and her family the best in the meantime.