One Year After Hillary Lost, Here's How Life Has Changed For American Women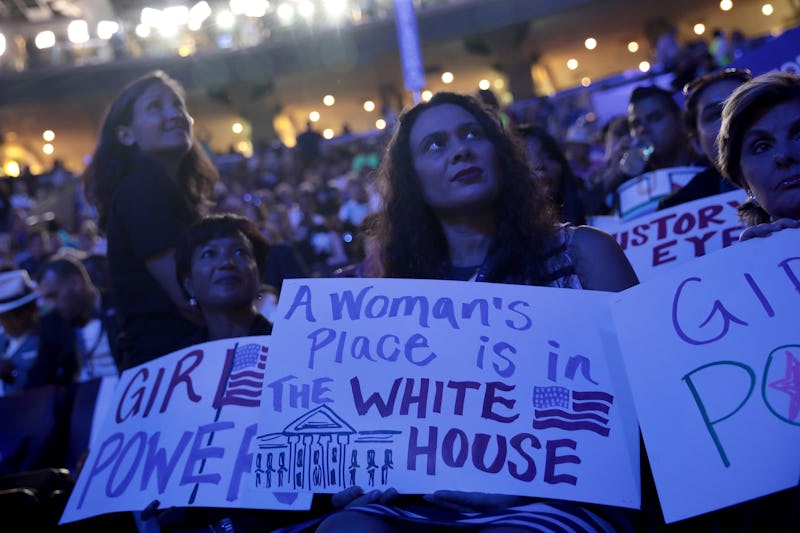 Drew Angerer/Getty Images News/Getty Images
Wednesday, Nov. 8 marks exactly one year since Hillary Clinton lost the presidency — and one year since Donald Trump won the role of commander-in-chief. And while there's no getting around the fact that women have less rights than they did before Trump took office, grassroots women's activism seems more fired up than ever.
Since Trump moved into the White House in January, legislation has been passed to undermine women's rights in the United States and around the world. Moreover, dangerous and misogynistic rhetoric and policy proposals have been suggested and perpetuated. However, Trump's presidency, and Clinton's loss, have also inspired a seemingly revitalized women's movement, with women around the country increasingly taking a stand to protect and promote women's rights. This kicked off with the Women's March on Washington and its sister marches. The momentum has continued throughout Trump's presidency, with advocacy initiatives via the Women's March organization and beyond.
Thus, Trump's presidency has perhaps had some very expected, but also unexpected, consequences for American women. While his administration's policies and rhetoric have undermined women's rights, women and men are not letting this behavior go unnoticed — and are increasingly taking unified and concerted action to counter the injustices perpetuated by the administration. This list reflects both the negative legislative implications the Trump presidency has had for women, but also the many positive ways in which American women and men have come together to counter the administration's actions.