Here's How Late This Year's Emmys Will Keep You Up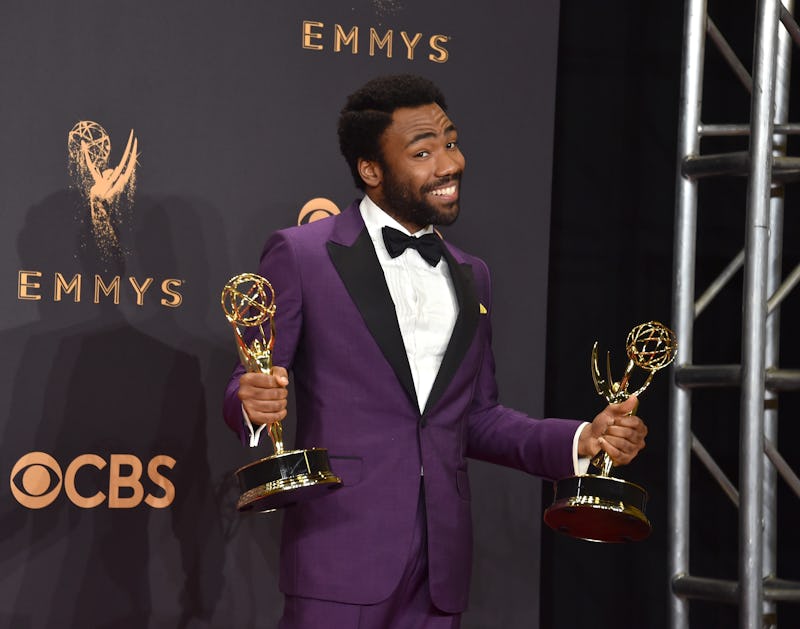 Alberto E. Rodriguez/Getty Images Entertainment/Getty Images
Just as another summer television season comes to a close, the 70th Annual Emmy Awards will arrive. The Sept. 17 Emmys telecast on NBC will see TV's biggest stars gather in one room to celebrate the year in small-screen achievement. As you probably know from past experience, award show watching is a time commitment, to say the least, which is why you need to know how long the 2018 Emmys will be. That way, you can prepare an appropriate serving of the necessary viewing snacks.
Break out the extra popcorn and even the fancy fixings, because dedicated watchers will be in for a long night this coming Monday. NBC red carpet show included, the 2018 Emmys are slotted to be a four-hour occasion. But everyone knows that can't be set in stone, because live TV is always bound to bring the unexpected — including, but not limited to drawn-out, emotional acceptance speeches and improv comedy by the hosts and presenters. That is especially likely this year, considering the event will be hosted by two comedians — Saturday Night Live's "Weekend Update" anchors, Colin Jost and Michael Che. The choice to have the duo as hosts makes synergy sense, considering SNL snagged quite a few Emmy nominations this year.
"NBC is thrilled to be the home of this year's Emmy Awards and with Colin and Michael in the driver's seat as hosts, along with surprise appearances by other cast members of Saturday Night Live, I think we are in for one of the funniest awards shows in a long time," said NBC Entertainment chairman Robert Greenblatt in a statement reported by Entertainment Weekly. That said, they definitely have the ability to keep viewers laughing well past midnight.
If you're in it for the long haul, red carpet arrivals included, the night will begin at 7 p.m. ET. NBC will be airing an Access special with "the ultimate Emmys preview," according to the official programming schedule, and then, at 7:30, the real fun will begin with NBC's 70th Annual Emmy Awards Arrivals Special. There, you'll be able to catch everyone's iconic looks as they strut down the red carpet, pause for photos, and answer questions. E!'s red carpet coverage starts even earlier, at 6 p.m. ET.
In the past, unlike its sister award shows, the Emmys have been prohibited from running over time by its long standing executive producer, Don Mischer, according to Forbes. He told winners to keep their remarks under 40 seconds. However, this year, the show is being executive produced by SNL's head honcho Lorne Michaels for the first time since the late '80s, according to Variety, and that could definitely shake things up, including the timing.
NBC's official schedule proposes that the show will end at 11 p.m, to be followed by local news programming (sadly, unanchored by Jost and Che). And well, as long as it doesn't get out of hand like that one 2002 installment of the Oscars that lasted four hours and 23 minutes, per Deadline, fans should be able to safely arrive at the end of their respective watch parties. And there might even be leftover snacks.