Here's Exactly How Long To Set Your DVR For The 2018 VMAs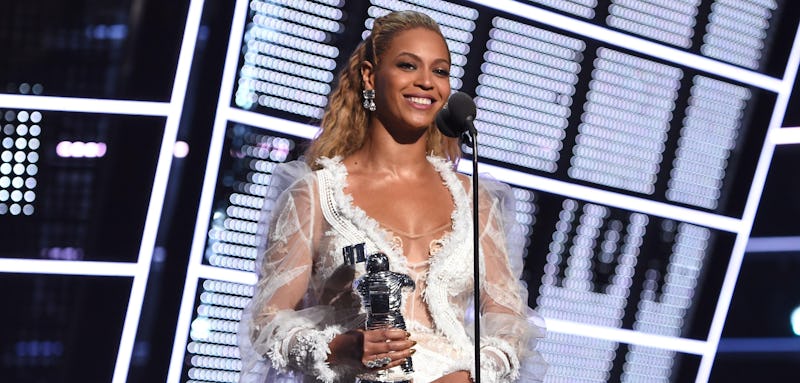 Courtesy of MTV
The MTV Video Music Awards are known for bringing a few things to the stage, including, but not limited to, drama (that means you, Ye and T-Swift), killer style, and of course, some incredible live performances that you won't want to miss. It's slated to air on Monday, August 20 at 9 p.m. ET. And I know what you're thinking — why do juicy award shows always have to air on weeknights? Let's be honest, the show is starting past most of our bedtimes, so you're probably wondering, how long are the 2018 VMAs going to be? Or in other words, am I going to be able to wake up for work on Tuesday?
If you're organizing your sleep schedule around one of music's biggest days of the year, you're not alone. This year's show is particularly special, too, because it's returning to its roots by broadcasting live from New York City's Radio City Music Hall after doing the show in Los Angeles last year. As if you needed more reasons to watch the show in full, the pre-show, set to air at 8 p.m., is going to feature a sing-along worthy performance from The Backstreet Boys in celebration of the 20 year anniversary of their first ever VMAs appearance. Since then, they've performed at the VMAs twice and received two awards. According to MTV, the pre-show will be hosted by Terrence J., Nessa, Paul "Pauly D" Delvecchio and Vinny Guadagnino, so it's bound to be a good time.
According to the official TV schedule on MTV's website, the awards show, not including the pre-show, will occupy two hours and 15 minutes, ending at 11:15 p.m. ET. Including the pre-show, that's a whopping three hours and 15 minutes of screen time. But with performances from stars like Nicki Minaj, Ariana Grande, Shawn Mendes, Travis Scott, Post Malone, and Vanguard Award winner Jennifer Lopez, the time is sure to fly by. Plus, with Cardi B. and The Carters (Beyoncé and JAY-Z) leading the award nominees, there's going to be a lot worth celebrating, and a strong chance for some badass, inspirational acceptance speeches that you'll want to replay over and over. Oh, let's all collectively hope Bey and JAY-Z show up with Blue Ivy in tow, ready to serve some face, too.
If you're more of an insomniac, or maybe, you're rolling in from a long day of work just before midnight, don't fret about missing all of the iconic moments. By the looks of MTVs official schedule, it looks like they'll be immediately replaying the full awards show into the next morning, so there's absolutely no way you have to miss it.
Sure, three plus hours of awards show on a Monday night could be tedious, but this is the VMAs we're talking about. When have they ever not been worth it? And if you just don't have it in you to stay up till the very end, all of the juiciest GIFs and hot takes will be waiting for you on Twitter first thing in the morning.