14 Hilarious Tweets About Blue Ivy's Time At The Grammys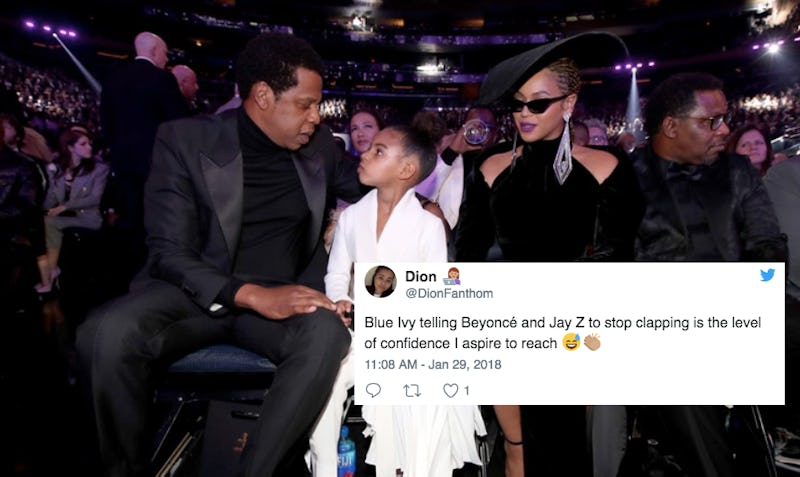 Christopher Polk/Getty Images Entertainment/Getty Images
JAY-Z may not have picked up Album of the Year at the 2018 Grammy Awards, but almost everyone on Twitter agreed that the Carter-Knowles family won the whole evening — especially because of the youngest member in attendance. Blue Ivy was at the Grammy Awards with her parents, and she really stole the spotlight. The legendary couple's oldest daughter sat in between them for most of the show, and her expressions throughout the evening were a highlight of the whole event. When Beyoncé and JAY-Z tried to clap during Camila Cabello's speech, Blue tried to quiet the team down, and she rolled her eyes and made plenty of silly expressions for the cameras. One thing is clear, and it's that Blue Ivy is already a serious scene stealer.
This isn't the first time Blue Ivy has tagged along to the Grammy Awards. She also attended in 2017 and wore a pink Gucci suit to honor Prince. Last year, Beyoncé was nominated for Lemonade and performed songs from the album. The gifs of Blue showing off her bag to a friend and cheering for her mom also went viral, showing that she is likely to continue to be an internet sensation in the years to come. This year, Beyoncé and Blue Ivy seemed to be some of the most tweeted about stars from the whole evening, despite not being nominees. Blue Ivy's hilarious expressions and the meme-able moment where she stopped her parents from clapping are among the top moments from the night.
The Grammys took place on Sunday at Madison Square Garden in New York City, and some of the awards were controversial. Not everyone was happy with the results, but one thing most people online could agree on is that Blue Ivy won the entire night.
1. She Calmed Everyone Down
After Camila Cabello presented U2's performance, Blue Ivy thought the auditorium got a little too loud. Blue even stopped Jay and Bey from clapping, and fans were living for it.
2. It's Hard To Handle It
Blue Ivy has a lot of personality, and Twitter was living for her eye-rolls and other funny expressions.
3. She Brought Jay & Bey Down A Notch
While some fans thought Blue Ivy was throwing shade, others felt she was genuinely trying to tell her parents to lower the volume. Either way, the moment was so funny.
4. Put Blue Ivy On The Voice
For this fan, Blue Ivy is definitely a future TV talent-show judge in training. Someone call the casting director for The Voice?
5. "They Clap For US"
Hey, if this is what she was going for, she has a point.
6. Everyone's Parents Are Embarrassing
It's somewhat comforting to know that even if you're parents were Beyoncé and JAY-Z, they would still embarrass you in a public place from time to time. Blue Ivy made it clear that she is the true queen of the Carter-Knowles household.
7. Blue Wasn't Here For the JAY-Z Snub
There were plenty of jokes about Blue Ivy reacting to the awards, which notably left out JAY-Z. The rapper and Blue Ivy's dad was nominated for his album 4:44, and fans were not pleased that the release was snubbed. It was just one of the moments from the evening that seemed unfair, and the Blue Ivy gif was the perfect way to express this disappointment.
8. Blue Ivy Remembers Lemonade Snub & So Do We
The Grammy Awards know what they did, and so does Blue Ivy.
9. Blue Ivy Is Team Normani
This fan suggested that Blue Ivy is Team Normani in the Fifth Hamony-Camila Cabello split, so mom and dad should clap lightly.
10. Blue Knows Who Is In Charge
Blue Ivy is the only person on Earth who could do this and it would be OK.
11. She's That Good
Blue Ivy knows all.
12. Why Aren't Their Names Being Called?
She stayed up late for nothing.
13. The Grammys Wasted Blue's Time
Blue wants the truth.
14. "The Best Part"
Enough said.
Beyoncé and JAY-Z continue to rule the Grammy Awards, even if they don't always take home the awards they deserve. Blue Ivy is following in their show-stealing footsteps, and this year she had one of the funniest moments in the whole evening. If the Carter-Knowles family bring Rumi and Sir to future awards, Twitter might just implode.