Amal & George May Be Parents Quite Soon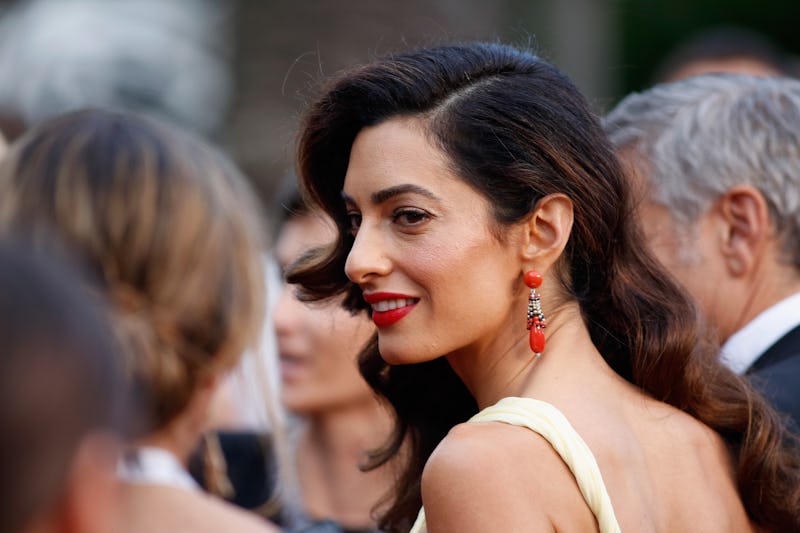 Tristan Fewings/Getty Images Entertainment/Getty Images
In the best attempt to steal Beyoncé's moment I've seen in a while, on Thursday it was reported by multiple sources that Amal and George Clooney are expecting twins! This, of course, leads to multiple questions like, "Wha???" "How will these children handle being so suave and glamorous?" And, "How long has Amal Clooney even been pregnant?" Well, regarding the latter, if you go by what's being reported, it's been quite a while.
While the couple has not confirmed the news themselves (Bustle reached out to George's rep for comment, but has not yet received a response), reportedly, Amal is due in June. This would mean that Amal would be about five months pregnant currently.
On Thursday's episode of The Talk, Julie Chen said "The Talk has confirmed" the news and added, "What we did find out, that no one else is reporting, is that the twins are due this June."
This is far from the first time that Amal has faced pregnancy rumors. In fact, in January of this year a report came out claiming that she was pregnant with twins and that she was due in March. Lebanon's The Daily Star reported that a family friend of Amal's was the one to make the claim. While it now sounds like the part about the twins is more likely to be true, when it comes to the due date, who do you trust more: an anonymous "friend" of Amal's or the host of summer phenomenon Big Brother?
The fact that March is only one month away at this point, does make the June report sound more likely, but we'll have to wait and see if the Clooneys end up confirming the news themselves.