As Medicaid & Medicare Turn 52, The Fight About Them Rages On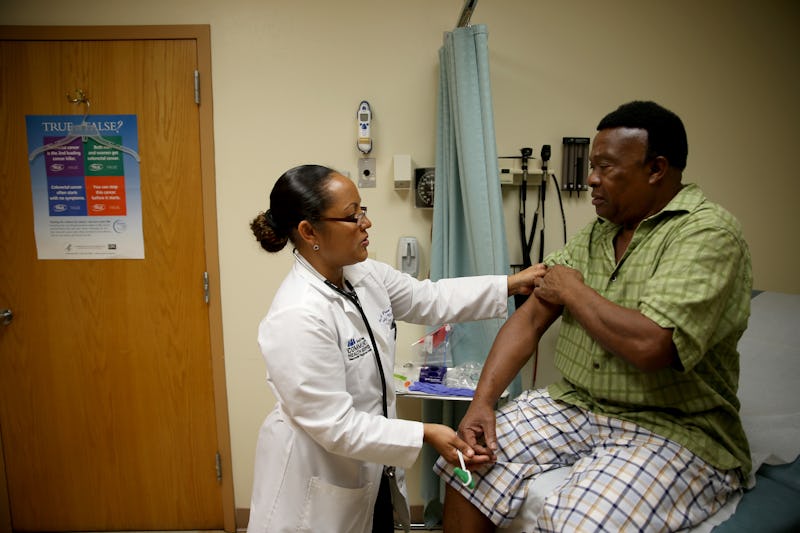 Joe Raedle/Getty Images News/Getty Images
Sunday marked the 52nd anniversary of Medicare and Medicaid being signed into law by President Lyndon B. Johnson. As landmark national health insurance programs, Medicare and Medicaid have long been at the middle of nearly every heated debate regarding health care and government. In fact, though millions of Americans rely on them, Medicare and Medicaid have remained controversial programs since they were signed into law. Even today on the program's 52 birthday, the fight over Medicare and Medicaid rages on.
Medicare is federally funded and assists people age 65 and older, while Medicaid is jointly funded and helps disabled, low-income, or needy people. The road to their passing was a long one, built, as political commentator and former White House press secretary Bill Moyers recalled, over time by the early efforts of Presidents Franklin Roosevelt, Harry S. Truman, John F. Kennedy, and finally the tireless championship of President Johnson.
"As it had been for decades, it was a tough fight down to the wire," Moyers wrote in a recent blog post. "A look back is instructive, not only to show how long it can take to move a legislative dream to reality but also to illustrate how a president with a grasp of history and knowledge of how government works is crucial to making success possible."
Interestingly, President Truman was reportedly the first person to enroll as a Medicare beneficiary in a nod to his early, but ultimately unsuccessful, efforts to establish a national health insurance program. Some 19 million people would follow President Truman's lead and enroll in Medicare when the program first went into effect in 1966, with more and more signing on every year.
In 2015, there were more than 55.5 million people enrolled in Medicare, according to data from the Kaiser Family Foundation. In 2017, some 74.6 million people were enrolled in Medicaid-supported plans.
But despite the large number of people who rely on them, Medicare and Medicaid remain controversial programs. To supporters, Medicare and Medicaid provide access to affordable health care for people who may otherwise find themselves unable to obtain it, as wages plateau and the cost of medical care skyrockets. To critics, however, the programs drain federal dollars and seem fraught with incidents of fraud that ultimately costs taxpayers money.
In 2010, President Barack Obama's Affordable Care Act (ACA) expanded Medicaid to cover more people. Ever since then Republicans have been trying to axe that expansion and shrink the entire Medicaid program. Republicans' most recent effort to repeal the ACA, which would have likely kicked off notable changes to both Medicaid and Medicare, failed earlier this week when the Senate rejected the GOP's "skinny repeal" bill.
But the fight over Medicaid and Medicare is likely far from over as legislators on both sides of the aisle continue to debate health care in America.