Khloe Kardashian & Tristan Thompson's Relationship Is "Level 5" Serious, According to Kourtney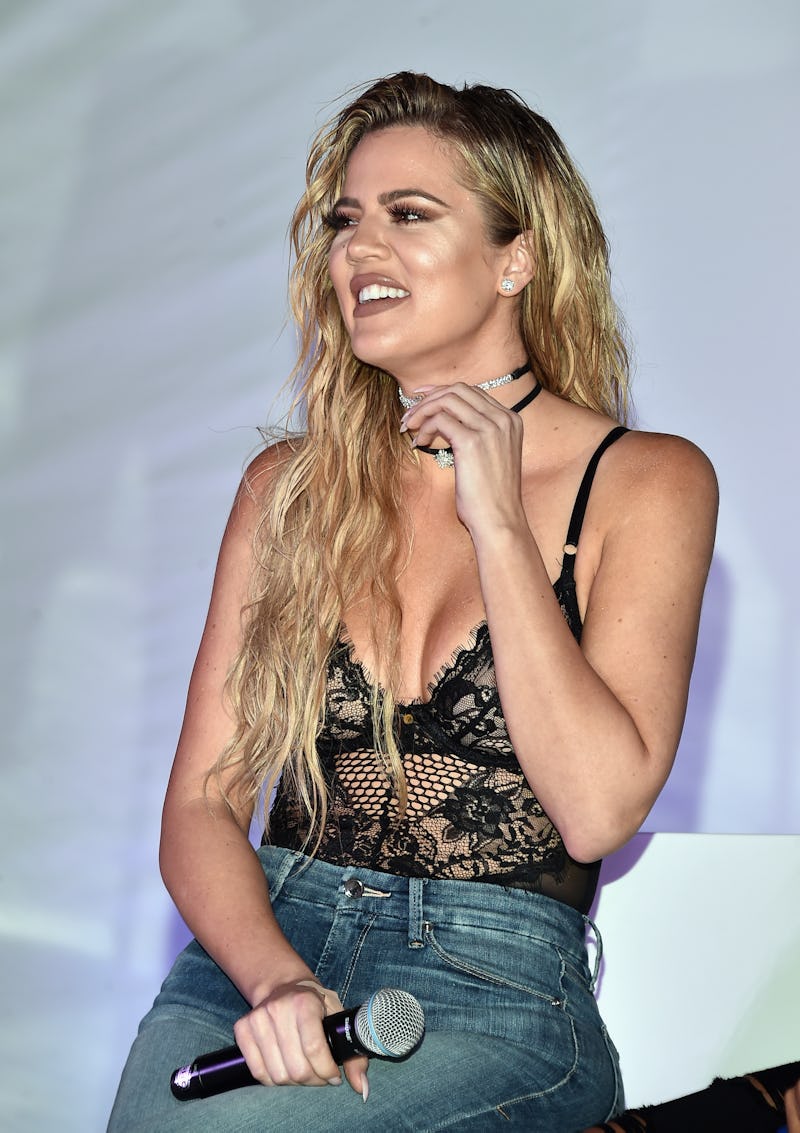 Alberto E. Rodriguez/Getty Images Entertainment/Getty Images
If you thought the antics of the Kardashian-Jenner family couldn't make any more headlines this month, think again. According to Us Weekly, sources claim that Khloe Kardashian might be pregnant. If the report is true, it'd be great news, especially considering how long Khloe and Tristan Thompson have been together and how much the KUWTK star has talked about wanting to start a family of her own. (Bustle has reached out for comment from Kardashian's rep and Thompson's agent, but hasn't heard back from either at this time.)
According to Us Weekly, multiple sources claim that Khloe is pregnant with Thompson's child, although neither the 33-year-old jeans designer nor the 26-year-old basketball player has confirmed the report on their own. If it's true, though, the couple is likely ecstatic, as they've made no secret of their love for each other and plans for the future. Khloe has spoken frequently both on Keeping Up With the Kardashians and in interviews about her desire to have a family soon, so if the report is real, you know that she must be grinning ear-to-ear at the news.
And if there was any doubt that Khloe and Tristan's relationship was serious, this should settle it. The duo started dating back in September 2016, when, as Khloe recently revealed on E!'s 10 Year Anniversary Special Of Keeping Up With the Kardashians, they met on a blind date. The date was arranged by Brandon Jennings, a basketball player and friend of Khloe's, and although Khloe said on the show that she felt "ambushed" about being set up, she and Tristan apparently "just connected." A year later, they're still going strong. According to Khloe's sister Kourtney on the E! special, the relationship is even a "level five" out of six serious, which in Kardashian terms, must be pretty legit.
Over the last year, both Khloe and Tristan have shared numerous photos of their time together on their social media accounts, showing fans how deep their love is and how much of a good time they seem to have around one another. Just recently, on Sept. 13, Khloe posted a sweet Boomerang of the duo kissing, captioning the video, "My cutie pie!"
Earlier, in June, Khloe posted an equally cute image of the couple holding hands on a night out to celebrate her 33rd birthday. "My birthday was incredible! Dream like almost! It's actually hard to put into words how special I feel and it's mainly because of this man right here! Thank you baby for treating me like a Queen every single day!" the reality star posted.
Tristan, meanwhile, tends to keep his Instagram a bit more basketball-heavy than relationship-heavy, but he still features a few posts of his girlfriend now and then. For her birthday, he posted an adorable arrangement of photobooth photos the duo took at Khloe's birthday party, with the caption, "Happy bday my love, this picture right here sums up how wild, crazy and how much we love each other. Let's continue to build more memories and cherish them with each other. God bless you, I love you."
Clearly, Khloe and Tristan couldn't be more in love, and so if the pregnancy report turns out to be true, they're likely head over heels with joy. And they'll definitely have a ton of people to share their excitement with, considering that both Khloe's sister Kim is reportedly having her third child via surrogate with husband Kanye West, while Khloe's other sister Kylie is reportedly pregnant with boyfriend Travis Scott's child, as well. It might be a busy time for the Kardashian-Jenner clan right now, but hopefully, one full of happiness and celebration.