So, Uh, Khloé Kardashian Is Reportedly Pregnant, Too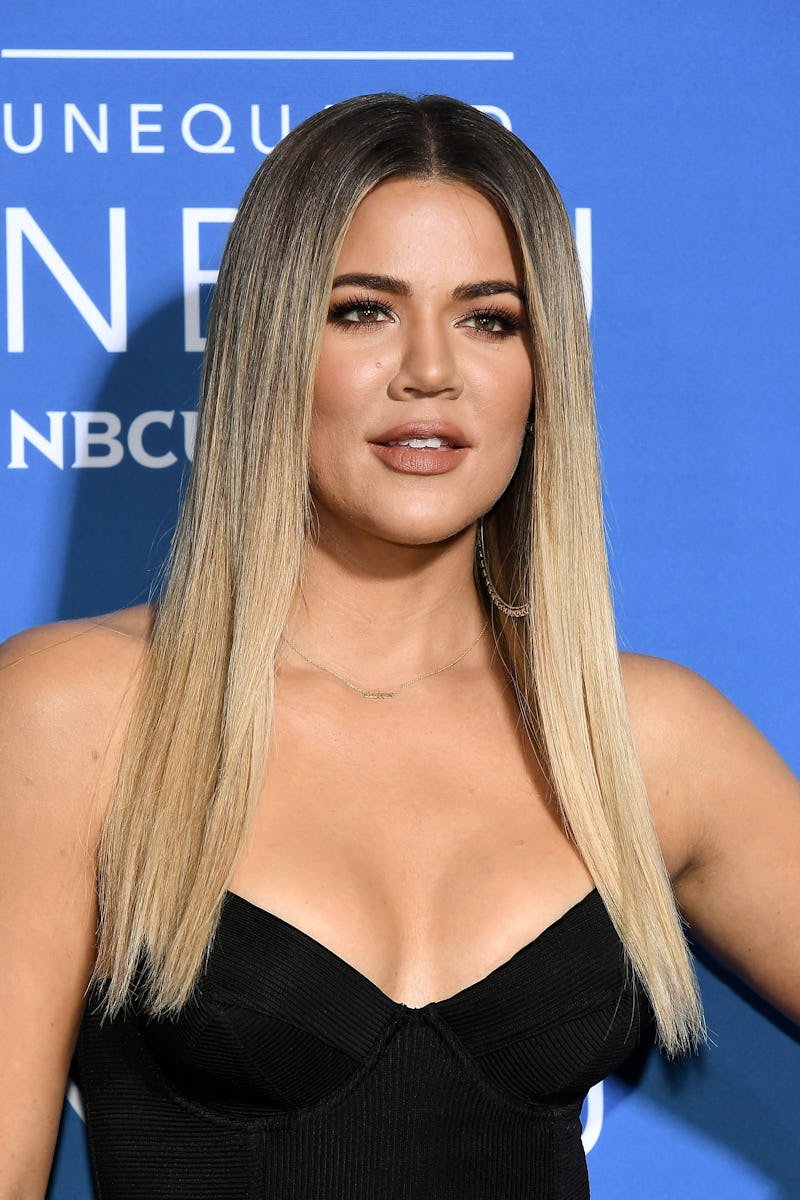 Dia Dipasupil/Getty Images Entertainment/Getty Images
In news that is seriously shocking if true, Us Weekly reports that Khloé Kardashian is pregnant and expecting a child with her boyfriend Tristan Thompson. Us Weekly reports that multiple sources claim Kardashian is having a child. Bustle has reached out to Kardashian's rep for comment and Thompson's agent, but did not receive a response at the time of publication.
UPDATE: On Wednesday, Dec. 20, Kardashian confirmed her pregnancy on Instagram
EARLIER: This news comes on the heels of reports that Kardashian's younger sister Kylie Jenner is also expecting a child. On Friday, it was reported by multiple outlets that Jenner is pregnant and having a baby with her boyfriend Travis Scott. Jenner has not confirmed or denied the reports, but every Instagram post she's made since the news broke has had fans talking, especially since some of them have shown her with her stomach bared.
A couple members of Jenner's family did speak out about the reports, but they also did not confirm or deny the news. Jenner's mother, Kris Jenner, told The Cut, "She's not confirmed anything. I think it's kind of wild that everyone is just assuming that that's just happening." And on Tuesday, Jenner's sister Kim Kardashian denied some rumors related to the reports about Jenner on Twitter, including one that claimed Caitlyn Jenner spoke out about the news and one that featured a claim about how Kim reacted when she first heard about it.
On top of that, it has also been reported that Kim and her husband, Kanye West, are expecting a third child via surrogate. In July, Us Weekly reported that the couple had hired a surrogate and that she was three months pregnant. Kim has not confirmed any reports that she is using a surrogate. During a New York Fashion Week event in early September, she told Extra, "We haven't confirmed anything."
As for Khloe, TMZ also reports that she is expecting a child with Thompson and the publication reports that she is three months along, according to their sources. The Keeping Up With the Kardashians star and Cleveland Cavaliers player have been together for about a year and were first seen together in the summer of 2016. Kardashian recently explained on the KUWTK 10th anniversary special that she and Thompson met on a blind date.
"I was put on a blind date with Tristan," she told host Ryan Seacrest. "Brandon Jennings, who's a basketball player, he's a friend of mine and Malika [Haqq's], and he was like, 'You're, like, such a good girl, I want to introduce you to someone.'" Kardashian added that she didn't know the date would be with Thompson and that she didn't even want to go on one. "Brandon kind of ambushed the blind date," she explained.
If it is true that Jenner and Khloé and Kim Kardashian are all expecting children, the cousins will all be very close in age. If Kardashian is really three months along, her baby would be due around late March or early April, and if Kim's surrogate was really three months along in late July, her baby would be around December or January. As for Jenner, TMZ reported that she is around five months pregnant, and if that is the case, she would be due in January or perhaps early February.
Seeing as the Kardashian-Jenners have been reticent about confirming or denying any pregnancy reports lately, it won't be a surprise if the reports about Kardashian are also met with responses along the lines of "she hasn't confirmed anything." Whatever the case, the next couple of seasons of Keeping Up With the Kardashians are going to be pretty wild with either lots of baby preparations or a lot of looks behind the scenes at what the family was really thinking when so many pregnancy reports came out at once.